---
Preview: Thompson's New Muzzleloader: the "IMPACT!"

At the SHOT show in Las Vegas, I had the chance to take a look at T/C's new .50 caliber inline muzzleloader, the Impact, that looks to be a huge winner. It is light, it is amazingly affordable, and I'm tempted to call it "The One True Alternative To Junk."
In the last few years with the respective demises of Knight, White, and other muzzleloading manufacturers the choices left to the consumer have been largely shoddy, low-quality models with little or no apparent reasonable quality control. The technical term most people like to use is "junk." All too often, poorly made, untested, and potentially dangerous junk that really should not be offered for sale, much last actually used. This class of "Bic Lighter Quality" muzzleloader includes the now (thankfully discontinued) Remington Genesis, not a "Remington" at all but a Spanish Ardesa manufactured attempt imported by Traditions for Remington, if you can follow that one.
The same high level of heavily advertised, low-end junk includes other "Traditions" models that have carried on their own peculiar tradition of junk guns, and of course the horrid CVA branded Dikar manufactured junk frontstuffers that have proven to be, in some cases, far more dangerous to the owner than they are to a deer. It is a sorry mess, with barrels of dubious parentage and quality control that appears non-existent. Spanish junk guns that are more than a bit creepy under the hood.
American muzzleloading manufacturers (Knight, Savage, Thompson-Center) have insisted on using certified barrel materials all the while, with extensive testing lot by lot of gun barrel steel. With Knight ceasing production last year, that leaves Thompson-Center and Savage Arms as the only major manufacturers of high-quality, mass-produced, dedicated, inline muzzleloading rifles in the United States. These are the only in-line muzzleloaders made today that are worth owning in my opinion.
Enter the new T/C Impact. The base model of the Impact sells in the $250 area, a very aggressive price point for a solid muzzleloader. The new Impact is an ambidextrous, simple, cleanly engineered break action with 209 primer ignition, a blued 11-37 steel 1:28 rate of twist barrel, an adjustable length of pull from 12-1/2 to 13-1/2 inches, and a stated weight of just 6-1/2 pounds. T/C refers to this action as a "break open hood design." The removable one inch stock spacer makes it ideal for the younger or smaller hunter, or those that just prefer a shorter length of pull when wearing bulky clothing in cold weather.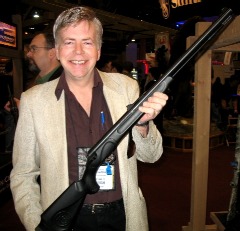 Now that virtually low or virtually non-corrosive propellants are available (Blackhorn 209), the advantage of costlier stainless steel barrels is not as great as it once was as long as you still clean your gun within a reasonable time. The Impact has a triple lead breechplug, making it faster to remove than a standard breechplug as well. This gun, while still a basic offering, has the balance and handling that I think most folks will quickly appreciate, along with a surprisingly good trigger.
Barrel quality is vitally important in a muzzleloader. I've seen my share of Spanish junk guns with mismachined, bell-mouth female barrel threads in addition to a few guns that like to fire themselves. Thompson / Center is comprised of a group of hunters and shooters themselves, so you can expect that they do all the common sense things in muzzleloading construction that most Spanish junk guns lack. This means in addition to the 100% certified steel, hardness testing, and other Q.C. checks, each and every T/C muzzleloading barrel is Magna-fluxed. This is just common sense according to Thompson, as it is just common sense according to my friend Tony Knight and virtually every industry professional I've ever met. It is not common sense in CVA and Traditions junk-land, folks, and this is such an important distinction that it cannot be stressed enough.
Thompson / Center appears to have a huge winner on their hands, perhaps rivaling the home run of the T/C Omega that was introduced in 2002. I'm looking forward to putting the new T/C Impact through its paces in a full-fledged review. As you might be able to tell, I think this rifle appears to be an ideal entry-level muzzleloader, far exceeding the problematic Spanish junk guns that have proved to be an embarrassment to the industry. At a $250 price point, the dubious imported inline muzzleloading attempts just became obsolete. It is about time.
Congratulations to Thompson / Center for offering a new, quality model that anyone remotely serious about muzzleloading can afford. I really think that T/C will sell a boatload of these rifles-- its looks to be the best that can be had for $250 by no small measure. Expect a full-length review of the T/C Impact in the very near future.

Copyright 2010 by Randy Wakeman. All Rights Reserved.
---
Custom Search