---
New Sportsman's Bench 6 Pack: Gunsmithing In A Tube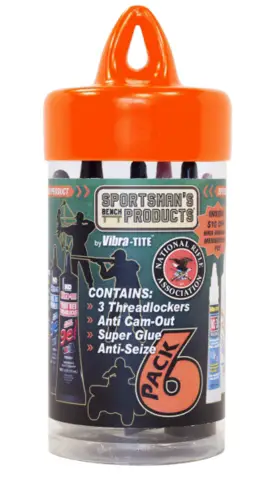 "Sportsman's Bench Products" is a new line of threadlockers, anti-seize, and adhesives directed to the hunter, shooter, and outdoorsman. By now, most of us have used various Loctite products, anti-seize products, and crazy glues. The problem is, the stuff is never around when you need it or we we don't have the right stuff for the job at hand-- so we use whatever is available. Or, we have it, but can't find it. The kid borrowed it, we gave it to the neighbor, and so forth.
This group of six products comes in a large orange topped "bobber" so it is hard to miss and easy to store. Included is a tube of superglue, a standard cyanoacrylate fast-acting bonding agent. Next, we have a pair of gel anaerobic threadlockers, blue (service removable grade) and red, the permanent type. The blue is what I use the most, for scope bases, rings, and so on.
Also included is nickel anti-seize, something I use regularly for muzzleloader breechplugs. The final two items are more innovative. They are "VC-3" and "DriveGrip." The VC-3 is described as a "non-traditional threadlocker. Vibra-TITE® VC-3 Threadlocker is an adjustable threadlocker. Once applies, it dries quickly to the touch so parts can be pre-coated. It is used in diverse applications, such as underwater use and on the M1A1 Abrams Battle Tank. Once applied to a fastener it can be used, adjusted, removed, reinstalled, and reused. This is in contrast to many threadlockers that need reapplication after initial installation, or don't take kindly to adjustments without losing a good portion of their strength.
The final product is "DriveGrip Anti Cam-Out Fluid." That's quite a mouthful, but doesn't tell me much of anything. I'll use ND Industries own description: "ND DriveGrip makes removing or tightening screws and other fasteners a breeze. A single drop of DriveGrip creates a positive grip between the metal surfaces of the fastener head and tool. Works great in applications where fastener heads or drives are worn or damaged. ND DriveGrip increases the grip strength between the fastener head and tool by as much as 700% and virtually eliminates tool wear, rounding, and deforming fasteners. ND DriveGrip helps you remove rusted or "frozen-in-place" screws and bolts that wont budge. Use ND DriveGrip in conjunction with all types of screwdrivers, hex keys, pliers, channel locks, vise grips, as well as open-end box-end wrenches."
DriveGrip works by increasing the metal to metal contact area by up to 700%. The DriveGrip fluid is full of tiny metallic particles that allow this to happen. It is from the newer family of "non-slip fluids" that can save the day with a rounded out Phillips head or a stuck screw or bolt. They work instantly, wipe clean, and are non-corrosive.
So, it is a good kit. Retailing for $24.95 and attractively packaged, they are going to sell a ton of these. All of the included items are available individually as well, so if you find yourself using DriveGrip a lot, you can pop a couple of extra tubes into your kit. In conjunction with the NRA, you get a coupon good for ten bucks off a new membership or renewal also included. Every active shooter will want to have a couple of these 6-packs at the bench or in their range bag. It is "Sportsman's 6 Pack Part # 80606SBP" and you should soon see it most everywhere. For more info on all of these items, check out the Vibra-Tite website: http://www.vibra-tite.com .
Copyright 2011 by Randy Wakeman. All Rights Reserved.

---
Custom Search