---

Sightron 8x42 SII Blue Sky Binocular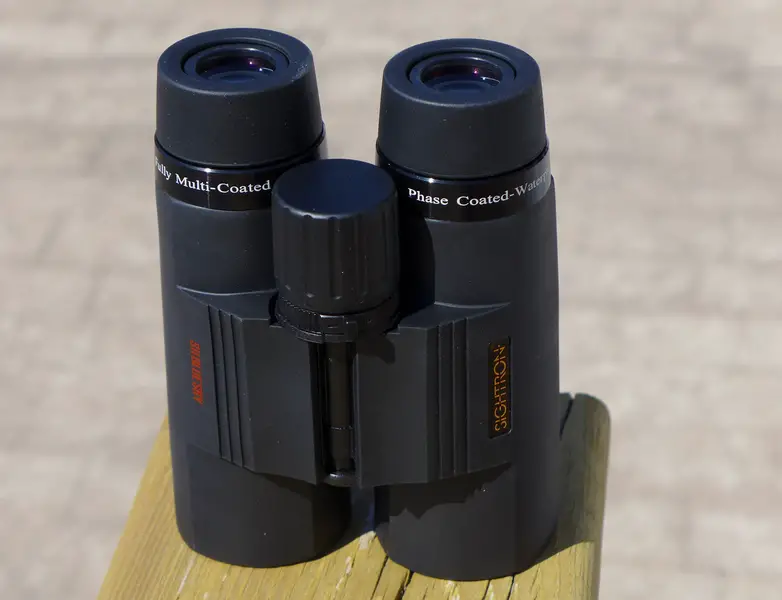 The 8 x 42 binocular platform is the one I use the most, for it offers a 5.25 mm exit pupil. Exit pupil is shown by the following graphic, courtesy of Olympus.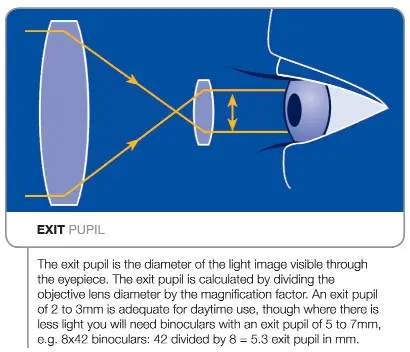 While like most things, it is a matter of personal preference and individual use, the 8 x 42 binocular set offers more image stability and image brightness than possible with a 10 x 42 set, and more brightness potential than the common 8 x 32 binoculars, with very little extra bulk or weight. The Sightron Blue Sky specifications are as follows.
Rubber Armored, Waterproof, Phase Coated, Roof Prism
Weight (oz): 24.3
Eye Relief (mm):15.3
Field of View @ 1000yds (ft): 419
Exit Pupil (mm):5.25
Close Focus (ft):8.5
Lens Coating: Fully Multi-Coated

This Sightron Blue Sky set falls right into the sweet spot of the price/performance value market, having a street price as of this writing of about $175 or so. If you go through the various marketing claims for similar binoculars, you'll know doubt read about "super lightweight" binoculars that are actually a but heavier than these are and super-wide panoramic sets that actually have a bit smaller field of view than this Blue Sky set does. It should make you wonder. The romance of a brand name can be blinding. To switch gears for a bit, one of my favorite digital cameras is a Panasonic Lumix DMC-LX7K that I purchased for $300 delivered. Another option is to buy the identical product, the Leica D-LUX 6, for $800. You get absolutely nothing for the extra $500 except for a Leica logo; it is the identical unit. Yet, some have certainly purchased the Leica regardless. It makes no sense at all, but these things don't really have to.
Although I've tested, used, and hunted with Sightron riflescopes for many years I've overlooked their binoculars. If this Blue Sky set is any indication, it has been my loss. The hinges work smoothly, the eyecups stay where they are supposed to, the rubber armoring is very grippy and feels great in the hands. Preliminary focusing is quick and easy, for the diopter focus is located right below the center main focus knob. Rubber objective covers have often been a hassle, for they can easily pop out, fall off, and slide around. Sightron has paid extra attention to this with a one piece plastic objective cover array that pops securely into place and comes off quickly, with no potential to obscure vision from "swinging cap syndrome."
This is a bright, clear, comfortable set of binoculars that performs well outside its price bracket and will leave you wondering why some $500 sets don't have the image quality the $175 Sightron Blue Sky set has. There is little that compares to these binoculars in their price bracket, and several far more pricey sets do not compare favorably. There is little else to say except that you won't be disappointed and congratulations to Sightron for an outstandingly good set of 8 x 42s binoculars at an extremely appealing price point.

Copyright 2013 by Randy Wakeman. All Rights Reserved.
---
Custom Search