---
Self Defense: Is it Legal?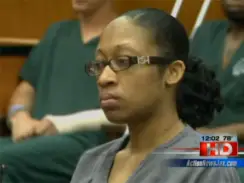 Florida mother Marissa Alexander of Jacksonville received a 20-years prison sentence, Friday, May 11, 2012, for firing warning shots against her allegedly abusive husband.
(WETV)

It sure is hard to say. Consider the plight of Marissa Alexander. As reported Fri May 11, 2012 by CNN, Alexander said she was attempting to flee her husband, Rico Gray, on August 1, 2010, when she picked up a handgun and fired a shot into a wall. She said her husband had read cell phone text messages that she had written to her ex-husband, got angry and tried to strangle her. She said she escaped and ran to the garage, intending to drive away. But, she said, she forgot her keys, so she picked up her gun and went back into the house. She said her husband threatened to kill her, so she fired one shot.
"I believe when he threatened to kill me, that's what he was absolutely going to do," she said. "That's what he intended to do. Had I not discharged my weapon at that point, I would not be here." Marissa Alexander was sentenced to 20 years in prison.
A far different story arrives from MYERSTOWN, Pa, however, from April 2012. A Myerstown, Lebanon County, police officer shot at a man early Monday morning after the suspect pointed a weapon at him, police said. Police said they responded to a call along the 300 block of South College Street around midnight. A 911 call reported that a man was "acting irrationally" and firing weapons inside his residence.
"When police arrived (an officer) heard rounds being discharged inside the home and confronted Scott Brown at the back door of his residence. Brown, who was armed, is alleged to have raised his weapon in a threatening manner towards the police officer, causing him to fire one shot at Brown," a police news release states. Police said the officer fired his gun as a warning shot at Brown. Lebanon County District Attorney Dave Arnold said it isn't clear what set Brown off. Brown was not hurt, and surrendered to police.
The highly politicized George Zimmerman case, where Mr. Zimmerman has been accused of racial profiling and murder gets stranger by the day. George Zimmerman's great-grandfather was black, his grandmother half black. Reuters gives some background: http://mobile.reuters.com/article/idUSBRE83O18H20120425?irpc=932 . According to CNN, "A medical report by George Zimmerman's family doctor shows the neighborhood watch volunteer was diagnosed with a fractured nose, two black eyes and two lacerations on the back of the head after his fatal confrontation with Trayvon Martin." CNN affiliate WFTV has reported that Martin's autopsy showed the teen had injuries to his knuckles when he died.
Jerome Ersland, Oklahoma City pharmacist convicted of murder, has recently fired his attorney. Parker and a friend, Jevontai Ingram, then 14, went into the Reliable Discount Pharmacy in south Oklahoma City near closing time May 19, 2009, at the urging of two men. They had been told to ask for the prescription drug OxyContin.
The men gave Ingram a gun, according to testimony in the criminal case. Parker was unarmed. The pharmacist shot Parker in the head as the boy pulled on a mask inside the store, according to surveillance recordings.
The Californian police officers from the Disneyland district (aka Fullerton Police Department) on July 5, 2011 had tortured and murdered a mentally ill homeless person Kelly Thomas due to a causal arrest procedure. The whole criminal action took its place then the police officer started persistently questioning the victim with no particular charge. The armless suspect (Kelly Thomas) was sitting on the road in a public place with no suspicious activity – he was homeless. Six police officers in California were placed on leave after surveillance video surfaced showing witnesses describe how cops fatally beat a mentally ill homeless man. Kelly Thomas, 37, died July 10, five days after a confrontation with Fullerton police "investigating reports of an attempted car burglary."
Confused yet? I am and you should be. A black woman in Florida fires a shot into a wall after her life is threatened. She gets 20 years. Pennsylvania cops fire a warning shot because a guy is acting irrationally inside his own home. Nothing further.
Oklahoma City pharmacist defends himself and fellow workers against an armed robbery while on the job, gets life in prison. Six Californian police officers stomp a homeless man to death and get placed on leave.
If you really don't want to get arrested for defending yourself, it looks like the best way is just to make sure that you are killed by your attacker.

Copyright 2012 by Randy Wakeman. All Rights Reserved.
---
Custom Search