---
Savage's Bargain EDGE Rifle: .308 Winchester (aka AXIS)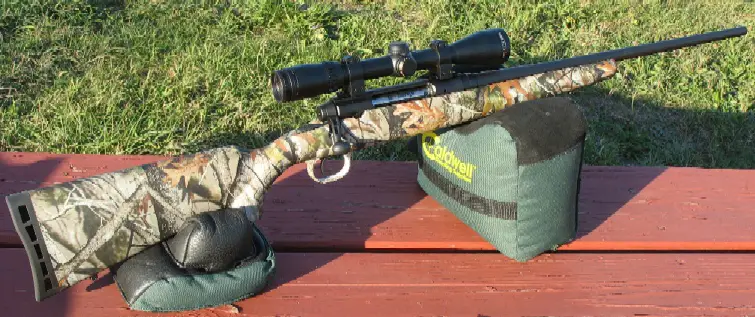 Savage Arms surprised most everyone with the introduction of their new "EDGE" series of rifles, the new "gold standard" in centerfire rifle for the dollar. A look at the Edge in .223 chambering appears here. Intrigued and impressed with how well the .223 version of the Edge performed, I wanted to take another look at this new, very aggressive price point rifle in a more substantial big game cartridge. Tested here is the Edge in camo configuration, Savage part #18917, in .308 Winchester.
Very similar to the .223, the .308 Winchester Savage Edge has the same receiver, distinctive Edge stock, the same recoil pad, and a four round detachable box magazine as before. It weighs 6-1/2 pounds as received on my Lyman electronic trigger gauge, just as described by Savage Arms. One of the benefits often overlooked in adding rifles built upon the same receiver is the ease with which you can swap scopes. Personally, I'd rather have one quality scope than a bushel-basket full of twenty-nine dollar bubble-packed Chinese specials. An Edge in .223 may well see more target and varmint use than a .308, yet when deer season rolls around you might like to quickly confirm your .308 and head to the woods with a minimum of fuss and bother. Big game hunting rifles tend to get more carry time than shooting time, yet it pays to have familiarity with the rifle as it does to have a bright, reliable scope. It took seconds to swap the scope from my .223 Edge to the .308 Edge, and it was off to the range.
The factory one hundred yard test target from Savage displayed a 1.1 inch group with 168 grain Sierra Match King boat tail rounds. Wanting to get this rifle tested fairly quickly, between hunts, I used the ammunition I had on hand: older Federal 180 grain "Hi-Shok"soft point rounds and also Federal Premium 180 grain Nosler Partition cartridges. First up was the bonus pack Hi-Shoks, shooting loose at right at two inches. Switching over to the Federal Noslers, the Edge quickly touched bullet holes shooting inside 5/8 of an inch-- astonishingly good for hunting ammo and astonishingly good for a rifle at this price point.
The sole caveat of the Edge is the overly heavy trigger. It breaks at more than the gun weight at about 6.9 pounds. I won't tell you that I enjoyed fighting this trigger, particularly after enjoying the light, crisp break of so many AccuTrigger equipped Savages. My understanding is that the Edge trigger is essentially the pre-AT 110 trigger, a trigger that a good gunsmith can get to below four pounds or so while retaining stability. It would be well worth it, in my view, although those looking for an easily user-adjustable trigger know that Savage offers the AccuTrigger throughout their line.
This Edge, just as is the case with its .223 sibling, is extremely easy to operate, with an exceptionally smooth bolt, exhibiting no feeding or ejection problems. This rifle does break new ground in the "bang for the buck" category, with little debate. I'm trying to think of a single Savage rifle that won't shoot inside inch and a half right out of the box at 100 yards with ammunition that it likes, rimfire, centerfire, or muzzleloader. I can't think of one, certainly no Savage I've shot in recent memory. I've waxed enthusiastic about the Edge in detail, right here: http://randywakeman.com/In%20DetailSavagenewEdgeSeries.htm so I'll not repeat all of those observations for this article.
Hunting and shooting is no spectator sport, in my opinion, and you aren't going to take your son, daughter, or wife hunting and shooting if the budget won't allow it. Particularly relevant to today's economy, start-up costs might be more than the average family might want to invest in. That's the beauty of the Edge . . . it gets the family out hunting and shooting with a reliable rifle that has more accuracy than you can use on a deer. As the years go by, sooner or later we tend to discover that we can't get them back. As our finances improve, perhaps we can upgrade to the more upscale walnut and highly polished blue models after a while.
This is of little consolation to Mom and Dad who would like to enjoy shooting sports with their families right now, long before the nest becomes empty. The Edge is, in large measure, a solution to part of that dilemma. It is a competent, safe, accurate rifle that helps get the family out in the field together without massive impact to the budget. For that, Savage Arms deserves great credit. A lot of people are going to be hunting and shooting their new Edges that would otherwise be on the sidelines. Right now, the basic black Edge models are in the area of $290 street price. The Savage Edge is the new gold standard in value-priced, entry level rifles. And, they shoot like a Savage.
Copyright 2010 by Randy Wakeman. All Rights Reserved.
---
Custom Search