---
Review: Savage Edge in .223 Remington: Best for the Dollar Ever?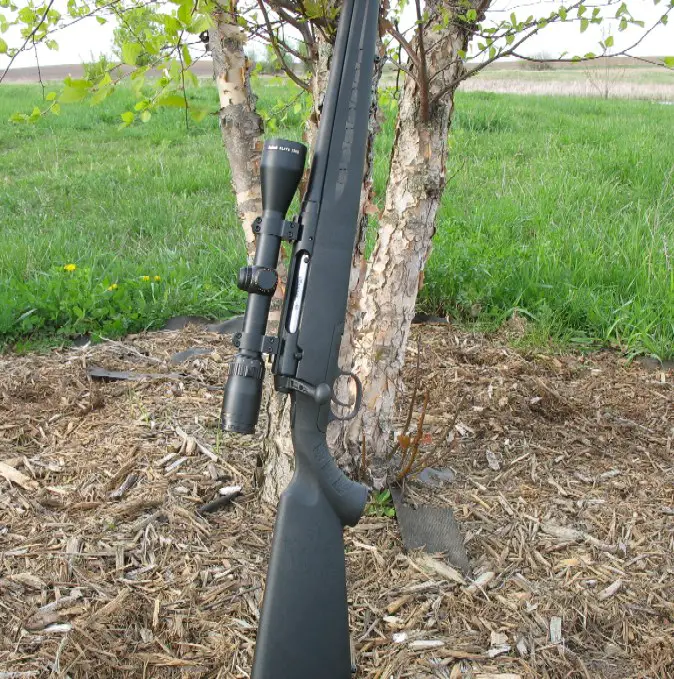 The tested rifle is a brand new offering from Savage Arms, designed to bring industry-leading affordability in a bolt action center fire rifle to the consumer, both designed and manufactured in the United States. Not just a variant of the famous Savage Model 10 / 110 action, this is a new action and stock rather than a redux. What is remarkable, if not stunning in 2010, is that the new Savage Edge has a MSRP of $329, with a street price of $290 or so. This is the type of blisteringly low price that would have most folks looking for "the made in Pakistan roll-stamp," not something made in the United States from American workers with American steel. Yet, that is exactly where this rifle is made, with a barrel array made with the same machines and craftsmen as Savage's World Championship rifles.
The test rifle is in .223 Remington, though the Edge is offered in a wide variety of centerfire chamberings including 22-250, .243 Winchester, 7mm-08, .308, 25-06, .270, and .30-06. All of them weigh about six and on half pounds, all of them have 22 inch barrels, and all of them have 4-shot detachable box magazines. None come with iron sights, all are for scope use with package models including a scope also offered. All of the Edge models are about 43-7/8 inches overall length.
The first area I looked at was the trigger. Most everyone by now is familiar with the user-adjustable Accu-Trigger, the trigger that changed the industry. If imitation is the greatest form of flattery, the folks at Savage Arms must feel tremendously flattered at the number of Accu-Trigger wannabes that have appeared as of late, not just on rifles, but on shotguns as well. While triggers are generally a bit of a pain in the butt for manufacturers, I've had far too many triggers that break at far more than the firearm weight, and are plagued with grit, creep, and all kinds of mysterious stages that make shooting them with accuracy a chore. Though no Accu-Trigger, the Edge's conventional trigger breaks at 5-1/2 pounds with some initial take-up but no sand. I'm happy to say that Savage did a good job in the trigger department, quite usable right out of the box. Is it an Accu-Trigger? The candid answer is no, not even close, but it is still a good field trigger, better than average. I've fought sloppy 8-10 pound triggers many times before and I'm delighted that the Savage Edge does not have this "feature." The Edge has a respectable hunting trigger.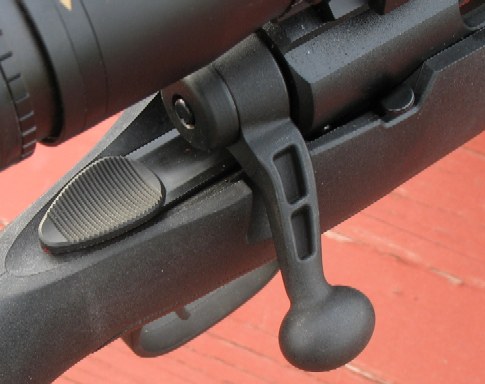 The Edge has an oversized, two position safety that is hard to miss-- even with cold or gloved hands. It is also refreshingly silent.
Another pet peeve of mine are noisy safeties that echo though the woods with a loud metallic click, or are unduly burdensome to get off, particularly with cold or gloved hands. Again, Savage did a very good job by including a huge two-position tang safety that you just can't miss. This a far better than the flipper-flopper stopper type of snaggy side safeties you might be familiar with.
One particularly nasty trick, in my opinion, is when rifle manufacturers include new, whacky, proprietary base types ostensibly so they can sell their own overpriced bases and rings. It invariably makes me groan a bit. Even the Browning X-Bolt, a long-action rifle only, sneaks in "X-bases" and "X-rings" which, in this area anyway, have sent buyers headed in the other direction. Not so with the Savage Edge, that uses the widely available two-piece bases for "round receiver front and rear" as do all Savage centerfire Accu-Trigger models.
In a nod to practicality of production, the Edge platform is basically one action type and platform. There is no Edge micro or macro action, just one fundamental barreled action regardless of chambering. All Edges have similarly profiled barrels, as the approximate 6.5 pound weight regardless of cartridge type suggests.
The Edge is almost all black matte and black, the chrome bolt with the Savage Arms etching and the familiar image of Chief Lame Bear the only part that keeps it from being an all-black rifle. Aesthetically, the Edge does have somewhat futuristic style, with deeply relieved notches in the bolt and recoil pad that compliment each other, along with textured raised surfaces in the forearm and pistol grip that complete the theme. I hesitate to call it loud or radical, as the matte black of the rifle makes the styling accents muted overall. Nevertheless, it does have a tactical, streamlined styling theme.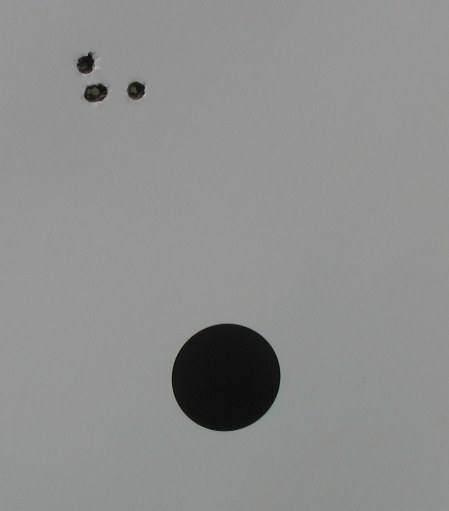 Above are the first four spotter shots of Federal American Eagle 62 grain FMJ ammo at 100 yards, measuring 5/8th of an inch CTC. With premium ammo, the groups just got better.
I mounted a Bushnell Elite 3200 3-9 x 40 ballistic plex scope and it was off to do some shooting. The first four spotter shots at 100 yards, using 62 grain FMJ American Eagle ammo, grouped at 5/8th of an inch. Dialing in the Edge, switching to Federal Barnes #P223S 55 grain Triple Shock loads, the groups shrank to just under half an inch, despite gusty range conditions. This is an astounding level of accuracy for a bargain-priced rifle billed as an "entry-level" rifle. As you might imagine, this is a very soft-shooting rifle in the .223 Remington chambering.
The Edge's action is slick and smooth, the cartridges fed out of the detachable box magazine with no hassle, and ejection was trouble-free as well. Though not the same as the Model 10 / 110 action, the Edge does use a similar bolt and has the familiar Savage barrel-nut, a very good thing. Rather than fighting tolerance stack-up, the barrel nut allows for precise head-spacing of each individual rifle. The Edge shoots like a Savage, my impression being that is primarily to Savage's uniform attention to chamber machining, head-spacing, and barrel quality.
This is a look at the Edge's four round detachable box magazine, that exhibited no feeding problems, with four Federal Barnes Triple Shock 55 grain rounds at the ready. Despite gusty range conditions, these rounds grouped inside 1/2 inch at 100 yards out of the Edge.
There is nothing remotely competitive with the new Edge in the marketplace that I'm aware of. It seems amazing that you can now get, in 2010, an under three hundred dollar street price rifle capable of one half MOA groups right out of the box, but that's precisely what the Edge delivered. It is affordable enough that anyone who really wants an accurate rifle just ran out of excuses. In the tested .223 Remington, it fits well as a walking varminter, ranch rifle, or just a utility all-purpose rifle that you can have fun at the range with as well. For a general hunting rifle, there isn't much that you can't do with the .308 or .30-06 family of cartridges, and you can have that as well for the same price. Though some considerations have been made to make this new action easier to machine, it is obviously a very strong, robust barreled action that owes a great deal to its Model 10 / Model 110 heritage, using essentially the same barrel, similar bolt array, and lockup. It functions beautifully with no hiccups, there is nothing hanging off of the rifle that is likely to snag on clothing and so forth.
All in all, it is a very clean design that shoots at several times beyond its diminutive price tag. Too often, rifles targeted as entry-level guns have displayed lousy safeties, rough actions, fussy magazines, and lackluster accuracy. The Edge has none of these propensities, comes with metal sling swivel studs, and a better than expected recoil pad as well. For all of these reasons, I think Savage Arms is going to sell a ton of these rifles. There is nothing out there that remotely competes with it, much less a centerfire rifle built in Westfield, Massachusetts, USA.

Copyright 2010 by Randy Wakeman. All Rights Reserved.
Custom Search