---
A Solid Gold Classic: The Savage 114 Classic .270 Winchester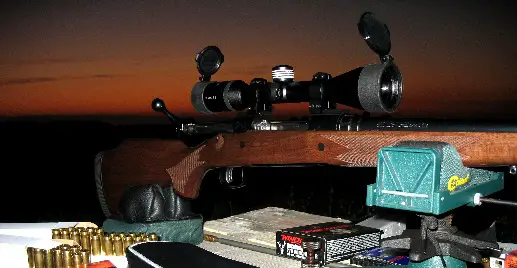 The tested rifle is the new-for-2006 Savage Model 114 "Classic," the Monte Carlo raised comb and cheek-piece (sometimes called the California stock) version of Savage's classic series. Building on the success of the Savage "American Classic," this is their long action example fitted with a hinged floor-plate for quick internal magazine unloading. The stock design positions your face in the proper, slightly elevated position for quick scope use. As such, no iron sights are provided. When you snap the rifle to your shoulder, you instantly are looking right through your scope—the way things should be. As with all the Savage Classic models, expect high polish bluing, a laser-etched bolt, and the Savage "Chief Lame Bear" logo grip cap finishing off the black tipped American walnut stock with cut checkering.
As supplied from the factory, the Savage AccuTrigger breaks at a repeatable 2 lbs. 9 ounces—with no take-up, sand, or grit. It is a beautiful trigger right out of the box. Millett has a new "Weaver-style" Savage steel base set that I installed. While steel, it is skeletonized on the mating portions to eliminate superfluous weight. They work just great, also allowing the mounting of shorter (and automatically lighter) scopes than just the full length variety. I find the standard length of pull a bit too short on most all hunting rifles for my personal liking; so after the first range session I installed a Limbsaver pre-fit recoil pad in place of the std. rubber butt plate that fits as well as you could ask for on any pre-fit pad. There is no way I could consider this rifle a "kicker," but the addition of the Limbsaver pad makes it hard to believe you are shooting a high-powered big game rifle—even with "High-Energy" loads. Having put 140 rounds or so through it just today, it still doesn't seem like it, or feel like it. To finish off the rifle, I mounted a Kahles Helia CL "Multi-Zero" 3-9 x 42mm side focus scope—a scope so innovative and remarkable, it is reviewed in detail elsewhere. The scope was secured to the bases with my perennial favorite rings—matte Warne steel Maxima QR, medium height. Even though sunset was around 8 pm, I found myself shooting till well after 9 o'clock, if that tells you anything.
Savage did an exemplary job with the stock design: it not only looks good, but the comb has a slight downward slope to it—falling away from your face during the recoil pulse, not pushing up into it. The hinged floorplate for the four round internal box magazine snaps closed firmly, with the release lever fitting flush, secure, and snag-free.
A wide variety of factory ammo was fired. You've all heard that "every rifle" is an individual; certainly true in large measure. Yet, this .270 Savage Classic is perhaps the most 'ammo-insensitive' rifle I've ever tested. No factory load shot worse than 1 MOA @ 100 yards. Though I certainly haven't run everything through this rifle that is available, it did astonishingly well with Winchester 140 grain AccuBond cartridges (#S270CT, 2950 fps MV, static BC of .472). Despite the heat and high humidity (94%; yuk) it managed three shot groups at 102 yards averaging less than one half inch with a couple of lucky groups just under one quarter of one inch. As far as I'm concerned, this is a ridiculously fabulous level of accuracy in an unmodified hunting rifle, with factory hunting ammunition. Frankly, I don't know how Savage manages it—apparently their continued close attention to precise chamber dimensions, free-bore, and head-spacing has paid off. The metallurgy is different for button-rifled barrels than for cut rifling; the secret recipe Savage uses is likely in CEO Ron Coburn's underground vault, surrounded by a moat with alligators. Exactly how Savage has done it they likely aren't telling, and I sure don't blame them. There is no disputing the results, however—and they are remarkable—if not stunning.
The Savage 114 exhibits refined balance and excellent handling; it is very comfortable to shoot. As a further bonus, the Savage 114 Classic averages from 3/8 to a full pound lighter than competitive models—always welcome in the field. Savage also happens to lighten your wallet less than anything remotely comparable. We've often heard the "you get what you pay for" dogma parroted again and again when there is nothing of substance to say. Maybe I should stop buying things on sale, because, of course, "You get what you pay for!" It is all a bit silly; perhaps those who bought Enron stock just got what they paid for as well?
You sure don't automatically get what you pay for; price is just a number you pay—value is what you get. Savage Classics are a glistening example of getting far more performance and value than the sticker price could possibly suggest. Right now, I can't think of a more appealing bolt-action rifle to own, shoot, and hunt with than this exemplary model right here. Savage has achieved this rare blend of overall build quality, pride of ownership, pride of performance, and tremendous value all in one package. The Savage Classic is a beauty, going far beyond just "good for the money"-- it is just plain good. Really good. When you try one for yourself, you'll know exactly what I mean-- there's never been a better time to own a Savage, and this rifle proves it.
Copyright 2006 by Randy Wakeman. All Rights Reserved.
---
Custom Search