---
Savage 10ML-BP: World's First Test of this 2009 Cabela's Exclusive

New for 2009, Cabela's is offering a new model of the highly-regarded Savage 10ML series of muzzleloaders that can only be had through Cabela's designated as the 10ML-BP. Apparently, Cabela's sought a high-quality, premium in-line American-made blackpowder muzzleloader that would fit well into their pre-existing and vast array of inline muzzleloading bullets, propellants, scopes, and other accessories so they turned to Savage Arms.
I can only speculate on the reasons for this. Large retailers themselves are highly competitive with each other, so when an outfit the size of Cabela's can offer a model designed to their specifications available only through them, it can give them a huge leg up on the competition. There is a great deal of value in associating yourselves with quality American products backed by sterling customer service. It gives the respective dealers a source of confidence and pride, and satisfied customers tend to come back for more of their hunting and shooting needs, where disappointed customers may not. There is success and pride by association that makes retailers look good. As to how this configuration is different from the rest of the Savage muzzleloader series, let's take a look.
The barrel is a couple of inches longer, at 26 inches, that some folks look for in a high-velocity, long-range muzzleloading rifle. Quickly, I was able to notice a few new details featured on the 10ML-BP. The ramrod thimble is redesigned, a bit longer and now equipped with six horizontal lightening holes (three on each side) to compliment the longer barrel and ramrod.
The barrel itself is now Savage's large shank barrel, featuring the smooth "invisible barrel nut" that Savage has added to its centerfire line to give the action a cleaner look. I'm advised that the action-screw spacing is now 4.40 inches to match the new Savage centerfeed style stock, rather than the previous 4.275 inch spacing of the classic Savage staggered-feed stock spacing. While this may not seem particularly important on a muzzleloader (because it isn't), it is mentioned here to explain why neither barrel or stock is interchangeable with other Savage 10ML-II models. Some folks like to mix and match things, so a heads-up is that this stock will not fit other 10ML series rifles nor vice-versa.
As the name "10ML-BP" indicates, this rifle is designed and intended for blackpowder substitutes and organic blackpowder only, not smokeless powder as in the 10ML-II series. Some of course will quibble with this, but the bottom line is when you manufacture a rifle, only the manufacturer may set manufacturer's recommendations. Savage has been very clear on what this rifle is to be used with, and that means no smokeless. Cabela's also notes in their catalog and on their website: "This model Savage 10-ML-BP is produced exclusively for Cabela's & is NOT for use with modern smokeless propellants. This weapon is designed for use with up to 150 grains of black powder or black powder substitute ONLY." So, there is just no question about the matter.
Velocity fans will be happy to hear that this rifle produced over 2200 fps through my CED M2 chronograph with a standard Barnes 250 grain MZ-Expander and 130 grains Blackhorn 209. Personally, I'm not at all a fan of velocity "at all costs" and found that 100 - 110 grains by volume of Blackhorn 209 gave the best accuracy. The fastest thing you can possibly get out of the muzzle in any rimfire, centerfire, shotgun, or muzzleloader has never given me the most accuracy, so I'll opt for accuracy and shot placement every time over a bit higher chronograph number. Individual rifles have their own personalities of course, but 100 - 110 grains of Blackhorn 209 gave me the best groups. As is, 110 grains of Blackhorn 209 and a Barnes T-EZ 290 out of the Savage 10ML-BP produces more velocity and energy at 330 yards than a .44 RemMag has at the muzzle.
Is this a negative? My candid answer to this is "yes and no," an answer that some will find just as clear as mud. One thing that has been overlooked since the Savage muzzleloader made its headlines about eight years ago is the tremendous versatility of the rifle itself. While unique in offering smokeless capability, the Savage 10ML series has always been supplied with blackpowder and blackpowder substitute loading data as it is a rifle that lets you choose what you prefer. While the specific smokeless loads allowed in the 10ML-II series only with 250 - 300 grain sabots, the 1:24 twist rate Savage barrel has always been ideal with blackpowder for heavy conicals just as the now-unavailable White rifles were renowned for. The Savage's barrel with its somewhat tighter rate of twist allows it to stabilize longer, heavier bullets that 1:28 barrels cannot handle. For example, the classic "tube-type" 300 grain Barnes MZ-Expander is a very long bullet, with an impressive hollow-point. Both the hollow-point and the heat-treated copper construction of the bullet combine to make a long for grain weight bullet. Though terrific on game (I've taken a goodly number of tough animals with it at ranges from 10 - 220 yards), some 1:28 rate of twist barrels can shoot it accurately and some can't, as Barnes notes in their data. The Savage can, though, and it has done a fabulous job on some large Russian and feral hogs for me in Tennessee and in deep southern Texas as well with the standard Barnes MZ-Expander 300 grain.
Still, if this was a few years ago, personally I'd find the lack of smokeless capability in the 10ML-BP more of a negative than I do today. The difference is the introduction of a new class of blackpowder substitutes from Western Powders: Blackhorn 209. In fact, it was a factory Savage 10ML-II barrel that was used for load development of Blackhorn 209. The only consideration with Blackhorn 209 is that it needs an efficient 209 primer breechplug system for perfect ignition, as you quickly realize from the name of the propellant. As the Savage 10ML has the most efficient breechplug and sealed action on the market, Blackhorn 209 and this rifle are a great match.
Indeed, along with this rifle came a couple of representative 100 yard test targets from Savage, one measuring 1.9 inches center to center, the other 1.06 in. c-t-c. Those groups were from the "Savage standard" .452 in. diameter 250 XTP in the short, black "MMP" sabot from MMP and 100 grains by volume of Blackhorn 209. I topped off the 10ML-BP with my favorite scope, a Sighton SII Big Sky 3-12 x 42mm, and it was off to the range.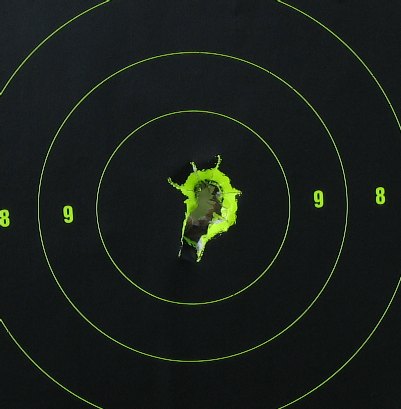 10ML-BP 3-shot, 100 yard group fired from the tested rifle w/ 100 gr. Blackhorn 209 and Barnes T-EZ 290.
One of the most impressive bullets I've used recently is the Barnes Spitfire "T-EZ" flat base 290 grain. As the name tells you, the "T-EZ" series is ideal for extremely tight or undersized barrels, or when using heaving fouling propellants. As supplied, I felt the "T-EZ" 290 loaded too easily in this Savage, so I subbed in the MMP HPH-12 high performance series sabots (easy to do as this Barnes has a flat base) and that gave me the firm but smooth loading I was looking for. Tight sabots normally equate to tight groups, so it was time to find out. After a couple of targeting / sight-in shots, it was out to 100 yards where the combination of Federal 209A primers, 100 grains by volume of Blackhorn 209, gave me instant MOA groups with the majority below 3/4 inch CTC, and many groups essentially just one hole until the wind picked up. It was an astonishingly good level of accuracy for not just a muzzleloading rifle, but any out of the box big-bore rifle. Savage Arms has long stated that all of their muzzleloaders are capable of 1.5 inch 100 yard accuracy, and the tested 10ML-BP easily exceeds that. Of course, most muzzleloading enthusiasts readily appreciate that no rifle will do that with just anything you feel like mashing down the barrel, we all have to do a reasonable amount of load development letting individual rifles tell us what they like to be fed. Perhaps I got a bit lucky with the sabot selection for this rifle-- but I'd rather be lucky than good any day.
Rather than using a proprietary breechplug wrench as in previous Savage models, the 10ML-BP comes equipped with a 3/8 in. socket head breechplug. This is a very welcome addition, meaning the scant little maintenance a Savage 10ML requires is now handier, easier, and can be done with normal household tools. A great improvement.
The "Next G1" pattern camo stock on the Savage is attractive, but the best thing about it is the Savage "P.A.D." recoil pad that comes with it from the factory. Unlike so many heavily touted recoil pads that disappoint, the Savage "P.A.D." does a wondrously good job. The first one I tried came on a Savage .22-250 sporting rifle: it felt like shooting a .223 or less. The Savage 10ML-BP is a very comfortable rifle to shoot with no question.
The Savage Accu-Trigger on this rifle broke at an instant, creep-free 3 pounds two ounces. Though user-adjustable with no gunsmithing required, I felt it was just perfect out of the box so I had no reason to touch it. At the time I was testing and evaluating this rifle, a northern Minnesota black bear hunt was on the schedule-- and this rifle did so well, it got to make the trip. The black bear hunting story appears elsewhere on this site, but in short: the Savage delivered big-time.
Savage has long had only one standard for their 10ML series of rifles, that being the best. It's the same way with the entire Savage line-- there is never a compromise on quality in a Savage rifle. The reality of costs dictate that highly polished blue and high quality furniture mandates a correspondingly elevated price point, but when it comes to Savage barreled action the Savage way is the no-compromise way. It is in the DNA of the company, that runs from CEO Ron Coburn and permeates thoughout the Savage team of machinists, engineers, and their customer service staff.
When you buy a new rifle, there is a bond of trust between manufacturer and consumer that is forged and reinforced throughout the years. It takes a long to time to establish that, but that is why Savage brings more shooters into their fold year after year. They care just as much about what you are shooting and your successes as you do.
There are a couple of things I personally would like to see adapted to this rifle. Rather than the longer barrel, I'd actually prefer a shorter, 22 inch model with the faster handling that goes along with it. Savage has never been short on innovation, to be sure. Just as the Accu-Trigger changed the industry standard for factory triggers, their new Accu-Stock has recently taken the factory polymer stock to a new, far higher level. I'd love to see the Accu-Stock introduced into the 10ML line. It may require a segmented ramrod or the carrying of your ramrod in your backpack (something I do as a matter of course anyway) but in my view it would be a small consideration compared to the accomplishment of bring the world's most advanced muzzleloader to an even higher level.
As is, the Cabela's 10ML-BP is a screaming bargain in today's muzzleloading market, made even better if you go for the seasonal Cabela's coupons, sales,or have a few "Cabela's bucks" stashed away. It is one of the most comfortable muzzleloaders to shoot, no muzzleloader has a better trigger, and the fast locktime and silent three-position Savage safety combine to allow you to put your bullet through your deer (or your bear) long before the hammer ever falls on hinge-pin hammer guns. It shoots like a real rifle, it shoots like a Savage, and it has overall build quality that has never been approached in a muzzleloader, much less exceeded.
The 10ML-BP has the trigger, the blow-back free sealed action, the intuitive safety, the Savage factory pillar bedded stock, and the Savage brand of accuracy that is quite a combination along with its remarkably soft shooting characteristics. I have a feeling that Cabela's is going to make a lot of muzzleloading hunters very, very happy with this new exclusive product. As for me, what can you say about a rifle that shoots into the same hole and has already dropped a 6-1/2 foot bear faster than you can believe? There's a lot of meat in the freezer already this year, and the Savage 10ML-BP had no trouble putting it there. It is both an exceptionally good rifle and an exceptional value as well.
To get yours today, see Cabela's (the current link is http://www.cabelas.com/p-0065969216923a.shtml).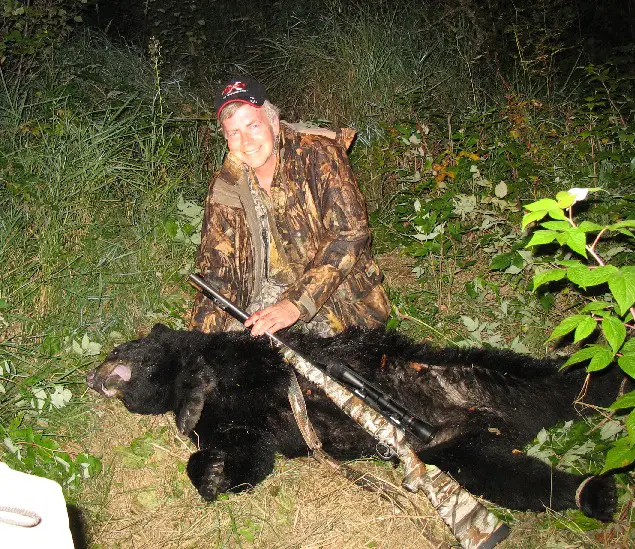 Copyright 2009 by Randy Wakeman. All Rights Reserved.
---
Custom Search