---
New 2011 Savage Arms Model 11 Lightweight Hunter 7mm-08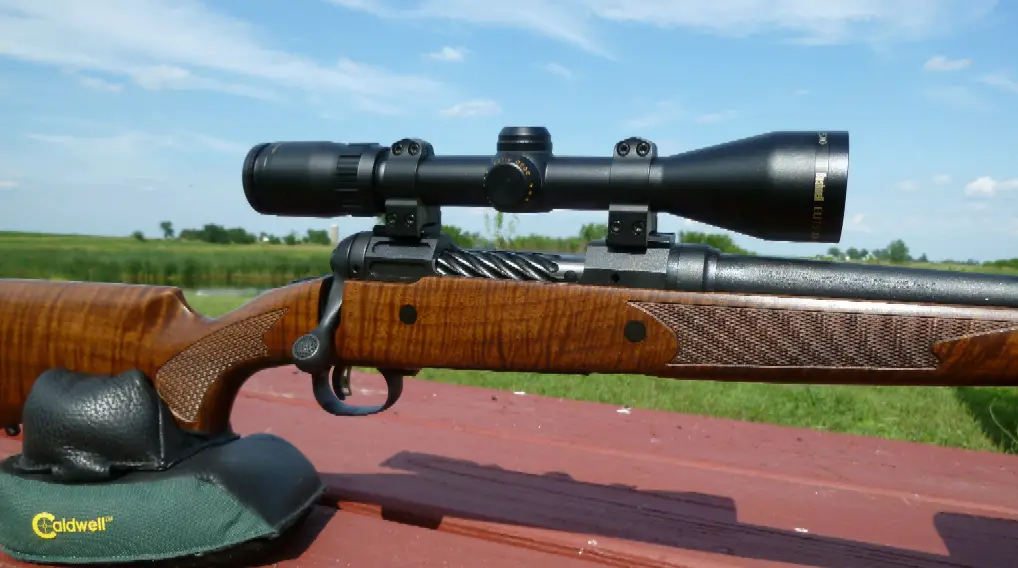 Introduced at the January, 2011 Shot Show in Las Vegas as part of Savage Arms growing "Speciality Series of rifles is the new Savage Lightweight Hunter, promising to shave a full pound and one half off of the equivalent Model 14 American Classic, is one of my favorite hunting rifles. In 7mm-08, the published specifications are as follows.
SKU: 19207
Chambering, as tested: 7MM-08 REM
Rate of Twist: 1 in 9.5"
Barrel Length: 20"
Overall Length: 40.25"
Approx. weight 5.5 lbs
Capacity: 4 rounds
MSRP $875.00
Savage managed to accomplish exactly what they set out to do, as the Model 11 7mm-08 weighs five pounds, nine and one half ounces according to my Lyman electronic scale with scope bases and detachable box magazine installed. The Lightweight Hunter is also available in .260 Rem, .308 Win, 243 Winchester, 223 Remington, and the 6.5 Creedmoor.
Savage used several techniques to remove the weight, most a matter of aggressive machining away of extraneous metal. The barrel is two inches shorter, the bolt has a deep "Twizzler" licorice style of spiral fluting, and the action frame itself has multiple lightening machined relief areas. The forearm of the oil-finished American walnut stock is aggressively populated from beneath with lightening slots. The trigger guard is techno-polymer, with the new style bolt release nestled at its front. This rifle also features the industry-leading Accu-Trigger and the newer, "invisible style" barrel nut.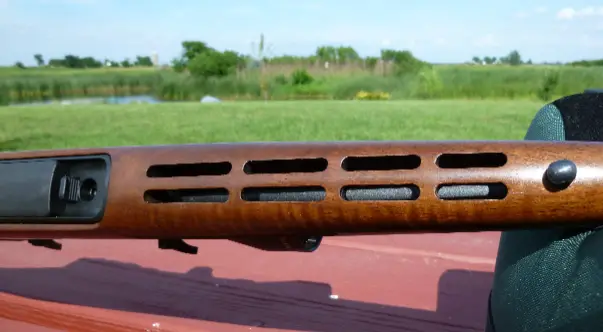 It seems to me that Savage pulled out all the stops to lose weight without sacrificing strength of the rifle or resorting to over-priced, exotic materials. The slotted area of the forearm, shown above, is one prominent example.
The factory test target, fire on June 22, 2011, showed a 1.3 inch 100 yard group at 100 yards using 140 grain Ballistic Silvertip ammo. Mounting a 3-9 x 40 Bushnell Elite 3200, I started with the ammo I both used and hunted with last year, Hornady Superformance GMX 139 grain #80576 rounds. It shot an inch at 100 yards first three shots, and did that (or better) for as long as I cared to shoot. Wearing a thin t-shirt on a hot day, that wasn't very long. While not particularly abusive, likely not even noticeable in a hunting scenario, there is no getting past physics. Dropping the weight by slightly over twenty percent increases recoil commensurately, just as you'd expect, despite the extremely well-fitted Pachmayr Decelerator pad that is factory-supplied. This rifle is far more accurate than needed for big game hunting and does exactly what it is supposed to do . . . shed weight without any tangible, real-world performance loss.
It is a strikingly handsome rifle as well, helped in this particular example by a gorgeous piece of American Black Walnut. When you test a rifle that is this well done and performs this well, you can't help but buy it for yourself . . . which is exactly what I did. For a paper pounding target rifle, naturally you'd look to other models in the Savage line, it clearly isn't supposed to be a dedicated paper-puncher. For an attractive, lightweight, easy-handling hunting rifle, the Model 11 Lightweight Hunter will superbly satisfy most anyone.

---
Custom Search