---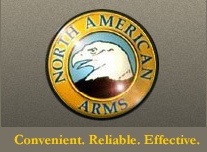 Review: Ruger SR22 Rimfire Autoloading Pistol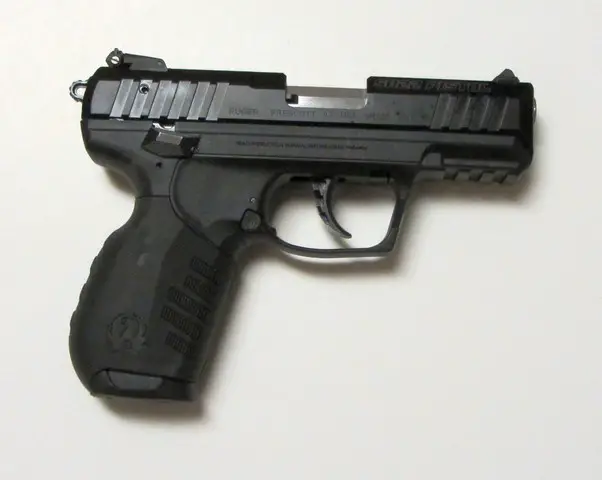 New for 2012 is the Ruger SR22 10-shot autoloading pistol. The new Ruger resembles the Walther P22, which itself is presented as a three-quarters size adaption of the Walther P99. The Walther itself has been a popular pistol, has been billed as "the world's most popular," although it has also gained a reputation for being a bit fussy about ammunition and is cheaply made, the primary area of disdain being its zinc alloy slide. The Walther also has a sleeved, "rifled insert" style barrel . It seems that Ruger seeks to capitalize on the popularity of this style of lightweight plinker, but losing the cheap slide and fixing the ammo fussiness in the process. The published specifications from Ruger follow.
Catalog Number: SR22PB
Model Number: 3600
Caliber: .22 LR
Slide Material: Aluminum
Slide Finish: Black Anodize
Grip Frame: Black Polymer
Sights: Adjustable 3-Dot
Barrel Length: 3.50"
Overall Length: 6.40"
Height: 4.90"
Width: 1.29"
Weight: 17.50 oz.
Capacity: 10
Twist: 1:16"
RH Grooves: 6
MA Approved & Certified: No
CA Approved: No
Suggested Retail: $399.00
The Ruger SR22 is ambidextrous most everything. It has an ambidextrous safety and an ambidextrous magazine release, which is to say dual safeties and dual slide release buttons, one each found on both sides of the handgun. The SR22 has adjustable three-dot sights, a Picatinny under rail for accessories, and a pair of slip on rubber grips, one extremely thin and one medium sized. Most will go for the larger grips straight away; they still aren't that large.
If you're looking for a fabulous trigger, it isn't here based on my test gun. It is the familiar double action / single action style, with a huge pull to break the trigger in double action mode at nine pounds plus. Once the hammer is back, after a huge amount of take-up, the trigger breaks at about seven pounds according to my Timney trigger gauge.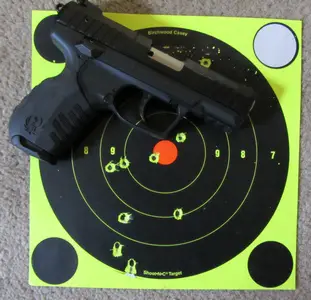 Though the SR22 was completely reliable, the combination of the coarse three dot sights and the excessively heavy trigger made it difficult to shoot accurately, if indeed it could be considered acceptably accurate at all. A representative 25 yard, 10 round clip result of Winchester Super-X 40 gr. HP ammo is shown above. It compares very, very poorly to any number of regular test .22 rimfire pistols here, including a NAA Mini-Master, Colt Diamondback, and a Ruger 5-1/2 in. Mark II target.
Based on testing with bulk Federal and Fiocchi rounds along with Winchester Super-X 40 gr. HP ammo, the SR22 is completely reliable. It is also a dream to strip and clean. At not much over a pound, it is extremely lightweight as well. Though the SR22 retails for $399, street price is in the $300 area as best I can discern. This is similar to, if not a bit less than the Walther P22 it obviously competes with. Some of the truly ugly Walthers (digital pink camo) run around $375 or so.
Recently, I've been very impressed with Ruger handgun product. That includes the LCR, the SR9, and the SR1911. In this case, my opinion is far less enthusiastic. It is tactical, fashion statement type of plinker. Nevertheless, it is reliable, attractively priced, and certainly a clear materials quality upgrade from the basic zinc slide, cheap sleeved barrel genre of Walther product. As a result, I think Ruger will sell a ton of these, if they haven't already.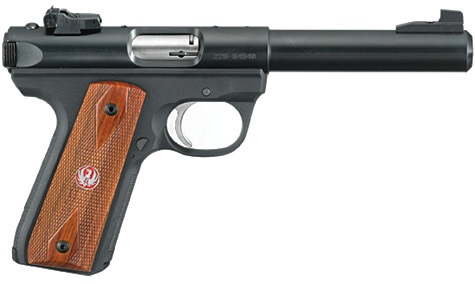 So, what's my beef? The problem is Ruger makes far superior general purpose .22 autoloaders already, for the same or less dollars, that have substantially better triggers and are dramatically more accurate. The Ruger P512MKIIIRP, for example, is the 5.5 inch bull-barreled version of their 22/45 series, with Cocobolo checkered grips retailing for $389 (shown above), the standard P512MKIII retailing for $349. The basic steel Ruger Mark III tapered barrel, offered in 4.5 or 6 inch barrel lengths, retails for $379.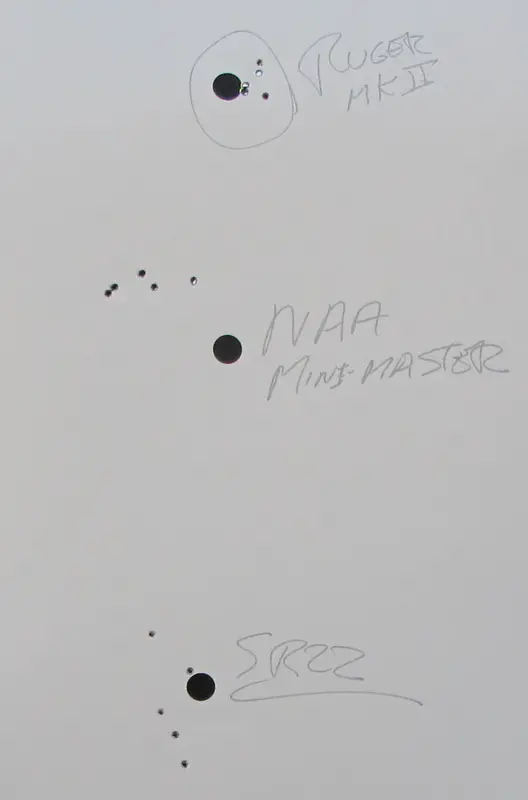 Above, a 5 shot 10.5 yard plinking comparison, using Federal bulk "milk carton ammo." The Ruger Mark II was obviously the most accurate of the trio, followed by the North American Arms Mini-Master, with the Ruger SR22 trailing the field badly.
So, while Ruger seems to have wanted a lightweight P22 beater and has done it, the preexisting Ruger Mark III pistols remain far superior at least in my opinion, as reliable, durable, well-made, more accurate, and comparatively far more visually appealing autoloading pistols as well. All for the same, or actually a few less dollars, for many times more pistol.

Copyright 2012 by Randy Wakeman. All Rights Reserved.
---
Custom Search