---

Rudy Project Eyewear Genetyk Performance Shooting Kit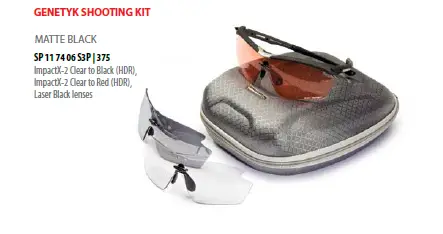 Rudy Project is a international brand of high-performance sports eyewear. They publish a brief history as follows.
About Rudy Project
Rudy Project designs and manufactures hi-tech sunglasses, digital prescriptions/Rxes, helmets, goggles and gear by applying the most advanced science and technology. Designed and crafted in Italy since 1985, Rudy Project has grown quickly as a premier brand throughout North America. Rudy Project has won Outside Magazine's prestigious "Gear of the Year" Award, twice, for its cutting edge frame and lens technologies. Rudy helmets were recognized as the #1 most worn aero / time-trial brand at the GoPro™ IRONMAN® World Championships in Hawaii for the last three years, and have been designated the Official Helmet of IRONMAN® for North America. The Wingspan TT helmet was also selected as Triathlete Magazine's "Best Aero Helmet" in its 2012 "Buyer's Guide." Of late, Rudy Project has prided itself for providing the absolute best prescription eyewear for athletes and outdoor enthusiasts around the world. What sets Rudy Project apart is unparalleled customer service standards, cutting edge products and technological innovations, and proprietary, award winning lens technologies including ImpactX™, Polar3FX™ and RPOptics™. Rudy Project offers a Lifetime Replacement Lens Guarantee and an industry leading 3 year frame warranty. More info is at http://www.rudyprojectusa.com .
Of particular interest to hunters and shooters is their ImpactX™ lens material they say has a lower refraction index, internal stress and chromatic dispersion than polycarbonate resulting in higher definition and sharpened image.  ImpactX™ is also stronger than any other lens material, is the same technology used in Apache helicopter windshields and is guaranteed unbreakable for life.
Their latest offering is the ImpactX™2. This new generation of unbreakable photochromic lenses has set the final frontier in sports optics. Compared to the previous generation of ImpactX™, the new ImpactX™2 lenses are claimed to offer, 25% faster activation, activation in all natural light, including behind surfaces which screen UV Rays such as windows or car windshields, better temperature stability, by up to 20%, increased photochromic range with up to 65% higher performance, higher efficiency UV ray absorption, and high dynamic range filters for eye popping lens clarity and perfect visual acuity. 
Furthermore, ImpactX™2 lenses are the first in the world to automatically lighten and darken from a semitransparent tone to a specific color (red, black, brown) according to light conditions and your specific shooting requirements.
Now, that's a lot of information to wade through. Almost needless to say, these aren't "gas station" sunglasses. The tested example is the Genetyk Performance Shooting Kit that includes matte black frames, is Sku: SP117406S3P, and has three lens sets: ImpactX-2 Clear to Black (HDR), ImpactX-2 Clear to Red (HDR), and Laser Black lenses.
The Laser Black lens is the easiest to describe. It is mirrored on the outside and would be used when you want a standard contrast lens in fairly bright conditions: driving, for example. The photochromic lenses are of more interest, for the Clear to Black goes from 74% - 9% light transmittance, the Clear to Red going from 76% - 17% light transmittance. Now that is a very wide range, a far cry from prior "self-darkening" sets of glasses I've used that really never get particularly clear or particularly dark. These two lenses alone cover most of my shooting and hunting applications, using the Clear to Black as the default, but going to the Clear to Red for clay targets, or other instances when you want that extra pop.

The Genetyk glasses themselves are as comfortable a set of shooting glasses as I've ever worn, extremely light against the face, weighing just over an ounce or so. Rudy Project offers a vast array of frames and lenses to please most anyone. For me, personally, the Genetyk frames are ideal and just two of three lenses included in the kit, the clear/black and clear/red cover most every normal situation I'll have in the field or at the range. Highly recommended; be sure to try them for yourselves. You can get yours at http://www.e-rudy.com/en/ or your favorite pro shop.

Copyright 2014 by Randy Wakeman. All Rights Reserved.


---
Custom Search