---
Review: 2012 Browning A5 Hunter Autoloading Shotgun

The new A5 has been an excruciatingly long time coming, but after nine months it has finally made it. Tested is the 28 barrel Hunter version, meaning a polished blue barrel and walnut furniture. Having a walnut stock on a new autoloader instead of "highly polished plastic made by Old World Craftsman" is in itself an event of sorts, for a new autoloader. All too often the choice has been ugly blow-molded ground-up garbage can lids (technopolymer), same plastic dipped in plastic film, or ugly wood also dipped in plastic film by what is known as "water transfer printing."
A bit of background is in order. It is unfortunate that Browning chose to call this aluminum receiver lightweight inertia gun the A5, as it really has right at zero percent to do with the steel receiver, long recoil, J. M. B. Automatic-Five. But, they did. This gun has already been referred to as the "Brownelli," as the inertia action invented by Bruno Civolani in the 1960s was popularized by Benelli Arms that was founded in 1967, as an offspring of Benelli motorcycles. As mentioned on the Benelli Italian website: "It was 1967. The long-recoil system of the present was the smooth-bore semi-automatic, gas operated what was intended as the only alternative for the future. Numerous attempts to produce different kinematic had obtained modest results. It seemed that nothing new could be conceived and valid. But the revolution was at hand. In 1967 Benelli introduced the Model 121 and its revolutionary closure inertial release." Benelli was acquired by Beretta in 1983. Though the kinematic action is what it was originally, it has been touted as "inertia" until now. It has come right back to the future with the Browning Kinematic Action.

Here's how Browning describes it.
Caliber / Gauge 12
Item Number 0118003004
UPC 023614072096
Barrel Length 28"  
Nominal Overall Length 49 5/8"  
Nominal Length of Pull 14 1/4"  
Nominal Drop at Comb 1 3/4"  
Nominal Drop at Heel 2"  
Nominal Weight 6 lbs. 13 oz.  
Chokes Included Full, Improved Cylinder,  Modified,  
Chamber Size 3"
Rib Width 1/4"
Metal Finish Black anodized bi-tone
Wood Finish Gloss stock and forearm
Stock / Grip Close radius pistol grip
U.S. Suggested Retail $1,559.99
Browning's published feature list includes:
Receiver - Strong, lightweight aluminum alloy • Black anodized bi-tone finish
Barrel - Lightweight profile • Flat, ventilated rib
Action - 3" chamber • Recoil operated Kinematic Drive is ultra-reliable and cycles a wide range of loads
Stock - Gloss finish Walnut with close radius pistol grip • Sharp 22 lines-per-inch checkering • Shim adjustable for length of pull, cast and drop
Features - Vector Pro™ lengthened forcing cone •  Speed Load Plus  •  Humpback Acquisition Advantage•   Three Invector DS™ choke tubes • Inflex II Technology recoil pad • Brass front bead sight  • Ivory mid-bead sight • One 1/4" stock spacer and one 1/2" stock spacer, plus lengthened screws for total adjustment of 3/4" • Included ABS case.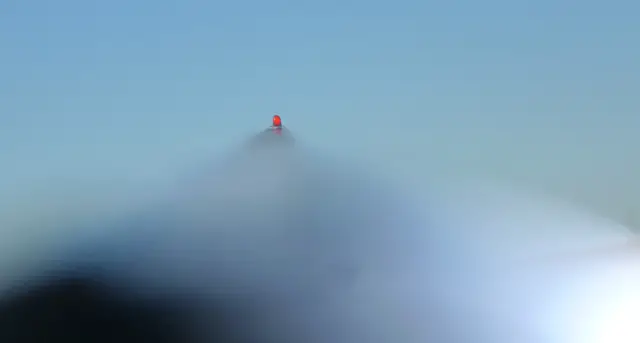 This is what the dinky A5 red, tubular front bead looks like from the back of the receiver. Though a "Brass Front Bead" is advertised by Browning, this is what you get. I have no particular issues with the front bead, but the ridiculous overly large white center bead had to be filed down to allow the front sight to become visible and usable. The silver exposed metal that you see in front of the red bead is the remnant of the filed away, obnoxious center bead.
Several things are different from the prototypes I originally fired and from the Browning catalog listing, the reason there are invariably disclaimers in catalogs warning that specifications are subject to "change without notice". All though it is listed as having a "brass front bead sight" what was supplied was a red tubular front sight. The "ivory" center bead is white painted metal and mostly obscures the front sight-- so it serves no purpose. In order to test the gun, I had to file down the center bead in order to make the front bead a usable, soft-focus reference point. Quite oddly, a sling stud is installed in the buttstock. No mention of this is made in any Browning literature. It is an eyesore, for my uses. Further, no forearm cap with a provision for a sling is included, so as supplied, you cannot use a sling anyway.
The A5 is lighter than advertised. As received with the factory full choke installed, it comes in right at 6 lbs. 9 oz., a full quarter pound lighter than listed. A representative 28 inch synthetic A5 at Mega-Sports in Plainfield weighed 6.75 lbs. on the nose. So, the walnut A5 Hunter is lighter than the synthetic model with the same barrel length by 3-4 ounces.
This makes this new A5 the lightest regular capacity autoloading 12 gauge shotgun in the history of the Browning nameplate. The trigger breaks at 5-3/4 lbs. Though not light, it is a clean notch better than the 6 – 6-3/4 lb. triggers that came on the previously tested Maxus models. Still too heavy for my tastes, it is far better than the 8 lb. typical Versa-Max triggers but not as good as most factory Beretta / Benelli product out of the box.
The barrel of this A5 measures .740 in. via Skeet's bore gage. The Full choke tube (lead only) is .701 for an aggressive 39 thousandths constriction. The IC choke is .736 in. for a puny 4 thousandths constriction, the MOD choke is .731 for only a 9 thousandths constriction. The Invector-DS choke idea is good, but the performance is not as marked. Not even remotely close. What actually comes with the gun is a Skeet choke, an IC choke, and an Extra-Full "lead-only" choke. It is the same hot mess already covered in the previous Citori 725 reviews.
THE GRIPE-FEST
There are plenty of smaller issues to grouse about in my review gun, beyond the choke tubes that do not perform as marked. I can think of no Browning walnut-stocked repeating field gun that has a center bead installed obliterates the front bead. None of my old A-5s, B-80s, BPS pumps, not the Maxus Hunter. It is nonsensical addition that destroys the sight plane in a field gun. It is particularly bad form when trying to market something like the "Humpback Acquisition Advantage" which makes no particular sense, but is further complicated by the obnoxious center bead. If it mostly obscures the front sight, as is the case here, it is more than worthless . . . it is a distracting negative in a field gun. Like the more than pleasingly plump fellow that gets a shoe shine, but has to "take the guy's word for it," a center bead that obscures the front sight just renders it worthless.
The same applies with the ridiculous sling stud that is is screwed into the buttstock for no reason, serving only to deface an otherwise good looking piece of walnut. Whoever decided to do this should be solidly thrashed about with a wet noodle. Or better yet, one of the slings that you still can't use with the gun as supplied. This is so dumb it starts to hurt. If a shotgun company is strangely compelled to screw stuff into walnut, then the very least they can do is make it functional by adding the correct forearm cap, as is indeed the case with the synthetic stocked A5s.
Certainly, personal preference rightly covers a lot of ground. Those that want center beads can install as many of them as it take to make then happy. The same goes with screwing metal studs into buttstocks. If that is your thing, enjoy yourself. These are two clear areas that would improve the gun functionally (center bead) and aesthetically by doing something that takes very little effort, which is just doing nothing at all.
SHELL-HANDLING
The two-piece shell carrier was invented by and added to the original Automatic-Five by Val Browning, son of the A-5's inventor, John M. Browning. It allows consistent loading continuously from the bottom of the receiver. With the breech locked open, the first shell loads directly into the chamber, the following shells naturally into the tubular magazine. As the breech bolt locks open on the last shot, the identical sequence is repeatable with no hassle and no looking.
The new A5 has the best shell-handling of any autoloader on the market. With a large loading gate it is effortless to smoothly load and unload this shotgun like no other, even with gloved hands. While the function designated as "Speed Load Plus," it is essentially the same idea as presented on the Browning Maxus, but the application of it to the A5 is a far better treatment as far as I'm concerned, working remarkably more smoothly and with the lack of any conscious effort.
CONTROLS
The safety at the back of the trigger guard and the trigger guard itself are excellent, again remarkably better-working for me than the Maxus. The trigger, while wonderfully adequate and thankfully not heavier than the gun, is still a pound and a half too heavy for my tastes in a field gun. It looks to be more work for Bob at Precision Sports in Oshkosh. Browning calls their "close radius pistol grip" a feature. What it is supposed to be close to, I have no idea. Whether Browning is trying to invent a new branch of geometry or not is unclear. The only that is clear to me is that I have no idea what they are trying to say, much less what any advantage is attempted to be touted. If someone knows what a "non-close radius pistol grip" might be, please clue me. In Plainfield, we tend to grip pistol grips by circumference, not by radius. Perhaps in Belgium they have a different technique?

PATTERNING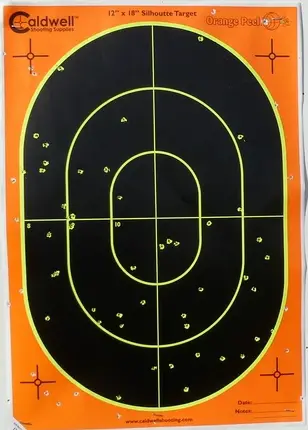 As before with the 725, the factory Browning Invector-DS tubes do not perform as marked. Above is a "Modified" factory tube @ 36 yards, with 1-1/4 oz. of #5 shot.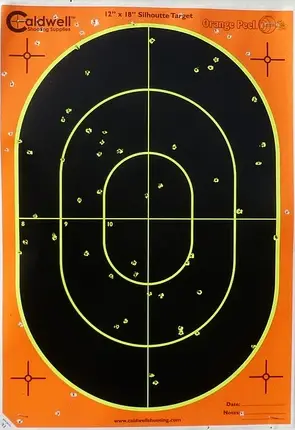 The Briley Spectrum "Modified" choke tube, quite unlike the factory Browning tube, yields performance within normal "modified" percentage parameters.
The factory Invector DS chokes do not perform as marked, throwing wide open patterns (upper image). Comparing the factory Modified tube to a Briley Spectrum Modified tube with B & P 1-1/4 oz. #5 shot shotshells, a typical pheasant load, the Briley tube put an average of 33% more pellets into a 12 x 18 silhouette at a laser-verified 36 yards. That's 216 square inches, about 10x the kill zone of a pheasant. The Briley Modified tube threw patterns much more in line with the choke tube designation, as shown in the lowermost pattern above.
The weak patterns came as no surprise, for the factory Modified Invector-DS choke tube offers only a .009 in. constriction. The Briley Modified tube has a .719 in. exit diameter for a .021 inch constriction in the test shotgun. The most appropriate pheasant and dove patterns for my uses were thrown by the Briley Improved Modified tube (.713 inch) that, in this A5, is a .027 inch actual constriction. The A5 is a flat shooter, shooting right at point of aim at 36 yards.
FELT RECOIL
There is nothing unexpected about the shooting comfort level of the A5. It weighs just over 6-1/2 lbs., the lightest 12 gauge autoloader Browning has offered since the Double Auto. I found it comfortable enough with 1230 fps 1-1/8 oz. breaking clays and dropping a few doves. Heavier loads, the 1-1/4 oz. loads, did move me around a bit, but were not at all uncomfortable. I'd not look forward to a high-volume diet of them, but that isn't the case with pheasant hunting. The Browning Inflex recoil pad is as good of a factory recoil pad as I've found, so that helps.
In order to compare felt recoil, I think you have to compare a specific shotgun to something. So, I shot the A5 alongside a 26 in. barreled Benelli Vinci, alternating guns with 1-1/8 oz. 1230 fps and 1-1/4 oz. 1330 fps loads. No question, the Vinci is a softer shooter. There is no question that the A5 is a clean 1/2 pound lighter than the Vinci as well.


CONCLUSION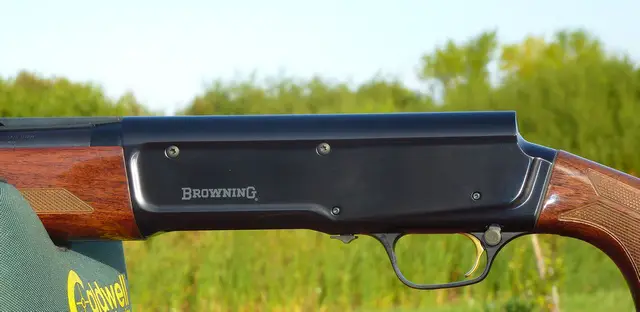 The bolt latch, above, protruding from the center of bottom of the receiver, isn't particularly attractive cosmetically. But, it is out of the way, generous in size, easy to use, and is ambidextrous so left-handed wingshooters should appreciate that as well.
Despite the areas of disappointment, meaning the ridiculous center bead, the senseless stock-marring addition of a butt stock sling stud, and factory choke tubes that do not remotely perform as marked, this is the best 12 gauge upland hunting autoloader Browning has ever released.
With a wonderful to carry 6 lb. 9 oz. weight, the A5 shoulders beautifully and is easy to hit with. The 26 inch barreled model should knock a few ounces off the weight for those looking to save weight as much as possible. Recoil-sensitive shooters would generally be better-served by considering the Maxus; the light A5 is no gun for the goose pit. With industry-leading shell handling, well-placed controls, effortless shouldering and swinging, this is the first 12 gauge autoloader I've tested in a very long time that I'd consider as ideal for wild pheasant hunting or other walk a lot type of use.
The new A5 is the most enjoyable pheasant, quail, grouse, and partridge 12 gauge repeating hunting shotgun Browning has ever released. While not as attractive as it could have been, it is a beauty compared to the many plastic and fake wood offerings that the market is currently polluted with. It is a winner from Browning. If the decision-makers in Belgium would learn what choke tubes are supposed to do and if they would keep their surplus beads and sling studs to themselves, it would be significantly better in the "out-of-box" sense. The new A5 is bound to give Benelli some fits, for it is priced competitively with the Benelli M2, weighs half a pound less, and has far superior shell-handling. Overall, I think the Browning A5 is a terrific, very low-maintenance upland hunting gun with a very bright future.
Note: According to the folks at Browning, the sling stud in the buttstock on the Hunter model was a mistake made on the first few shipments. Future shipments of the A5 Hunter will not have them. The change from brass bead to red tubular front sight was made after the initial catalog and ad copy was completed: the red bead front sight is staying on the Hunter.

Copyright 2012 by Randy Wakeman. All Rights Reserved.
Custom Search

---
Custom Search