---


Review: Winchester SX-3 12 Gauge Autoloader, FN's Best?

The tested article is the Winchester branded Herstal Group gas-operated Super-X3, three inch chambered twelve gauge autoloader. It is currently called the SX3 Field, while the box designates it as the "Black Field." The published specifications follow.
Caliber / Gauge: 12
Item Number 511144391
Magazine Capacity 4
Barrel Length 26"  
Nominal Overall Length 46 3/4"  
Nominal Length of Pull 14"  
Nominal Drop at Comb 1 1/2"  
Nominal Drop at Heel 1 3/4"  
Nominal Weight 6 lbs. 12 oz.  
Chokes Included Full, Modified, Improved Cylinder,
Chamber Size 3"
Metal Finish Matte Black Receiver and Barrel
Wood Finish Rich, Satin Oil Finish
Stock / Grip Walnut Stock with Classic Cut Checkering
U.S. Suggested Retail $1,069.99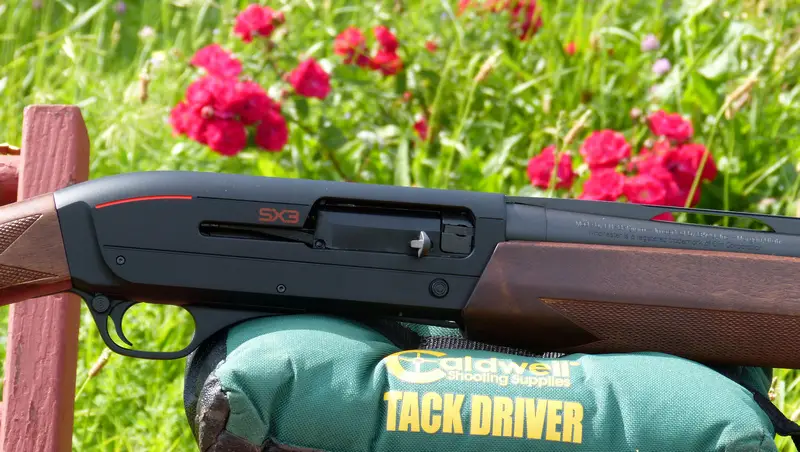 The basic Activ valve gas action has been with us since 1993 or so, with the introduction of the Browning Gold. The Super X2, Super X3, and Browning Gold / Silver shotguns. The patent by Joseph A. Badali and Joseph F. N. Rousseau was officially filed on Jun 21, 1994 and published in numerous places, including as US 5429034 A. Actually based on unsuccessful Winchester Super-X Model one, in part, it became Browning's most successful gas-operated shotgun. Twenty years later, it is now one of Browning's most enduring autoloaders exceeded only by the original J. M. Browning Automatic-Five.
I've reviewed countless Browning Gold and Silver models over the years, but only one SX3: that in 20 gauge. For whatever reason, Winchester had persisted with a gray plastic buttstock overlay that left me cold. Finally, at least in this version, they have gone to a better looking (and performing) ground Pachmayr Decelerator pad.

Advertised as 6-3/4 lbs. in this 26 inch Invector Plus barreled version, that's exactly what it weighs in at. Almost too predictably, the trigger breaks at virtually the same weight, actually an ounce or so heavier than the gun's entire unloaded weight. Aside from my usual objections to current Browning autoloader triggers, I found a great deal to like about this shotgun.
Though the satin walnut is hardly finely figured, the checkering is well-done, the "black" overall finish of the gun is a clear step up from the very rough looking Beretta A300 Outlander and similarly roughly finished guns. The trigger guard is appropriately sized, not radically oversized, and the safety at the rear of the trigger guard is effortless to get off and on. Funny-colored receivers and loud trademarks are popular, but the SX3 thankfully bucks this trend with muted but tasteful accents.
The trigger guard itself is alloy, thankfully not yet another promiscuous application of "polymer." At 6-3/4 lbs., it is a good half pound lighter than many gas guns including the Outlander, and at least a quarter pound lighter than autoloaders such as the Vinci, Franchi Affinity 12 gauge, and even an ounce or two lighter than previously tested A400 Unico non-KO and Browning Maxus models. It is also, at somewhere around $900 and change, quite affordable compared to many upscale (or at least up-priced) Beretta, Benelli, and Browning label models inclusive of the base Maxus Stalker. Although the Black Field is by no means a trendy fashion plate of a multi-colored shotgun, it is refreshingly tasteful, with clean lines, no garish sling studs screwed into wood, and an understated look appropriate for a field shotgun. It has no center bead to break off or pull out, a clean, honest look, with less melted milk jug parts carefully remolded by Old World Craftsmen.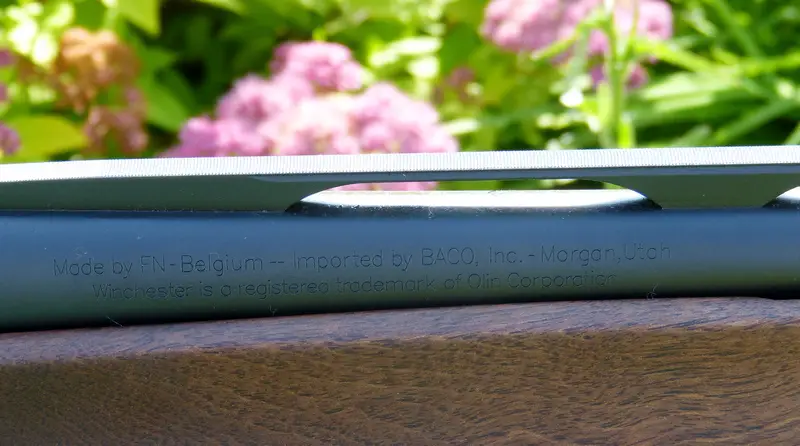 Measured via Skeets bore gage, this Winchester Invector Plus barrel came in at a surprising .745 inch bore diameter, quite large compared to the touted ".742 inch" Invector Plus barrels that normally run .738 - .739 in. inside diameter. Trulock choke tubes are invariably right on the money. For testing, I installed a feather light (and pretty blue) Trulock Titanium extended tube: designated "Improved Modified," it is .715 inch exit diameter just as marked. Effective constriction, in this gun, is a clean thirty thousandths.
Ejection was confidently brisk at 8 – 9 feet distance, with B & P F2 Legend 1-1/8 oz. Legend shotshells. Not unexpectedly, recoil was mild: particularly for a shotgun of this weight bracket. Recoil was also quite manageable with 1-1/4 oz. 1330 fps hunting loads, not punishing in the slightest. Loading was effortless, with no stubborn shell-stop for your thumb to do battle with.
If there is an autoloader that hits the price / performance mark, the SX3 is it. Easy shooting for skeet and sporting clays, but light enough to be pleasant to carry. Though the overall look is understated, it is not a pretentious looking contraptionary device. There never will be an outstanding all-around shotgun, but the SX3 comes close. It's forte is as a working man's hunting gun, but you'll have plenty of fun keeping yourself tuned up smashing clays with it as well, without much duress to shoulder or wallet. It is easily one of F.N. Group's most appealing, all-around offerings.

Copyright 2013 by Randy Wakeman. All Rights Reserved.
Custom Search

---
Custom Search