---



Review: Weatherby SA-08 12 Gauge Deluxe Autoloader

The Weatherby SA-08 12 gauge 26 inch gas-operated autoloader is the big brother to the previously covered SA-08 20 gauge. At six and one half pounds, a quarter pound lighter than advertised, it is one of the lighter 12 gauge autoloaders on the market, weighing in at just half of a pound more than the slim SA-08 20 gauge.

The Weatherby website description (like a lot of website descriptions) has a big typo: this gun, as tested, does NOT have a 14 inch length of pull: it is just over 14-1/2 inches. Just like the SA-08 20, the 12 gauge uses the older standard Invector (Winchoke) style. The tested gun is the walnut version, it comes supplied with shims and three factory choke tubes. As with the 20, there are two gas pistons supplied: one for light loads, one for heavier hunting loads.
The hard-chrome plated bore of the SA-08 measures .723 inches via Skeets bore gage. The supplied chokes measured .694 inch (Full), .711 (Modified), and .720 inch (Improved Cylinder) exit diameters. The trigger on the SA-08 breaks at about five pounds on the nose, better than many current autoloader hunting gun offerings. While not spectacular, it is a perfectly usable hunting trigger right out of the box. Though designated as "Full," the full choke is closer to a improved modified or light full with its .029 in constriction. The "Improved Cylinder" choke tube throws skeet patterns, consistent with its three thousandths of one inch actual constriction. The short, stubby standard Invector chokes have not been good performers for me as a class, so Trulock Precision Hunter extended tubes will be added in the future if this gun proves to be a keeper.
The gloss-finished walnut is more or less straight grain, but the forearm and buttstock are well-matched in color and tone. The cut checkering is cleanly done. The recoil pad is well-finished as well and better than most OEM style pads. Overall, the build quality is quite good with the exception of excessively applied finish applied to the inside of the forearm. With a MSRP of $799, the Weatherby published basic specifications are as follows. The SA-08 synthetic models are at $599 MSRP. Street price on the tested SA-08 Deluxe is $649.99 at the time of this writing (Sept., 2013) from Cabelas.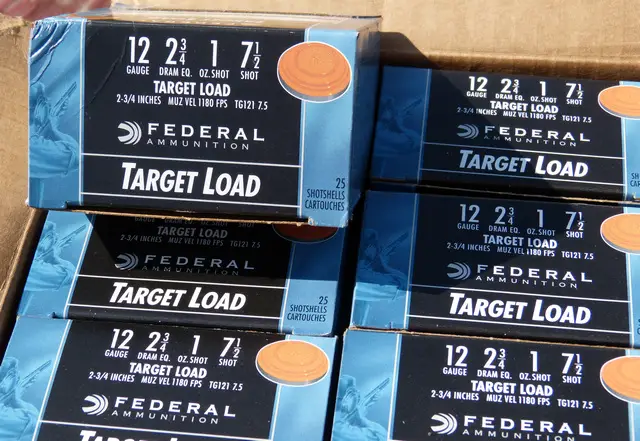 At the range, the SA-08 handled Federal Top Gun 1 oz. 1180 fps loads perfectly right out of the box with no break in whatsoever. The were no failures to feed or eject in the first session consisting of 250 rounds. Despite the SA-08's light 6.5 weight, recoil was mild and this gun is substantially more pleasurable to shoot with 1 oz. and 1-1/8 oz. loads than several 6.5 – 7 lb. guns shot right along side of it.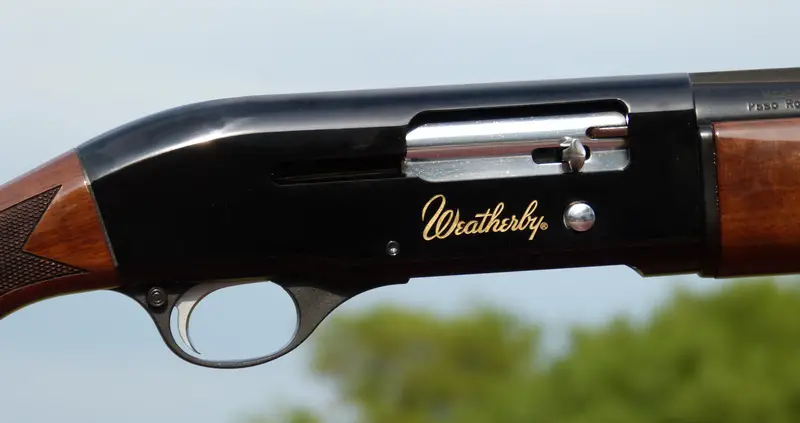 Conclusion
According to industry sources other than Weatherby, Weatherby has spent a great deal of time focusing on quality control with OEM maker ATA in this model, and it shows. An attractive autoloader with authentic walnut, it has no problems as supplied. The trigger is better than average, the recoil pad is as well, and this is a shotgun that works and works well with no gunsmithing required. My only quibble would be the mis-marked flush choke tubes that do not perform as notched.
It is one of the lightest gas-operated self-loading 12 gauges on the market, making it appropriate for dove, pheasant, and casual clays. As a dedicated clays gun, you may well wish to consider a heavier model. As a fun to carry gun, it is hard to beat gaining just one half pound over its six pound little brother, the previously reviewed SA-08 Deluxe 20 gauge.
It is good half pound lighter than the Franchi Affinity 12 gauge, Browning Maxus, Beretta A300 Outlander wood model, and even a clean quarter pound lighter than the Winchester SX3 Black Field. The Weatherby SA-08 Deluxe walnut is both better-looking and less costly than all of them, with the synthetic version going for less money yet at $500 or so street price. We were impressed with the SA-08 in 20 gauge and the same holds true here in this 12 gauge version. For an attractive, well-finished, fast-handling, lightweight autoloader that won't break the bank, the Weatherby SA-08 Deluxe is hard to beat.
Copyright 2013 by Randy Wakeman. All Rights Reserved.

Custom Search