---

The Most Important Book on Shotguns You've Never Read: Stock Fitter's Bible by Rollin Oswald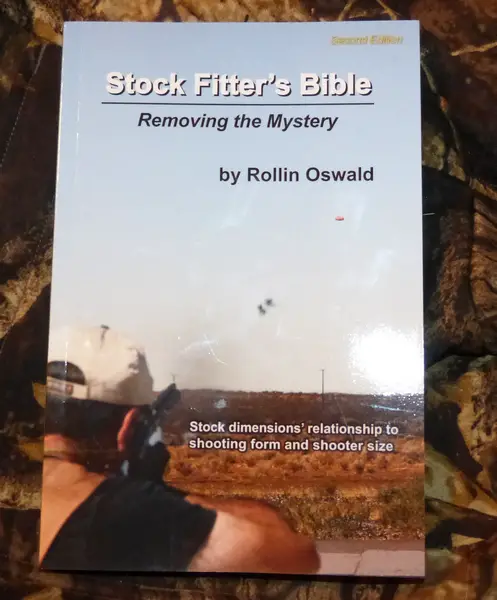 Most folks have no idea what stock fit is all about. Why should they? It is a complicated subject and your father likely is not an expert gunfitter or stockmaker, nor are any of your hunting or shooting buddies. Yet, when it comes to shotguns, gun fit is more important than anything else.
If your gun kicks you, stock fit is likely a factor. When you miss, stock fit is likely a significant contributor. Get bruised, blink your eyes, lift your head, stop your swing, have an inconsistent gun mount? You likely have a gun fit issue to some extent. Ironically, all the goodies sold as "features" on most shotguns won't help you. In fact, several of them are likely holding you back from shooting comfort and shooting success, more than you could possibly believe. For example, many new guns come with shims.
Yet, shims can only change the way the buttstock is pointed away from the receiver. Shims don't change pistol grip shape, comb width, shims don't do anything to change the relationship between your hand and the trigger. Shims can do far more damage than they help, for they may convince you that it is a good idea to try to fit yourself or adjust yourself to the gun, rather than having a gun that is fit to you. Manufacturers aren't much help. How do you know when a shotgun fits you? How do you really know?
Your shoes can affect your stance, your gait, and your posture. If you gain or lose weight, your clothes don't fit you properly, and likely neither does your shotgun. Countless hundreds of thousands of dollars are thrown at meaningless gimmicks: all the stuff that cannot be shown to work: back-boring, forcing cones, ported chokes, center beads, allegedly low-recoil powders and wads, and so it does. None of this goes to the heart of the matter, the basic reasons for the problem in the first place. In Stock Fitter's Bible, Rollin Oswald meticulously guides you through the process, from the early attempts at stock design through the present day. Rollin does this thoroughly and carefully, giving examples throughout how stock design relates to the different shooting disciplines and how one dimension may well change everything else.
Stock Fitter's Bible is all meat, prime cut red meat, packed into 215 pages. Enjoy Rollin's book, and you'll know far more than most shooters, gun dealers, and gun manufacturers about stock fit. The benefits are huge: it took Rollin Oswald some fifty years of seeking legitimate answers to his own stock fit questions, rebuffed with myths and half-truths along the way, to finally connect all the dots and put it into a clear, detailed format that everyone on the planet can absolutely, positively benefit from. Stock Fitter's Bible is not just an interesting read, it is a vital read that should be considered mandatory for anyone who uses, or wants to use a shotgun. Yes, this book is that good. From what I know of Rollin, I expected a very competent treatise, but I had no idea that this book, now in its expanded Second Edition Copyright 2010, would be this spectacularly good.
Stock Fitter's Bible is an extremely valuable contribution to the shooting community and one that no one should be without. I bought my copy from Amazon: this book will save you time, money, and make you a more successful shooter. I wish I had the benefit of this knowledge thirty-five years ago, for it would have save me a lot of time, money, trial and error, and pain. Stock Fitter's Bible gets my very highest recommendation without hesitation.
Congratulations to Rollin Oswald for what has to be the most important contribution to shotgun literature in the last thirty years. Buy this book today. Don't thank me, thank Rollin Oswald for a job superbly well done of strong and lasting value.
Copyright 2013 by Randy Wakeman. All Rights Reserved.


---
Custom Search