---
Review: Ruger American Bolt Action Rifle .243 Winchester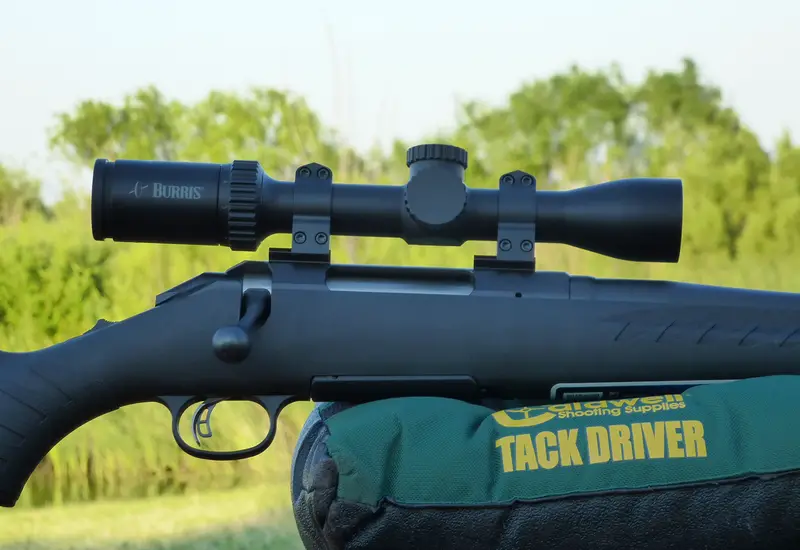 The entry level rifle category has gained tremendous traction over the last couple of years, for good reasons. As ammunition and fuel costs have soared, along with non-optional expenses like food, folks are looking for ways to compensate. It can be difficult for Dad to outfit his family with affordable, yet reliable rifles for hunting and target practice. For the new shooter, a path is needed to get up and running without a large investment in a sport where you're not sure just yet how much you are going to enjoy it or how much time you might be able to devote to it.
There are only so many ways that you can take cost out of a rifle while still leaving you with a safe, reliable firearm of good utility. One way is the amount of machining time required per rifle. Just like removing hand work from the process, the more you reduce the amount of machine time devoted to a rifle, the lower price point it can be brought to market at. Polish as few parts as possible, take away highly polished blue and extra metal finishing, you've lowered your per unit cost. Walnut stocks are expensive in terms of raw materials, machining, and finishing costs as well. Have a plastic stock drop out of a mold that consumes a few dollar's worth of polypropylene may take a large percentage of cost out of the system. Though misnamed composite or "synthetic," a blow-molded stock requires very little time and hand work to make. After it drops out of the mold, with color and checkering already embedded right in, it can be attached to a rifle in very short order, visible mold lines and all.
Some entry-level rifles have been a bit dismal, marred by safety recalls, poor function, and lackluster accuracy. The Remington 710, made only from 2001-2006 is one example. The Thompson-Center "Venture," by Smith & Wesson, is a more recent example. All Ventures made prior to October 28, 2011 have been recalled. It gets old in a hurry, when a new rifle you bought that is labeled as "technologically advanced" or other blather is something the manufacturer tells you not to use-- right after you bought it. The economy that was sought can vanish in a hurry, consumed by the headache of shipping charges and perhaps an excruciatingly long wait to get a rifle back. Once do finally get back it might have a resale value of next to nothing thanks to its problem gun reputation.
There are other, more intelligent ways to get the cost out of a rifle. One is use of the universal receiver, where essentially all offered chamberings are made on a long action, the detachable box magazine just blocked off as needed for short action genre cartridges. Though viewed with some disdain when used on more expensive rifles (Tikka T3), it does cut down on the number of parts used and associated parts inventory as well.
Done correctly, though, it can be a resounding success as evidenced by the Savage Axis (Edge) line of rifles that have quickly set sales records for the entry level rifle, and continue to. The styling of the Ruger is more than a bit reminiscent of the Savage Axis, it is impossible to miss. Ruger is a bit late to this market, but let's see how they did. The Ruger American Rifle carries a MSRP of $449 compared to the MSRP of $859 for the standard Ruger M77 Hawkeye, so the Ruger American is indeed a very low price point rifle for a Ruger. Street price at the timer of this writing is about $360, but your local pricing may of course vary. The Ruger American is offered in four popular chamberings: 30-06, .270, .308, and this tested .243 Winchester.


RUGER AMERICAN FACTORY SPECIFICATIONS
Model Number: 6904
Caliber: .243 Win.
Stock: Black Composite
Finish: Matte Black
Sights: None-Bases Supplied
Weight: 6.25 lbs.
Barrel Length: 22.00"
Overall Length: 42.00"
Material: Alloy Steel
Length of Pull: 13.75"
Twist: 1:9" RH Grooves: 6
Capacity: 4
Suggested Retail: $449.00
The Ruger American has a couple of features not found on other entry level rifles. In particular, the American has a rotary magazine, molded-in bedding blocks called "Power Bedding," and an adjustable trigger designated as the "Ruger Marksman Adjustable Trigger." The American comes with Weaver style bases, but no rings. I quickly decided to mount a Burris Fullfield E1 2-7 x 35mm scope with Warne Maxima "low" rings. It is appropriate for this rifle and looks great as well.
Ringed and scoped up, my American weighs right at 7.5 pounds. Out of the box, the trigger broke at an extremely crisp 4.5 lbs. On the heavy side, but remarkably glass-break crisp with no crisp. It is adjustable from 3 – 5 pounds, as advertised by Ruger. The exact adjustment will of course vary in a mass-produced gun. My example went down to just under 3.5 lbs., a reasonable hunting trigger. Next order of business was heading off to the range for some preliminary shooting.
For starters, I used the ammo I had on hand which happened to be Remington 80 grain R243W1 pointed soft point, with a published muzzle velocity of 2350 fps. As you might expect with a .243 Winchester, recoil was mild and it was effortless getting on the paper at 101 yards. What the American did with this ammo was print two shots within one half inch of each of other, then strung the third shot at least an inch or so away from the first two. This was eerily repeatable; it did the exact same thing four consecutive times. There is no such thing as truly ammunition-insensitive firearm, at least that I've experienced, so it will take a good deal more testing to find what this particular American likes specifically. I'll update this article accordingly.
There is a lot to like about the Ruger American. In particular, I think Ruger did a very good job with the rotary magazine and the trigger. The trigger is actually far better than the M77 Hawkeyes I've evaluated, with the "LC6" trigger that was was neither light nor crisp. Of course, the walnut Hawkeye is the far more attractive gun, but priced accordingly.
The American functioned with no feeding or ejection issues. As far as build quality, the matte finish of the American is more uniformly done than most and the only flaw on the test rifle was a little freckling on the plastic stock, where the black coloring was erratic on the surface in the pistol grip area. I'd characterize it as a very minor cosmetic issue, perhaps no issue in an entry-level price point product. Right now, you get a free cheekpad from Ruger when you register online, and a 20% discount off your Ruger Sportswear & Accessories purchase, up to twenty dollars.
The verdict, at least so far, is that Ruger has done very well with their initial foray into the entry-level bolt action market. The 70 degree bolt lift is appreciated, the trigger is better than many, the rotary magazine is well-designed, the action is extremely smooth. Feeding, extraction, and ejection are all problem free. The Ruger American easily qualifies as both a dependable center-fire rifle and a lot of gun for your 2012 dollars which is precisely what they sought to achieve. It is a very high-value product at this price point which is all that can reasonably be expected from a value-priced, budget-targeted firearm. If your budget says three hundred and sixty dollars, the Ruger American is clearly worthy of your consideration.
©1999 - 2012 Randy Wakeman. All Rights Reserved.
---
Custom Search