---



Review: Remington Versa Max 3-1/2 inch Autoloading Shotgun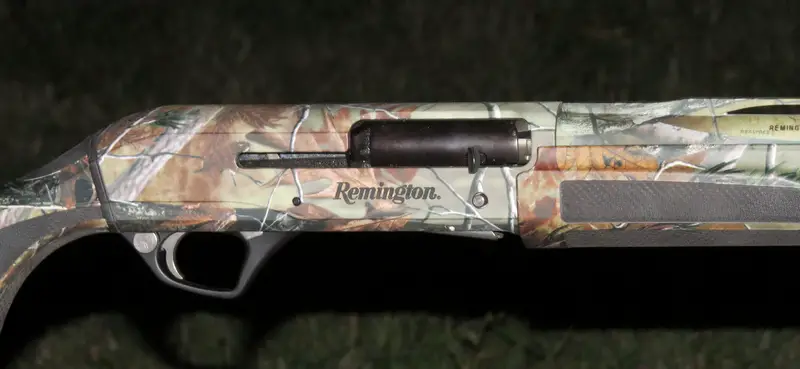 The tested example Versa Max is Remington's #81054, the 26 inch barreled model that Remington calls their "Versa Max® - Realtree® AP™ HD™ Camo" version. Published specifications from Remington are as follows.
Model: VERSA MAX Realtree: Order No.: 81054 
 
Action Type: Autoloading 
 
Average Weight (lbs.): 7.5 lbs 
 
Barrel Length (in.): 26" 
 
Chamber: 3 1/2" 12 gauge 
 
Chokes: 4 Extended Pro Bore 
 
Drop (Comb): 1 1/2" (Adjustable)  
 
Drop (Heel): 2 7/16" (Adjustable)
Ejector Extractor: Spring Loaded Ejector 
Length of Pull (in.): 14 ¼ inches (Adjustable) 
Mag Cap: 3+1 ( 2 3/4" & 3" ) : 2+1 ( 3 1/2" ) 
Overall Length (in.) 47 15/16 Inches 
Receiver Finish: Realtree AP-HD Camo Mil Spec Hard Anodized ( MIL-A-8625F )  
Rib: Tapered Target Style ( Taper 10mm - 7mm ) 
Sights: Hi-Viz Interchangeable
Stock Finish: Realtree AP-HD Camo  
Stock Material : Black Rubber Overmolded Grip Panels ( Stock and Fore-End ) 
Barrel Type: 4140 Hammer Forged Steel, With Nickel Plated Bore
MSRP: $1599
As supplied in the green hard case, this Versa Max weighs 8 lbs., 1.5 ounces unloaded, with the .014 marked extended choke tube and two-round magazine limiter installed. The trigger breaks smoothly, but at an extremely heavy 7 lbs. 7 ounces. This specific model sells at a street price of roughly $1275.
BACKGROUND
The Versa-Max action is Remington's 3-1/2 inch chambered redesign of the Benelli M4 / M1014 gas action, also known as the ARGO action. The M4 tactical itself is an 8.4 pound plus gun, despite its 18.5 inch barrel length, retails for about $1900, and has never been offered in any hunting or general purpose configuration, nor is it available in a 3-1/2 inch chambering. Both are short-stroke, dual-piston designs.
Remington has added a total of seven gas ports that are automatically blocked as unfolded shell length increases. All seven are functional with a 2-3/4 inch shell, four are usable with 3 inch shells, only three are open with 3-1/2 shells. It is a clever system that, for the most part, works extremely well. Gas gun aficionados will be both surprised and delighted as to how clean this gun shoots. Magazine tubes coated with gunk and large, carbon-fouled pistons are nowhere to be found.
HOW VERSATILE IS IT?
The first step at the range, with no prior cleaning or lubrication, was to shoot 1 oz. loads, in this case 1180 fps Federal Top Gun loads. No failures of any kind, with surprisingly positive ejection and not as much as a suspicion of a hang-up. Recoil is extremely low. In fact, several shooters could not tell much of a difference between 1180 fps 1 oz. loads and 1240 fps 1-1/8 oz. loads: this gun is a creampuff to shoot.
Stepping up the load intensity a bit, I tried a wide variety of shells, including 1485 fps 1-3/8 oz. 2-3/4 inch shells and 1-5/8 oz. 3 inch 1350 fps loads. To be sure, the gun got a lot louder, there was more gun movement, yet recoil according to my shoulder was still quite manageable.
This is the softest-shooting hunting 12 gauge you can buy. It has the benefit of substantial weight, a gas action, and a very generous recoil pad. The combination of these three factors makes it a very well-mannered waterfowl gun, without resorting to springy plastic stock things and other fragile gimmicky that adds both unwanted complexity and a horrible pogo-still shooting sensation that I find annoying.
SHOOTING COMMENTS
The Versa-Max has rubber gripping surfaces (over-molded) all over the stock and forearm, including a soft comb insert. With wet or gloved hands, most will find this to be a blessing.
It is a heavy gun, no getting around that, but it comes up and swings like a far lighter gun. Even the trigger, horribly heavy by my standards, is largely a non-issue when shooting. It would be a nasty trick on a 6-1/2 lb. to 7 lb. gun, but on the Versa-Max it isn't all that noticeable. Still, many shooters would prefer to have it lightened to a more reasonable 4-1/2 - 5 lb. level or so. According to the folks at Precision Sports in Oshkosh, Wisconsin, that do a very large number of trigger jobs, this trigger isn't conducive to being reworked, so they no longer do. While most gunsmiths can lighten this trigger by perhaps a pound or so, it just isn't going to be a light trigger, by design.
The bolt release button should be larger, as its dinky size doesn't match the rest of the gun. The rear trigger-guard safety is excellent: very generous in size and effortless to get off, with just the right amount of tension.
BARREL and SUPPLIED CHOKES
The 4140 barrel is the Remington "Pro Bore," which I measured at .737 inch inside diameter. Four extended choke tubes are supplied, one marked ".014" with a .724 in. exit diameter, a ".009" choke with an exit diameter of .731 in., a ".004" choke with an exit diameter of .734 in., and a "Turkey / Predator" choke with an exit diameter of .676 inch.
There is no question that this shotgun is a dedicated waterfowl gun primarily, for use with steel shot. The choke tubes reflect this, with two of the three wingshooting tubes within a thousandth of being as marked. The ".009" choke isn't, having a only a .006 inch constriction, but it still is a bit tighter than the ".004" choke. The Turkey choke surely is just that, with an actual constriction of 58 thousandths of one inch.
VERDICT
The Versa Max isn't perfect: as supplied, my personal quibbles are the trigger weight and the diminutive bolt release button. John McDonough of Poplar Bluff, Missouri, has advised me that the more generous bolt release button from the "Versa Max Tactical" is readily available from Remington as a loose part and is easy to install. That leaves the heavy trigger break as the sole culprit not easily rectified. According to Remington, the Tactical safety button face is part # F405390 and is available for $4.20. You also need the Tactical Feed Latch Assembly part # F405391 (part numbers subject to change) at $40. So, the total for the update 44.20 plus $9 S &H, or $53.20 delivered as of this writing.
However, the Versa Max is a fabulously soft-shooting, extremely low-maintenance dedicated waterfowl gun and is the best autoloader released under the Remington label in 50 years.
The Versa Max does a lot of things right. It comes up, swings, and handles like a far lighter gun than it is. In actual use, the trigger feels a lot lighter than it really is, and it is just an all-around fun gun to shoot. As to how an eighty-five year old gentleman might feel about this gun, I just happen to have one handy: Dad. Actually, Dad is actually eighty-five and a half years old, as I was recently corrected. Dad loved shooting this gun and hit extremely well with it, and enjoyed the lack of recoil.
The Versa Max isn't the flyweight, spritely definition of a quail or pheasant gun at all. But, for the goose pit, the duck blind, the dove field, turkey out of a blind, and casual clays combined, it is a very satisfying, very low-maintenance, cream-puff level soft-shooting autoloader. It doesn't begin to balk or hesitate with mild 1 oz. light factory loads one bit, and since it just generally works so very well, it is an easy gun to recommend. If you want a gun that shoots everything, won't beat you up with higher intensity loads, and has almost imperceptible recoil pulse with target loads, you'll enjoy this shotgun. It is most at home in the goose pit, but is fun for everything else as well, as long as you don't need to carry it between the hands all day.
Recommended, in general, and very highly recommended as a waterfowl gun.
Copyright 2013 by Randy Wakeman. All Rights Reserved.

Custom Search