---


Review: Remington V3 Field Sport Autoloader, Part Two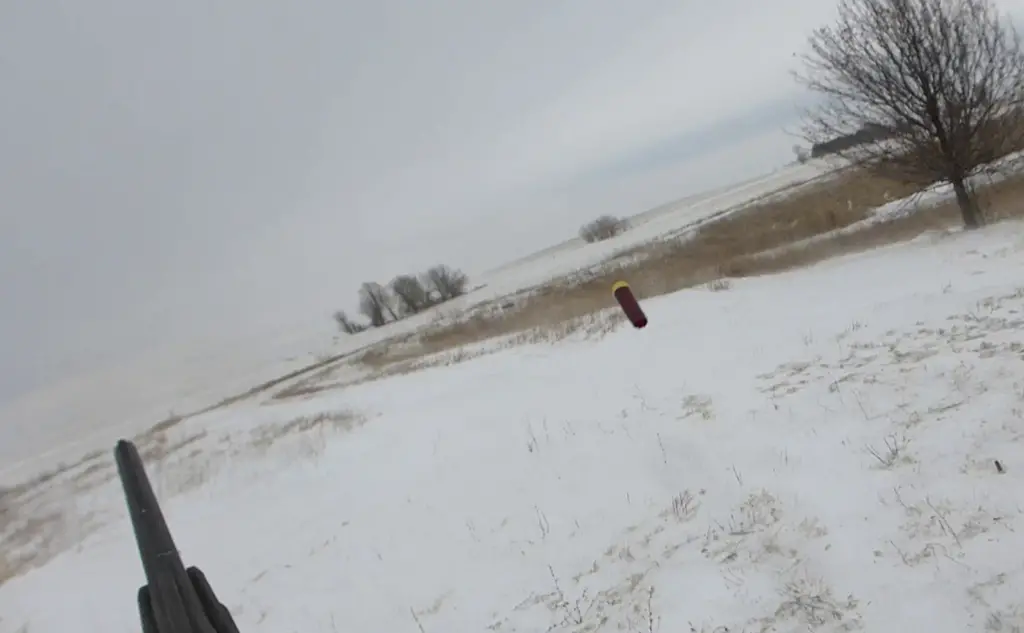 Above: shooting Federal Heavyweight 1-5/8 oz. 3 inch shells. Ejection distance was no greater than with 2-3/4 inch target loads, so it was clear the VersaPort system does a fine job controlling bolt speed.
After an invigorating low of -14 degrees last night, it was "supposed" to warm up to a balmy +15 degrees F, but with 32 mph or so wind gusts. At least the prognosticators got the wind right, but it was only 3 degrees F. out in the field. It was also the last day of pheasant season and my lifetime tradition of lack of great intelligence dictated that it was a hunting day. We did jump a few roosters, but they got up at 200 yards or so.
It wasn't the day to set up clay target machines or do any patterning work, but it did give me the chance to at least run the spectrum of 2-3/4 inch 1 oz. loads through 1-7/8 oz. 3 inch loads through the V3, for nothing more than a very basic, brief function test. There were no miscues in the 3 degree F. 30 mph wind and the V3 is easy to load and use with cold, gloved hands which I was conveniently equipped with. Ejection is strong and positive throughout the range of shotshells used. Ejection distance was no greater with 3 inch shells than it is with lighter, 2-3/4 inch shells, so the VersaPort system clearly does work.
Throughout the years shooting gas autoloaders, the softest shooting guns are invariably the heaviest, to the great surprise of no one. In the 7 – 7-1/4 pound autoloader bracket, the sharpest recoiling actions have been the Beretta 303 / 390 / 391 offerings, with the Browning Gold / Silver / Maxus and related Winchester SX3 active valve actions the softest shooting.
Today I wasn't directly switching from gun to gun, so the best I can do is say that, according to my shoulder, the Remington V3 feels very close to a Winchester SX3 or Browning Silver in felt recoil. If there is some great difference, someone else is going to have to try to find it. There is no real-world difference that I can discern. So, for its weight class it is among the softest-shooting repeaters available. The heavier Versa Max is softer shooting, not due to any particular magic, just the old physics-based "magic" of extra weight.
The test gun I have has obviously been used before. The dual short stroke gas piston design is really a very simple system, essentially self-explanatory. As this test / preproduction V3 came with no manual, that's a good thing as there was really nothing to try to figure out, for even the magazine cut-off is self-evident.
As for the "most reliable" claim, that's a tough one to prove. Certainly, if you've been through the Beretta 391 saga of broken gas pistons, bad bolt buffers, or twisted shell carrier problems, it isn't hard to improve upon. The same goes if you've had cracked springs in your Browning / Winchester "Active Valve" piston: not nearly as common as the 391 shell carrier issues, but clearly more than a once in a lifetime event. There isn't much to go wrong with the V3 that I can see, but time will tell as it always does. It is a straightforward design and no 3-1/2 unfolded length feeding or ejection issues (A400) are possible, for it is a 3 inch chambered gun.
There is far more testing to be done, of course, but it looks to me like the Remington V3 is likely the best all-around genre autoloading shotgun Remington has produced. I'm not a black on black plastic fan, regardless of who makes it, but the camo and walnut versions (particularly the walnut) have far more appeal to me, personally. The 26 inch V3 walnut should cover most hunting and shooting needs.
I'd like to see a redo on the plastic trigger guard, loosing the "R's" on both sides and the pair of "R's" on the forearm can go away also, as far as I'm concerned. Based on the very good trigger, soft recoil, safety, bolt release, slim and solid-feeling forearm, the excellent magazine cutoff, and the comparatively low street price of $750 - $850, Remington is going to do extremely well with the V3 series for many, many years to come.
The V3 initial models are estimated to be available late Spring / early Summer 2015. The safety on the V3 is reversible for left-handed shooters. These initial three models will be supplied with one choke tube, a RemChoke Modified. Several shims will be included with each gun to adjust cast and drop.
Much more info to come, in Part Three: http://randywakeman.com/ReviewRemingtonV3FieldSportAutoloaderPartThree.htm.
Copyright 2015 by Randy Wakeman. All Rights Reserved.

Custom Search