---


Review: Remington V3 Field Sport Autoloader, Part One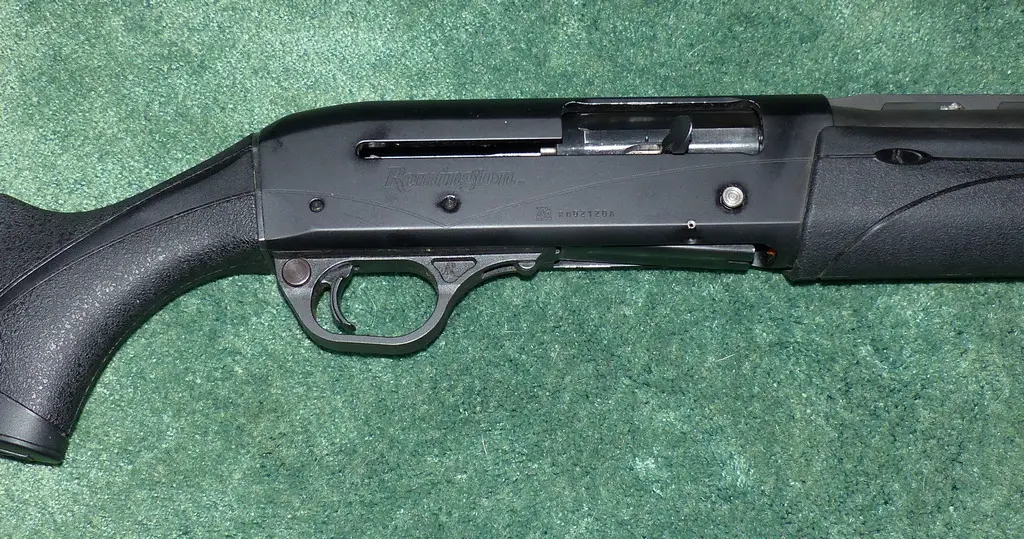 There are a small number of V3 preproduction autoloaders in circulation, exactly how many I'm not certain. Since I became aware of the V3, I immediately wanted to test one in walnut trim with a 26 inch barrel. I still do, for what I received for openers is a black synthetic model with a 28 inch barrel and consider myself fortunate to have one at all prior to its official release date. The V3 is close to being finalized, set to go into production soon with estimated availability of late Spring / early Summer 2015, subject to change of course.
The parentage of the V3 autoloader goes back to the Benelli M4, the $2000 - $2400 (current MSRP) 18.5 inch barreled, 8-1/2 lb. "tactical shotgun" that is the "M1014 Joint Service Combat Shotgun" since 1999. For reasons unknown to me, Benelli has done nothing with it for general hunting and target shooting use. The M4 / Super 90 basic specs are as follows.
Benelli M4 Super 90 / M1014 JSCS
Semi-Automatic Combat Shotgun
Country of Origin: Italy
Manufacturer: Benelli Armi S.p.A. - Italy (represented by Heckler & Koch, Germany)
Initial Year of Service: 1999
Overall Length: 886 mm (34.88 in)
Barrel Length: 470.00 mm (18.50 in)
Weight (Empty): 8.42 lb (3.82 kg)
Caliber*: 12-Gauge
Action: Gas-Operated; Semi-Automatic
Feed: 7+1 Tube Magazine
Range: 164 ft (50 m; 55 yds)
Sights: Adjustable Ghost Ring; Optional Optics
Remington improved on the basic A.R.G.O. Action of 1998, patenting their own action and their "VersaPort System," and it has been released for some time now as the Remington Versa Max 3-1/2 inch chambered gas-operated autoloader. The Versa Max action was designed by Gian Mario Molinari of Italy, filed for patent on May 24, 2007, claiming priority over the Benelli patent filed a year earlier. On November 29, 2011, it was awarded to Remington. If you are interested, it is US 8,065,949 B1.
The V3 is a 3 inch chambered model that has been in the works for some three years, according to Remington, and shares no parts with the Versa Max. The V3 is not a 3-1/2 inch gun with a 3 inch chambered barrel stuck into it, rather it is a completely new design, designed to be a 3 inch autoloader from the start. Remington's goal is to offer an affordable, reasonably lightweight autoloader than is more reliable than any other autoloading shotgun, and pound the morass of imported shotguns into the ground like a tent stake in the process. Something like that, anyway.
This example V3 weighs in at 7 lbs., 5.5 oz. via Lyman electronic trigger gauge. It is reasonable to believe the 26 inch barreled models will come in a bit over 7 lbs. The trigger on the V3 is quite good, breaking at 4-1/4 – 4-1/2 lbs. after a bit of excessive take-up. It is a noticeably better trigger than Browning autoloaders and an improvement over the Versa Max as well, as far as I'm concerned.
The V3 takes the standard RemChoke and while the supplied test article has just one choke and no extra shims, initial production models will have full shim kits but just one choke: a Modified.
The safety button is nicely over-sized and easy to get off and the trigger guard is nicely sized. The trigger guard is plastic, and has the cosmetic eyesore of having little triangular shaped dished out portions on both sides with a plastic "R" at the bottom, a tastelessly cheesy touch. The gun is finished off with the by-now familiar, excellent Remington SuperCell pad.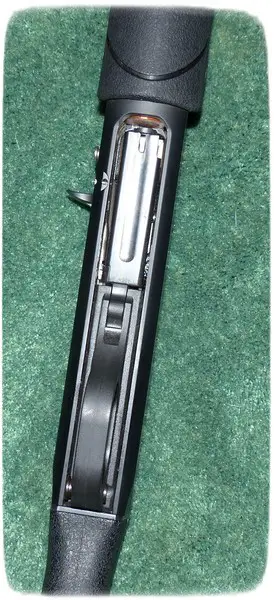 The modified VersaPort system in the V3 has eight ports, four or which are automatically blocked off as a 3 inch shell unfolds. The V3 also has an extremely well done magazine cut-off at the bottom of the shell lifter. Just slide it forward, and you can instantly exchange a duck load for a goose load, or just clear the chamber for ditch-climbing or stream-hopping, as conditions dictate.
There is no mainspring in the buttstock of the V3: the bolt return springs are in the receiver so you can forget about rusty mainsprings, oiling the mainspring, or bent mainspring tubes. Getting the return spring out of the butt in a gas autoloader was used in the older Browning B2000, quite a different design. The V3 is supposed to run on any twelve gauge shell with a 1 oz. payload on up. I'd imagine that just like with all autoloaders, the shells you feed it need to actually look somewhat like shotgun shells, though.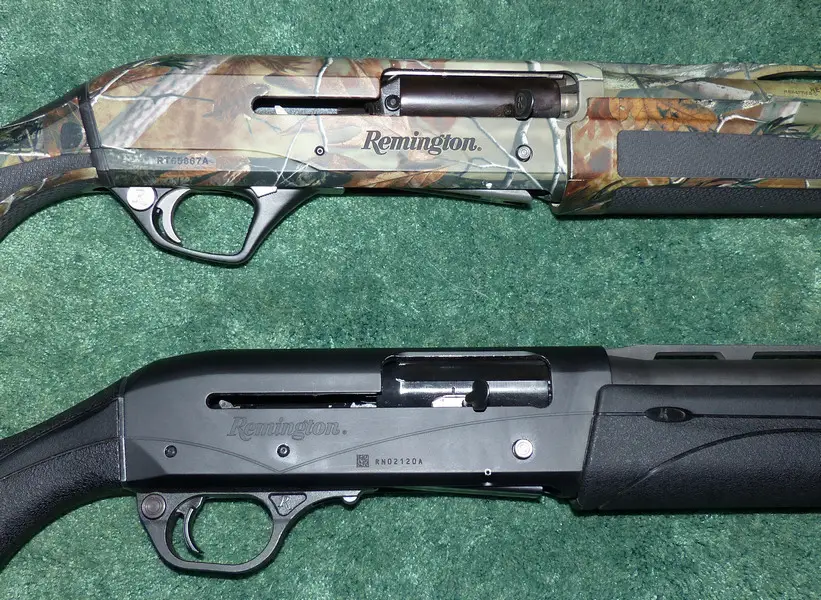 With the shorter receiver comes a bit slimmer forearm, as compared to several gas autoloaders, something that most will appreciate. The bolt release button is larger than on the Versa Max as shown above, and protrudes farther away from the receiver as well. On my specific test example, the 28 inch barrel makes the gun too muzzle heavy for my tastes: a 26 inch barrel is certain to help that. Whether this might be the case with the walnut version, I have no idea. Although the trigger of the V3 is quite good, the picture above should make it clear why I feel the V3 trigger guard is in great need of cosmetic assistance.
What about recoil? Well, at this late date there is no question that gas-operated autoloaders are more comfortable to shoot than fixed-breech or inertia guns. Time will tell, but certainly the V3 is going to be a soft-shooter, as pleasant to shoot as any 7-1/4 lb. 12 gauge shotgun you can buy. As for being as soft a shooter as the Versa Max, there is no reasonable chance of that, for the Versa Max is a substantially heavier gun. It would take a new branch of physics for that to be the case and that's something in very short supply.
The reason for this shotgun is clear. Compared to the Versa Max (http://www.randywakeman.com/ReviewRemingtonVersaMaxAutoloadingShotgun.htm) it shaves off better than 3/4 lb., getting Remington into the game in the popular approximately 7-1/4 lb. autoloader category. The trigger is improved over the Versa Max, a well-designed magazine cut-off is added, and the bolt release button is a bit larger and easier to use with cold, gloved hands. The forearm is a bit slimmer and locks firmly into place. And, contingent on model, it appears to be very well-positioned in terms of street price: something like $750 - $850 dollars that places this shotgun markedly below such autoloaders as the Browning Maxus, Winchester SX3, Benelli Vinci, Benelli M2, and all of the Beretta A400 series models.
Much more to follow in Part Two: http://randywakeman.com/ReviewRemingtonV3FieldSportAutoloaderPartTwo.htm.
Copyright 2015 by Randy Wakeman. All Rights Reserved.

Custom Search