---


Review: Remington 870 Wingmaster American Classic 20 Gauge: Screaming with Quality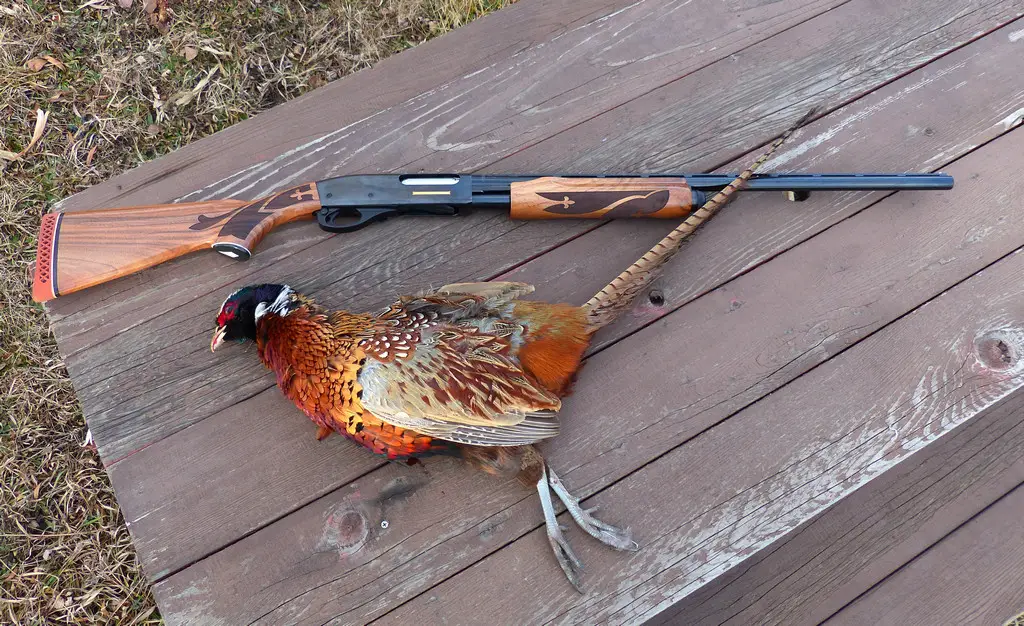 No great introduction is needed for the Remington 870, introduced in 1951. The Remington 870 is one of the most prolific shotguns (and firearms) ever made, blowing past 10,000,000 units sold back in 2009. The 870 American Classic is a beautiful, American-made answer to quality that is sorely lacking in most firearms made today: it makes many shotguns look like they just aren't completely finished yet.

Model 870 American Classic
Order No. 82085
Gauge 20
Action Type Pump
Average Weight (lbs.) 6.125
Barrel Length (in.) 26
Butt Ventilated Recoil Pad
Chamber 3 inch
Choke Remchoke (three supplied)
Drop (Comb) 1 ½"
Drop (Heel) 2.5"
Length of Pull (in.) 14"
Mag Cap 4
Overall Length (in.) 46.5"
Receiver Finish High Gloss
Rib Ventilated
Sights Twin Bead
Stock Finish High Gloss
Stock Material B-Grade Walnut
Barrel Type Vent Rib Rem® Choke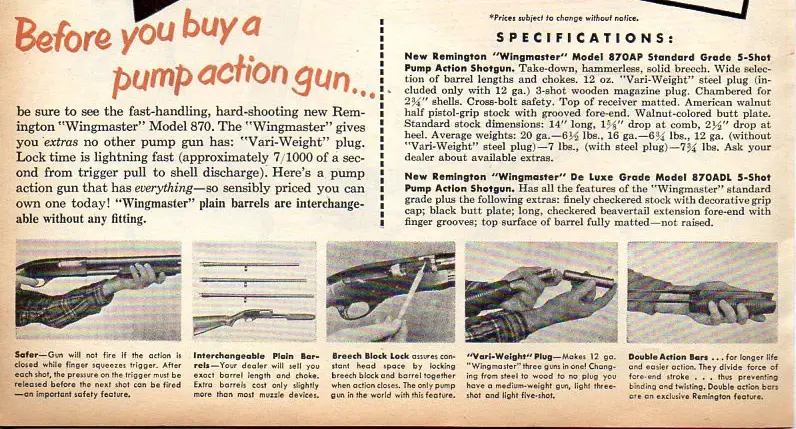 At the time of its introduction, 1951, the Remington 870 had features such as a fast (for a shotgun), 7 millisecond locktime that remains faster than many repeating shotguns produced today.
The tested 870 American Classic weighs in at 6-1/2 lbs., with a superb trigger that breaks between 3-3/4 and 4 pounds, right out of the box. It is one of the best triggers I've used on a factory repeating hunting shotgun in several years. The action is exceedingly smooth right of out of the box as well: it almost shucks itself with no noticeable stick-slip and no break-in required. Compared to many pump and autoloading shotguns, the safety button at the rear of the trigger guard is nicely oversized, as is the aluminum trigger guard. It is an obvious step up from the many common plastic trigger guards with ugly mold lines.
This 870 carries, shoulders, and swings beautifully. The slide release is also a bit longer than found on many slide actions, making it easy to use with cold or gloved hands. Unlike alloy receiver shotguns, the action closes with a satisfying steel on steel "thunk."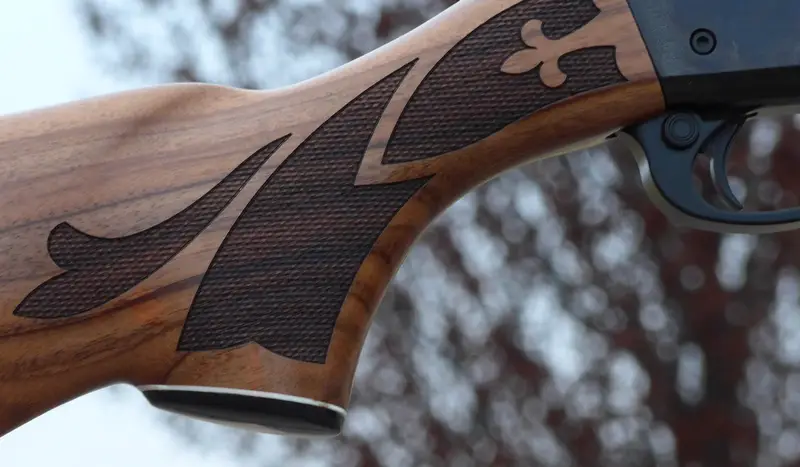 In an effort to get cost out of the gun, many shotguns have no properly finished pistol grips meaning no grip cap at all. In direct contrast to this, the 870 American Classic has a very nicely done white diamond grip cap. The cut checkering is clean, deep, and sticks to your hands. It is also a clear upgrade from from the more common "cut" checkering attempts. What Remington calls their "B" grade walnut is a lighter shade of walnut, with the forearm and the buttstock perfectly matched in color, hue, and tone with distinct mineral streaks throughout.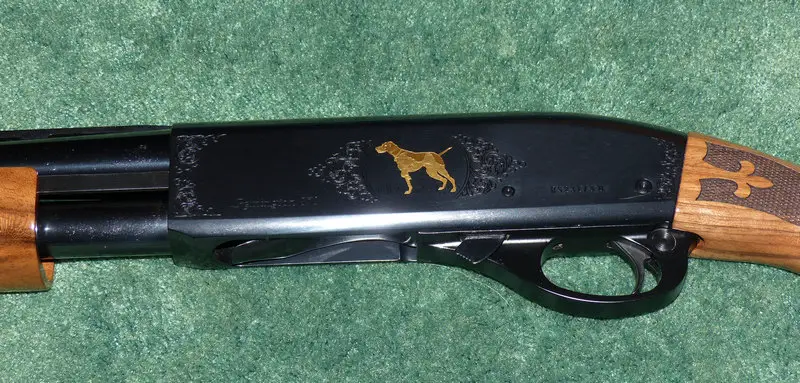 The machine engraving is also tastefully done, with a gold inlay of a dog on the left side of the receiver, and a small gold "American Classic" banner on the right side of the receiver. It is tasteful elegance: a significant dose of sparkle without being ostentatious. It is enough to show that the manufacturer cares about details, and that you care as well, without being overpowering. This 870 has a small center bead as well, something I personally find worthless, but at least it is small enough that it doesn't get in the way of anything, either.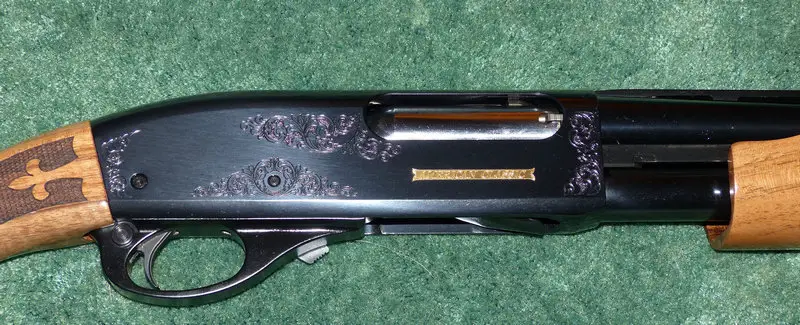 It is hard to find fault with this shotgun, as it looks great, carries great, works great, is essentially jam-proof, it doesn't rattle, and needs no aftermarket massaging to try to make it right. It is the type of shotgun anyone would be quite satisfied to enjoy today and to keep in the family for generations. This is an outstanding offering by Remington, for it is everything that a quality firearm should be. The ghost of Rudy Etchen is no doubt smiling.

Copyright 2014 by Randy Wakeman. All Rights Reserved.

Custom Search