---
Review: Ithaca M37 Twenty Gauge Waterfowl

The Ithaca M37 Waterfowl 20 gauge with a 28 inch barrel is about a 7 lb. shotgun with a crisp, 3-3/4 lb. trigger. It is about the slickest slide action I've ever tested, right out of the box, compliments of the Ithaca Perma-Guard nitriding process. It feels like that well broken in, slicked up super-shucker right out of the box. By comparison, most pumps are plagued with a goodly amount of annoying stick-slip.
On the heavy side for a twenty gauge, the M37 is nicely, neutrally balanced and a soft shooter as well. As you would expect from the Made in USA M37 line, the barrel is made from 4140 chrome-moly steel and the receiver and trigger guard are all-steel as well. The ventilated rib barrel is threaded to the receiver and the rib lugs are integral to the barrel, not soldered or glued on, known as the "Ithaca Solderless Barrel System." The bottom eject means no gas can come close to the shooter's face and you'll not be beaning fellow hunters with your ejected hulls.

M37 20 Gauge Waterfowl
Weight: 7 Lbs
Approx. length of pull: 14.00"
Drop at Comb: 1.375"
Drop at Heel: 2.00"
Approx. Overall length: 47.4"
MSRP $769
The short version of the description of this gun is a very low maintenance, highly corrosion resistant version of the fundamental John Browning slide-action design, with the added bonus of extra lubricity from the Perma-Guard nitriding process. It was originally available in 12 gauge only, this 20 gauge expands the line. The tested gun is matte finished, with a camo version soon to be released. It comes with a trio of Ithaca Briley chokes, with the Full choke printing refreshingly dense patterns at 40 yards using Federal 1 oz. #7-1/2 shot field loads, as you can see below.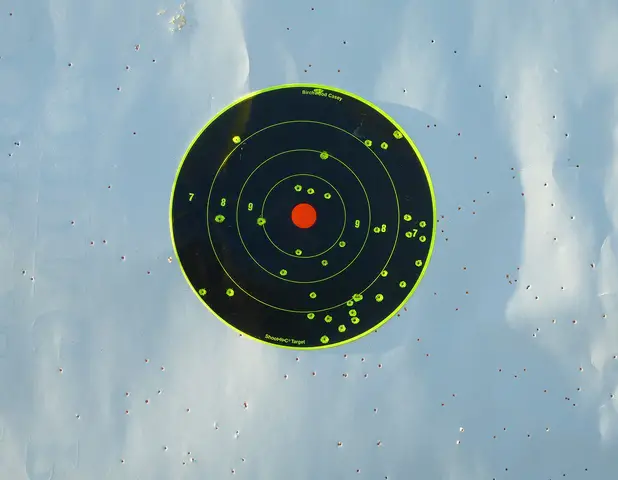 The solid synthetic stock with a thick forearm does add about a half pound over the walnut M37 Featherlight 20 gauges, with those looking for a bit lighter gun yet can opt for the plain or "field barrel" M37 20s. For decoying ducks, casual clays, or stationary shooting this heavier waterfowl version may well be preferable to the Featherlight as it is softer shooting in concert with its additional weight.
It is a pleasure to test a repeating shotgun that actually has an excellent trigger right out out of the box, something that seems increasingly rare. While Ithaca has buried their Perma-Guard treated parts for over two months with no signs of corrosion, that's beyond the scope of a gun review so there are no Ithacas buried inn my back yard. Since its introduction, the Ithaca Perma-Guard has been universally accoladed, though, and there is no denying how impressively slick and smooth this repeater operates.

Copyright 2012 by Randy Wakeman. All Rights Reserved.
Custom Search

---
Custom Search