---

Review: Franchi Affinity Compact Twenty Gauge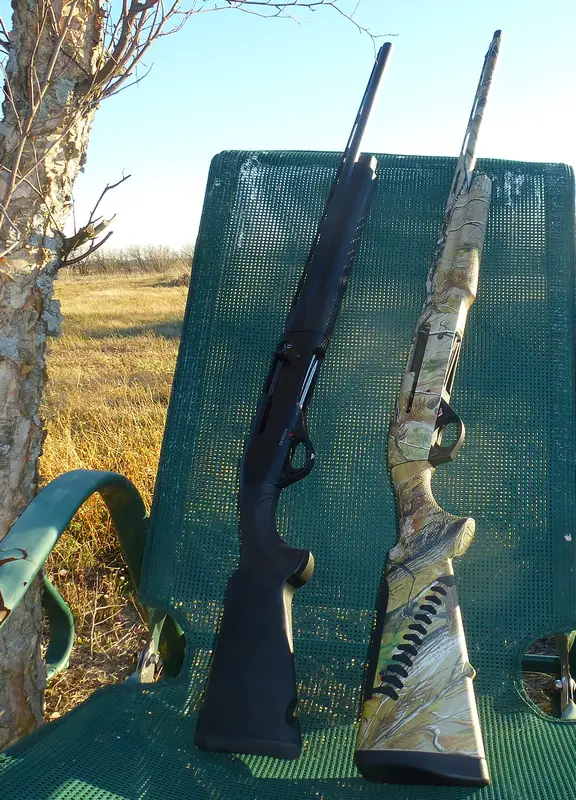 Franchi Affinity Compact on the left, Benelli M2 Comfortech with the same 24 inch barrel length on the right.
This is third Franchi Affinity I've tested, this model designated as the "Franchi Affinity Compact: 20-Gauge Compact 2-3/4" and 3" Black Synthetic MSRP $899.00" by Franchi USA. It shares the same action as the 20 gauge Affinity previously tested, but has a 24 inch Mobil-choked barrel vs. the standard 26 inch offering.
Where the regular Affinity 20 weighed in at six pounds on the nose, this compact version is fully half of a pound lighter out of the box: 5.5 lbs., just as advertised. The std. Affinity has an overall length of 47.25 inches while this version is 43.375 inches in length out of the box. The two inches in length reduction are attributable to the shorter barrel, while the rest is from the shorter buttstock. I measured the length of pull at about 12-1/4 inches with my somewhat trusty tape measure. Included with the Compact Twenty is a spacer kit, so you can add to this diminutive length of pull in one-quarter inch increments up to one inch.
SPECIFICATIONS:
Magazine Capacity: 4+1
Chokes: IC,M,F and wrench
Length of Pull: Approximately 12.25 – 13.25 inches, adjustable in one quarter inch increments
Drop at Heel: Adjustable 2-2.5"
Drop at Comb: 1.5"
Type of Sights: Fiber optic red-bar front sight
Minimum recommended load: 20-Gauge 7/8 ounce, 1275 FPS. (This still persists on the Franchi website, but any 7/8 oz. target loads cycle without issues.)
The Affinity Compact is a flyweight shotgun, with a trigger that breaks at 4-1/4 lbs., far better than the average autoloader as was the case with the two previous Affinity models tested. Is this the ideal youth or smaller shooter's shotgun? The answer is yes and no.
There is no question about the Affinity's overall excellent build quality. It assembles easily, and was perfectly reliable during my testing. There is no escaping the reality of recoil with extremely lightweight guns, however. I found this Affinity to be a bit of an abrupt little shoulder-stabber with 1 oz. 1165 fps field loads and also the peppy B & P F2 15/16 oz. 1280 fps loads. The frugal, hard attempt at a recoil pad in this model certainly offers no relief. It is wonderfully tolerable with 7/8 oz. 1200 fps target loads, but still not pleasant. Compared to the Benelli M2 20 gauge 24 inch Comfortech model I shot alongside it, the Benelli was comparatively a slice of inertia heaven in the shooting comfort department.
All is not lost, though, as the Compact has a more conventional style stiff rubber buttplate as opposed to the notched regular Affinity array, so it is easily replaced with any number of after market pads. This gun needs a better pad and needs it badly. This is the sole area where Franchi screwed the pooch a bit, for if they had spent a few pesos for a better recoil pad instead of the polymer crucifix they went with, it would be a far more appealing gun out of the box. It doesn't take a lot of effort to get a 5.5 lb. shotgun into the unpleasant to shoot category and out of the box, that's exactly what this gun is.
As for the general function of the gun itself, this Affinity just like the previously tested examples is exemplary. I've had the pleasure of introducing many younger and female shooters to the sport. This gun, in out of the box form, is just too harsh-shooting to be recommendable. A 6.5 lb. Mossberg 500 Bantam (13 inch length of pull, 24 inch barrel) with its standard, vented recoil pad is a lot more fun to shoot, for example.
Nevertheless, the 5.5 lb. Affinity Compact is well worth your consideration if light weight is extremely important to you, you have no problem adding a better pad, and intend on using primarily 7/8 oz. loads.
Note: According to the folks at Franchi USA, full-size buttstocks are available:
USA# Description
51177 Stock Assby Syn Affinity 20ga
51184 Stock Assby Max4 Affinity 20ga
51168 Stock Assby APG Affinity 20ga

Copyright 2012 by Randy Wakeman. All Rights Reserved.
Custom Search

---
Custom Search