---
Fabarm XLR 5 Velocity Competition Autoloading Twelve Gauge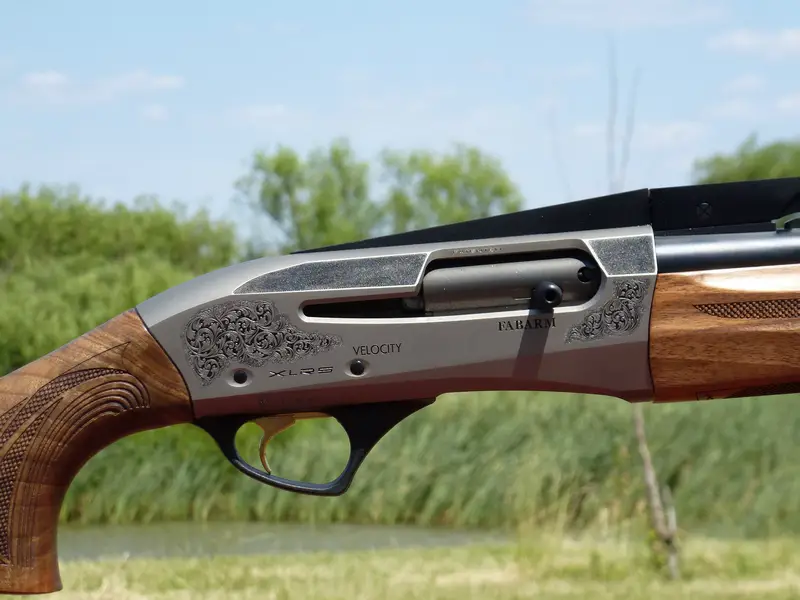 With the combining of Caesar Guerini and Fabarm, the result is Italy's second largest shotgun manufacturer, which now rivals the in-house design and manufacturing capabilities of any shotgun manufacturer in the world. The Fabarm XLR 5 has not been released in the United States, that I know of, until right now. The basic gas action used in this autoloading shotgun was released in 2003, the Fabarm "Pulse Piston" system. By now a well-proven system, the action bar design associated with this action was improved back in 2005.
The barrel design of the XLR 5 is the Fabarm "Tribore HP" also released in 2005, also improved from the original design from 2003 or thereabouts. The Tribore system was designed to handle lead and steel shotshells with equal aplomb, using the "Inner HP" parabolic choke system which allows for substantially tighter constrictions than allowable by the C.I.P. with conventional barrels, and commensurately tighter patterns to go along with the greater constriction. What the "hyperbolic" choke appears to be is a continous taper choke with a larger diameter, flared section at the muzzle. More marketing hyperbole than hyperbolic, there is no doubt about their excellent performance, regardless.
The idea of the Tribore barrel is that the area after the forcing cone begins at an overbored .740 inch diameter and tapers to .725 inch at the choke area. Here's how Fabarm describes it:
SO, IN THREE WORDS TRIBORE® HP BARREL IS:
1. An over-bored area to reduce frictions and recoil ( diameter 18.80 mm ).
2. A long conical area ( 205 mm ) which reduce the bore diameter and which increase the pellets speed.
3. New and revolutionary choke tubes with HYPERBOLIC PROFILE.
I think I can describe it a bit quicker. It is simply a slightly tapered barrel that constricts a total of about fifteen thousandths along its length.
Like most all claims of this nature, the Tribore barrel notion contains more than a little bit of wishful thinking. One piece wads have such a low coefficient of friction in the first place that notions of reducing it have little basis in fact. For wads or wadding to have no friction, they wouldn't be sealing in the first place. Increasing shot payload speed invariably increases recoil, unless a new branch of physics has also been discovered. Ed Lowry was able to show that increased choke constriction does increase muzzle velocity, but you hardly need any special barrel to achieve it.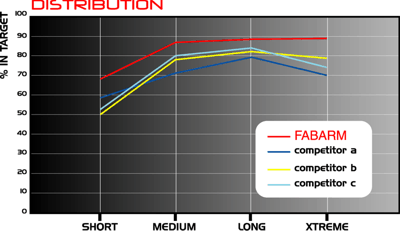 Distance : 30 meters ( 98 feet) Target : Ø 75 cm ( 29.5 inches ) Ammunition : 12 Ga, 35 grams, steel shot N°4 ( 220 pellets )
It isn't that the Tribore barrel is a negative, it isn't. It is like a lot of hyperbole in that it cannot possibly do much at all in any way that you'd notice. Further, the graphs and pattern percentages from Fabarm (above) that attempt to show improvement against anonymous competitors have nothing to do with clay sports, as they use #4 steel shot. While there may well be pattern efficiency tested against other factory autoloaders, the most logical reason for the tighter patterns would be attributed to the more aggressive constriction of the Fabarm chokes themselves. CIP sets a maximum choke constriction of 0.5mm (0.0195 inch) for High Performance Steel only, that approximates what is often called "Modified" in the U.S. The Fabarm Inner HP chokes can be used with about twice that constriction with steel.
The Fabarm XLR 5 Velocity has a C.I.P. Proof Certificate included right with the shotgun, identified with the shotgun's serial number, showing that it has been proofed to 1630 BAR (23,610 PSI). The proof level for standard steel C.I.P. Barrels is 1200 BAR, while C.I.P. C.I.P high performance proof levels are 1370 BAR. This makes the Fabarm 1630 BAR barrels the highest level of proof firing given to any shotgun in the world that I'm aware of.
I've discussed a variety of shotgun topics with Wes Lang, President of Fabarm USA and President of Caesar Guerini USA over the years. I've asked on more than a few occasions when CG might start bringing over some of their autoloaders, the "Roman" and "Gladius" short recoil guns that is a standard part of their line overseas. Wes replied that they wanted to do something different, something exceptional. In that answer lies the basis for the Fabarm XLR 5 Velocity, a no apologies dedicated clay busting machine.
What's wrong with the glut of autoloading shotguns as applied to clays? It largely isn't a matter of what is wrong with them, it is what is either ignored or missing. How many allegedly dedicated clays autoloading shotguns have true competition triggers right out of the box? How many have adjustable trigger positions, adjustable combs? How many shotguns have user adjustable point of impact? The answer to the last one is none of them that I know of. None have all of these features, until now.
Shotguns are invariably a compromise, there is a world of difference between a fast-handling pheasant gun and a clay smasher. The problem is, too many clays guns are themselves just relabeled versions of field guns. It makes zero sense to have a three inch much less a three and half inch chamber in a clays gun, yet most do. Small surprise that a gun with an overly long chamber may get sluggish with light and dirty clays loads in a hurry.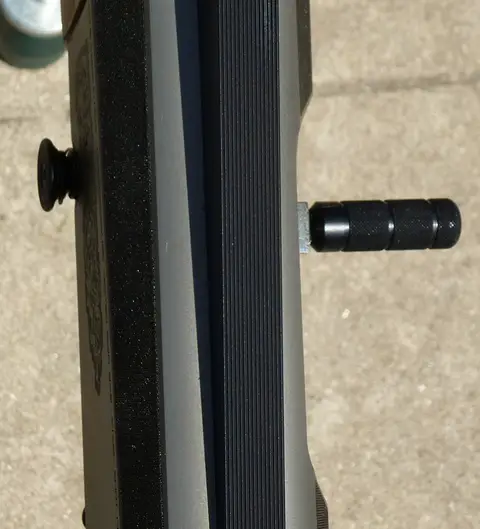 Had it with hand-gouging little bolt handles and dinky bolt release buttons? As you can see from this top view of the XLR 5 Velocity receiver, no such issues here.
It is also little surprise that there is a brisk aftermarket for optional, oversized bolt handles and oversized or redesigned bolt release buttons. Nobody wants a dinky little bolt handle or a tiny bolt release button to fumble with with the job at hand is breaking clays. Yet, obvious things like this have been just as obviously ignored, even on models that say "Sporting" on the side of the receiver. If it is truly a sporting gun in the first place, the last thing you should have to do is start paying for trigger jobs and aftermarket handles and buttons to make the gun pleasurable to use. Yet, if you look around, there it all is.
As supplied, the 30 inch barrel Fabarm XLR 5 Velocity weighs right at 8-3/4 lbs. Included in its well-padded hard case are three additional forearm cap weights, that you can quickly add to balance the gun as you prefer. They weigh 1.5 ounces each, so you can quickly add over a quarter pound. The kinetic balancer is installed in the buttstock already, according to the owners manual and the officials at Fabarm. It weighs 5.36 ounces. Stock adjustment shims for cast are also included, as are five parabolic choke tubes. They are designated Exis skeet, Exis HP Short 2/10, Exis HP Medium 5/10, Exis Long 7/10, Exis HP Extreme 9/10. All are steel-shot approved.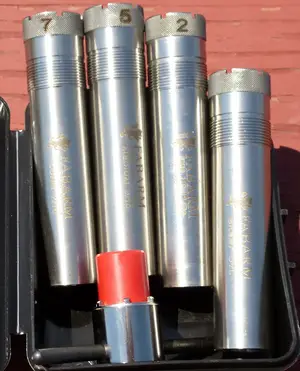 I mic'ed the supplied chokes. smallest diameters are as follows: Exis skeet=.722, Exis HP Short 2/10= .714 in., Exis HP Medium 5/10=.699 in., Exis Long 7/10= .691, Exis HP Extreme 9/10= .680. Based on a nominal bore diameter before the choke of .725 inches, the actual constrictions approximate: Skeet: .003 in., Exis #2 .011 in., Exis #5 .026 inch, Exis #7 .034 in., Exis #9 .045 inch effective constriction. Pattern percentage is commensurate with constriction.
I'll include the normal laundry list of specifications, but most of them are variable: the weight is adjustable, the cast is adjustable, the comb is adjustable, the distance from the pistol grip to the trigger is adjustable which means the length of pull is also adjustable. The supplied recoil pad is 22mm thick, but three optional pads are listed, starting at 12mm thick. I though the supplied pad was fine, however I was shooting in a thin, short-sleeved shirt. For use with a shooting vest, or with heavier clothing in cold weather, the 12mm pad would be of benefit, at least for me.

SPECIFICATIONS
Gauge: 12 Ga., 2-3/4 inch chamber
Action: Pulse Piston®, gas operated
Barrel: Tribore® HP
Barrel length: 30" - 32"
Choke: EXIS HP
Chokes: Five included
Frame: Ergal 55
Frame finish: Titanium
Stock: Pistol Luxe
Wood finish Matte, Hand Oiled
Length of pull: 14.3"
Drop at comb: 1.37"
Drop at heel: 2.16"
Weight: 8.4 lbs to 9.4 lbs
Case: Hard Case
Proof test:1630 BAR
Warranty: 5 year

SPECIFIC MODELS
FA02140 XLR5 Velocity Sptg 12g 30" Semi-Auto Black RH $2,535
FA02141 XLR5 Velocity Sptg 12g 30" Semi-Auto Black LH $2,712
FA02142 XLR5 Velocity Sptg 12g 30" Semi-Auto Silver RH $2,885 (as tested here)
FA02143 XLR5 Velocity Sptg 12g 30" Semi-Auto Silver LH $3,086
FA02160 XLR5 Velocity Sptg 12g 32" Semi-Auto Black RH $2,535
FA02161 XLR5 Velocity Sptg 12g 32" Semi-Auto Black LH $2,712
FA02162 XLR5 Velocity Sptg 12g 32" Semi-Auto Silver RH $2,885
FA02163 XLR5 Velocity Sptg 12g 32" Semi-Auto Silver LH $3,086
For those that consider price along with everything else, note that the apparently discontinued Beretta AL391 Teknys Gold had a MSRP of $2540, the current plastic-stocked Benelli Performance Shop Supersport 30 inch has a MSRP of $2949 and comes "complete" with only two choke tubes. Both are just glorified field guns as are most autoloading "sporting" guns. The Beretta UGB25 Sporting, a shotgun that is most generously described as peculiar, carries a MSRP of $3975. None of them have adjustable ribs or triggers and only the plastic-stocked SuperSport is available in a left-hand version.
My understanding is that one of the last minute modifications that slowed the introduction of the XLR 5 Velocity was the trigger. It was as good as most autoloaders, according to Wes Lang, but that wasn't good enough. So, they redesigned the trigger so it would qualify as a competition trigger on this competition gun and I'm glad they did. My example breaks cleanly and repeatably at just under 3-3/4 lbs., which feels even lighter than that when used on this quite substantial, 8-3/4 lb. gun.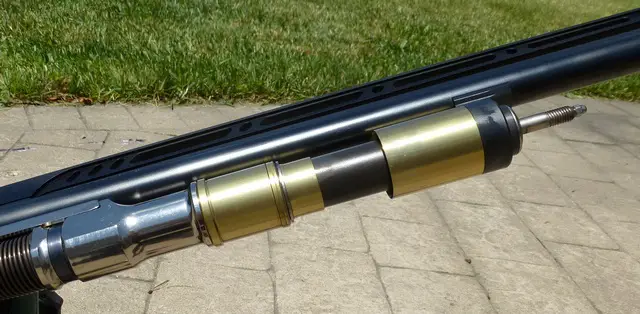 It is hard not to notice the generous amount of nickel plating on the gas action array. This of course is no accident, making for both additional corrosion resistance and easy eventual clean up. The XLR 5 receiver is aluminum alloy, what Fabarm calls "Ergal 55" with a titanium finish.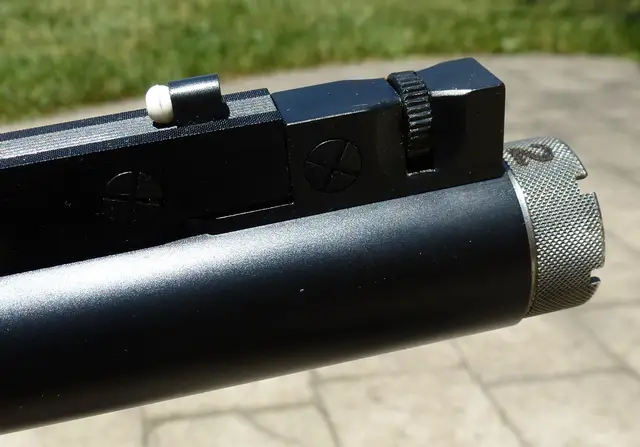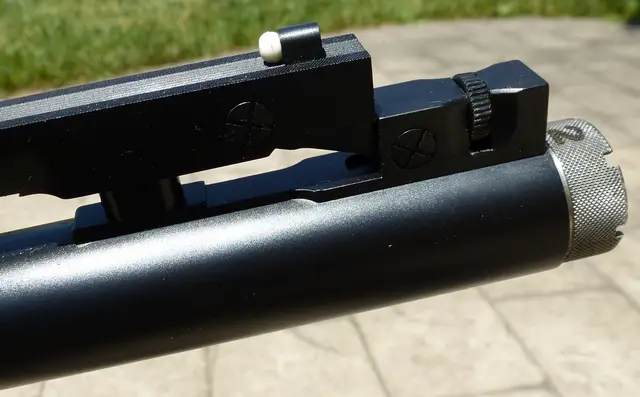 One of the most interesting and innovative features as far as I'm concerned is the adjustable point of impact. Done with no tools and a simple thumbwheel, if you raise the rib you lower the point of impact. The range is supposed to be from 90/10 to 50/50 at 35 meters. Point of impact, like so many things, is personal preference. I like a flat shooting shotgun, in the area of three inches center of pattern high at 40 yards. Some skeet shooters prefer it a bit higher and trap shooters with a constantly rising target, sometimes like it extremely high so they can float the bird significantly. Extremely high, for me, is a negative, particularly in sporting clays where sometimes you'll as many fading or drop shots as risers. All up to you, of course, and whatever you prefer you're exactly right. The XLR thumbwheel adjustment makes it all quick and easy, whichever you prefer for a particular discipline.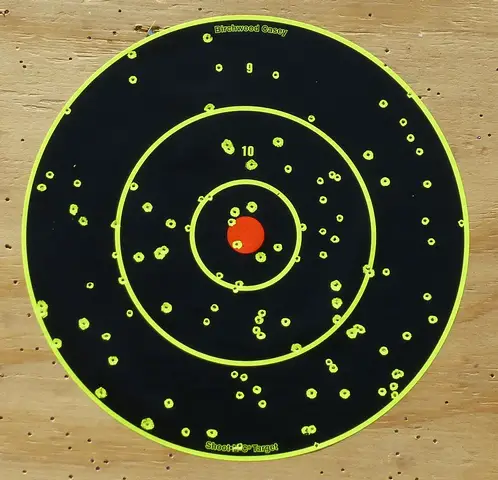 Off to the patterning board at a laser-verified 40 yards. The patterning work was done with the Exis HP Extreme 9/10 choke installed, along with B & P F2 1-1/8 oz. #7-1/2 shotshells. With the rib almost all the way up, I found it actually shot a bit lower than 50 / 50, with some of the best pattern efficiency I've seen out of a factory choke tube, as you can see in the picture above. All of those pellets are in a 12 inch circle. I consider this race game type performance, right out of the box. I moved the rib down, a couple of clicks, and got the point of impact I wanted: a couple of inches center of pattern high at 40 yards as shown below.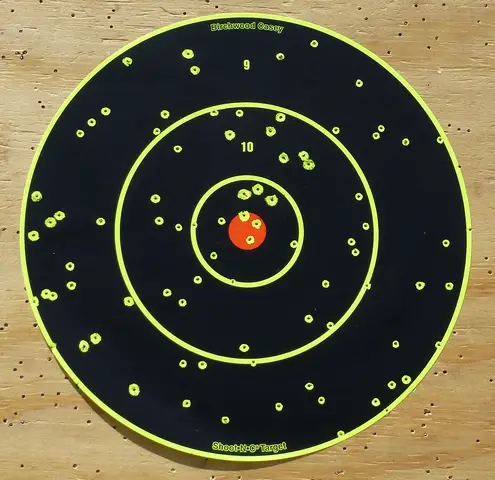 This XLR 5 is one of the softest shooting shotguns I've ever fired. Recoil with 1-1/8 oz. 1230 fps B & P F2 shells can only be described as virtually non-existent. There is no noticeable muzzle jump and there is a distinct lack of vibration or mechanical feeling. All I could feel was the bolt closing after the shot. There's no reason to settle for wimpy, low-pellet count loads with the XLR 5; there is no recoil of any significance. It is an easy gun to shoot, to shoot well and supremely comfortable.
The XLR 5 produces extremely dense patterns with the factory Exis HP Extreme 9/10 choke tube (used above), likely more dense than wanted for standard American 16 yard and 27 yard trap. That's a good thing, though, as tight patterns are the issue, not open patterns. The supplied Exis HP Medium 5/10 or Exis Long 7/10 are likely to be plenty dense enough while offering a larger effective spread, but of course you have to pattern your XLR 5 with the shells you want to use at your most-used ranges to confirm. The ink blots with the #9 choke shouldn't be a surprise: that's about a 45 thousandths constriction. That's why I referred to the #9 as a race game choke. If we are playing "Killer Pieces," good luck trying to shoot anyone out assuming they are on the bird.
Ejection was positive at about six feet; there were no failures to eject or failures to feed. As to how long you might be able to go without a full cleaning of the action, I have no idea. Though a gun review is not a destructive test, this gun is fun enough to shoot that it is going to get heavy use at the clubs over the next couple of months, so I'll update this review at the two thousand round mark or so. About the only thing lacking is a factory hull catcher, but it is my understanding that Fabarm has one in the works already.
This is the most thoroughly competent, well-executed clays gun I've tested in years. The Fabarm XLR 5 looks like a hundred miles an hour standing still, will fit more people perfectly than most any shotgun on the market, and is wonderfully soft-shooting. The XLR 5 forms higher efficiency patterns than any shotgun recently tested making it one of the few that needs no aftermarket chokes. It also needs no trigger job, with a factory trigger lighter and crisper than most all autoloaders and better than many vertical doubles. The XLR 5 adjustable point of impact works just as advertised and is a feature no other autoloader has ever had. The Fabarm XLR 5 is a breathtakingly impressive shotgun and fills a huge gap in the clays market. I can't imagine anyone that wouldn't fall in love with this gun.
The XLR 5 fits you the way you want it, balances the way you prefer, has the point of impact you want, and is going to make a whole lot of people very, very happy. The XLR 5 is the most impressive shotgun I've tested this year. Congratulations to FABARM USA for a truly superb, industry-leading firearm.
Copyright 2012 by Randy Wakeman. All Rights Reserved.
Custom Search

---
Custom Search