---


Review: CZ920 20 Gauge Autoloader

The CZ920 is the twenty gauge "little brother" to the previously reviewed CZ912 12 gauge, sharing a similar gas action, having a similar style. It is economically priced, with a retail of $541 and a street price estimated at $475. The basic published specifications are as follows.
Weight: 6.4 lbs (7-1/4 lbs. as tested)
Barrel Length: 28 inches
Length of Pull 14.25 inches
Rib: 8mm
Drop at Comb: 1.438 inches
Drop at Heel: 2.250 inches
Chokes: 5 screw chokes
Barrel Finish: Gloss
Receiver Finish: Gloss
Stock:Turkish Walnut
Sights: Fiber optic (green tubular front bead)
Even though it is listed as having a weight of 6.4 pounds, it comes in at a surprising heavy 7 lbs., 4 ounces via Lyman electronic trigger gauge. It is a 7-1/4 lb. 20 gauge; surprised at the weight I double-checked several other shotguns with the same Lyman gauge. Sure enough, the 6-1/2 lb. Browning A5 Hunter still weighs 6-1/2 lbs., my B-80 alloy 20 gauge still weighs 6-1/4 lbs., and my Benelli M2 20 gauge still weighs 6 pounds even. It is quite a heavyweight by twenty gauge field gun standards, coming in a full 1-1/4 lbs. heavier than the recently tested Weatherby walnut SA-08 Deluxe 20 gauge. The tested CZ912 12 gauge weighed 7-1/4 lbs., identical to this 20 gauge.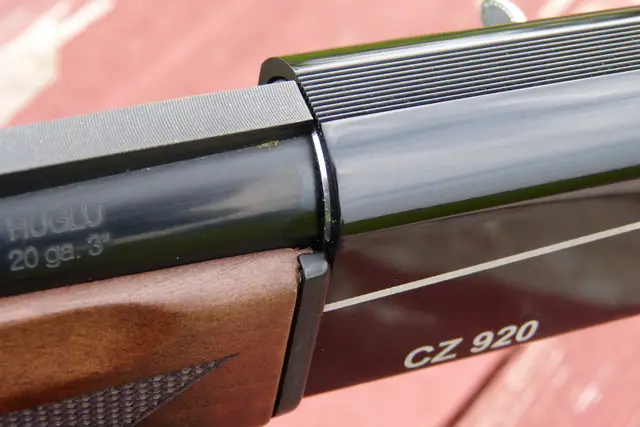 The CZ920 has several issues, as shown in the image above. The forearm is poorly inletted, leaving a noticeable gap between it and the receiver. The barrel extension does not fit properly into the receiver, leaving an unsightly silver ring protruding as above.
The trigger is even heavier, though, breaking at a ridiculously unacceptable 9-1/4 pounds. Many, many autoloaders have excessively heavy triggers, to be sure, but my version of a really heavy trigger is six pounds. It is part of a trend, for the CZ912 (12 ga.) previously tested had an 8-3/4 pound trigger, and the CZ720 (20 gauge) previously reviewed also had a 9-1/4 pound trigger.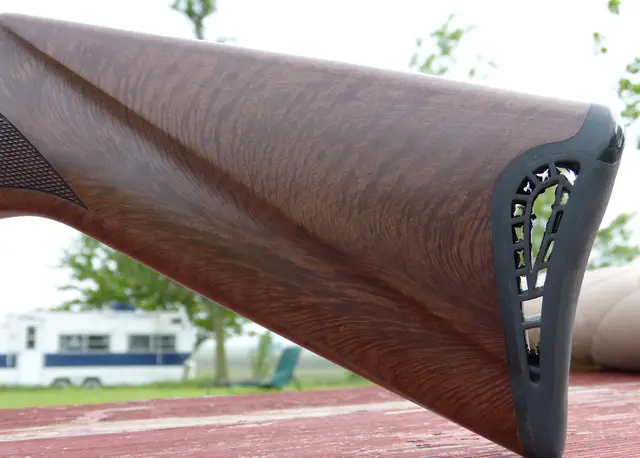 The CZ920 has outstanding wood, both the forearm and the buttstock. The odd recoil pad makes replacement with popular aftermarket pads a problem, as is adjusting the stock length.
This CZ920 has an absolutely gorgeous stock set, both the buttstock and the forearm. The workmanship is yet again lacking, for the forearm isn't inletted properly leaving a visible gap between it and the receiver. Like the CZ912, this shotgun has a green fiber optic front bead and an odd recoil pad reminiscent of the Browning Cynergy. With a hard insert at the top for snap-free mounting, there's nothing particular wrong with it, but replacing it with any number of aftermarket pads is problematic.
Despite its heavy weight, the 920 isn't what I would call a particularly soft shooter. It isn't as comfortable to shoot as a 6-1/4 lb. alloy Browning B-80, or a lighter 6 lb. Weatherby SA-08 20 gauge shot right along with it with the identical shells. As received, this CZ 920 was dirty enough to show that it had already been shot. Despite cleaning and lubrication, it failed to eject B & P F2 15/16 oz. loads a few times, leaving the empty hulls in the receiver as the shell lifter fruitlessly tried to feed the next round. Additionally, the bolt does not easily lock up onto the barrel extension. With the gun unloaded, the bolt fails to fully close, hanging up at the last quarter inch or so. Perhaps this sluggish bolt is due to inadequate mainspring strength, poor machining, or a bit of both.
This CZ920 is not completely reliable, with poor forearm inletting, a sluggish bolt, and a barrel extension that does not fit properly into the receiver. With a ridiculously heavy 9-1/4 lb. trigger, a horribly misrepresented gun weight that is tragically excessive for a field 20 gauge (and heavier than many 12 gauges), it is a shotgun that is difficult to recommend. It is one of the most completely unsatisfactory autoloading shotguns I've tested and a level of crudeness that should just never leave any firearms factory. CZ-USA is a fine outfit, however the folks at Huglo in Turkey aren't giving them any discernable help. So, shame on Huglo for this scattergun manufacturing crime.
Copyright 2013 by Randy Wakeman. All Rights Reserved.
Custom Search

---
Custom Search