---


Remington Ultimate Muzzleloader Update 7/29/2014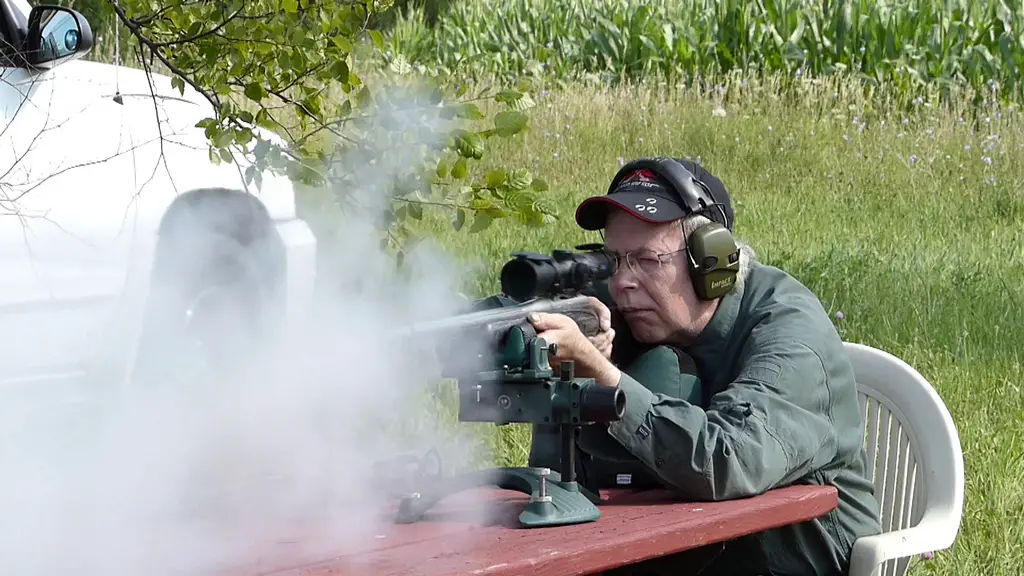 As of today, July 29, 2014, the first 400 or so Remington 700 Ultimate ML rifles have already been built, and will be shipping out to Remington distributors and dealers within the next couple of weeks. Further, Remington has lowered the MSRP of their Ultimate Muzzleloader to less than $1000, making it comparable in street price to the T/C Encore Endeavor break action, to cite one example.
The Remington Ultimate Muzzleloader barrels are hammer-forged, made by Remington, and are all magna-fluxed. The nominal rifling depth is .009 inch. Final factory load recommendations have not yet fully been complied, but you can use up to four Hodgdon Triple Se7en "50 grain" pellets, or up to three Hodgdon "Triple Se7en Magnum" "60 grain" pellets. Of course, you need not use maximum loads, it just means capability.
The testing I've done thus far has been with Blackhorn 209 and 95 grains (weight) and 100 grains (weight) pushing 250 – 300 grain saboted projectiles. Normally, this is the worst time of the year to work up loads for a muzzleloader, but we have caught a break with some cool days for the end of July in Illinois.
Four loads are already 1 inch shooters at 100 yards:
Parker Ballistic Extreme 300 grain w. short black MMP sabot
Remington Premier Accu-Tip 250 grain w. supplied sabot
Barnes .458 Barnes Original 300 grain Semi-Spitzer w/ orange .458/ 50 MMP sabot
Parker Match Hunter 300 grain w. short black MMP sabot

The Barnes Originals are currently sold out, but Barnes reports "The .458 cal 300gr Original in the Spitzer design is on our schedule and should be available toward the first week in September. You can call us and place a back-order, or just call us in early Sept and make an order."
Parker 300 grain Match Hunters are also sold out. According to Bob Parker, he is currently accepting backorders and should be shipping them in about three weeks.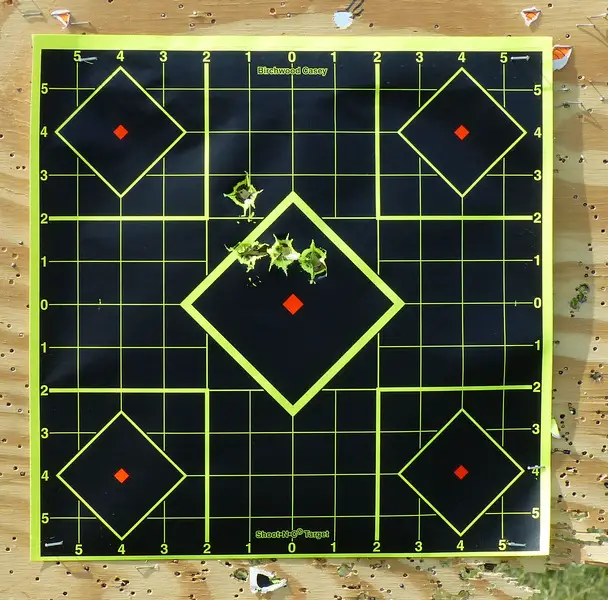 The uppermost hole is the fouling shot. This 100 group, shot in the wind, is from the Remington Ultimate, 95 gr. weight Blackhorn 209, Parker 300 grain Match Hunter. This 95 grain charge by weight is approximately a 136 grain volumetric charge by blackpowder powder measure.
Through my CED M2 chrono at 15 feet, 95 grains by weight of Blackhorn 209 pushed the 300 grain Parker Match Hunter at 2122 fps: see the above target. You will of course get higher muzzle velocities with 100 grains by actual weight (approx. 143 grains volume) of Blackhorn 209 (and more recoil) or by using 250 grain sabots. For 105 grains actual weight / 150 grains by volume with Blackhorn 209, 300 grain saboted bullets run about 2270 fps. You'll have to decide for yourself where your shooting comfort level ends.
Note: 100 grains by volume of Blackhorn 209 is 70 grains by actual weight, 120 grains by volume is 84 grains by weight, 150 grains volume = 105 grains by weight. Representative trajectory and impact velocity charts of a 2125 fps 300 grain Parker Match Hunter (136 grains volume, 95 grains actual weight Blackhorn 209) follow below.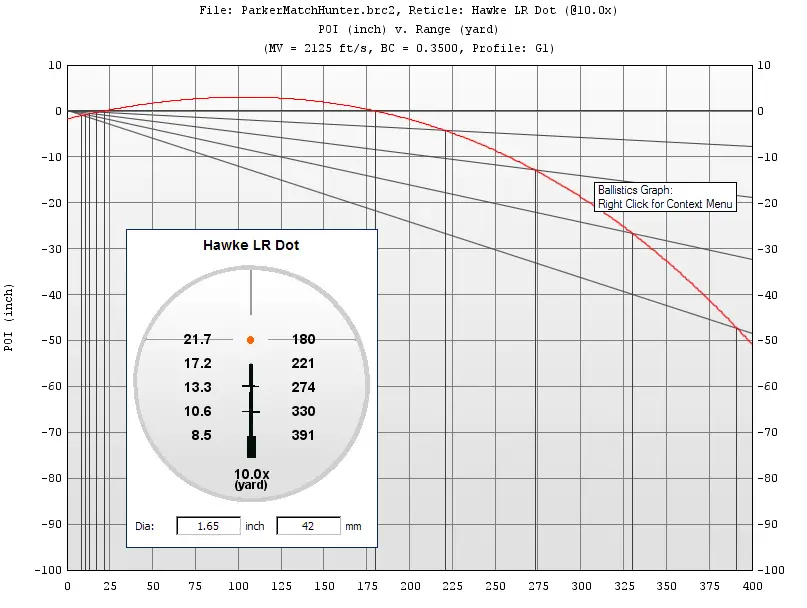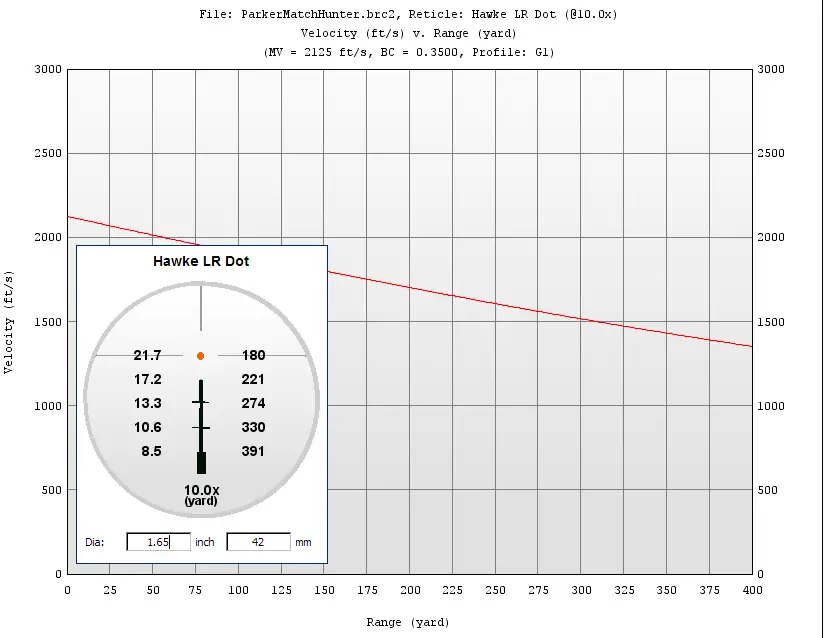 Copyright 2014 by Randy Wakeman. All Rights Reserved.
---
Custom Search