---


Remington Model 700 Ultimate Inline Muzzleloader, Part Two
As of this writing, June 7, 2014, Remington officials have mentioned that production in Ilion, NY is on schedule, with general shipments commencing in July. Invariably, there are questions about "accuracy." My understanding is the best groups recorded in Remington testing are in the 1/2 inch at 100 yards arena.
The primed brass used in the Remington Ultimate is based on the .308 case. Enthusiastic shooters will no doubt reprime the factory Remington brass with a Lee Autoprime, or similar, using a .308 shell-holder. You might think that by trimming your own brass you could use what you might already have in your reloading area, but that isn't strictly true. The factory Remington brass for the muzzleloader has an internal chamfer to essentially eliminate blow-back fouling, so it sounds like using the factory Remington brass will be best practice.

Aside from the already touted "200 grain" capability using four "50 grain equivalent" Triple Se7en pellets, according to Remington you can alternatively use three "Triple Se7en Magnum" pellets that would be very roughly about a "180 grain" load, kinda sorta. Remington has already tested this load with satisfactory results. It was a Gunwerks modified inline muzzleloader that began its life as an "Ultimate Muzzleloader" that had problems, that Duane Dunham used to take his record book Kodiak Brown Bear. Duane used a 300 grain Parker Match Hunter and three Triple Se7en Magnum pellets to take his bear. Duane's trophy is #2 all-time SCI taken with a muzzleloader, with a 28-1/2 in. skull. Using the Boone & Crockett method for NMLRA Longhunter records, it appears to be 28-3/16 in. which would be the #1 Longhunter Society record brown bear at the time.
Again, according to Remington, modern smokeless powder is prohibited on their new muzzleloader, so those who go that route on on their own. As far as I know, Blackhorn 209 has not yet been tested yet, by Remington, but that's what I'll be using for the most part as soon as my rifle shows up, expected sometime this month. Remington through Barnes Bullets has developed a new sabot with MMP that handles "200 grain" pellet loads with Barnes T-EZ flat base 250 grain and 290 grain bullets. Those that use the Barnes Bullets in bulk will no doubt want to buy the new, stiffer durometer sabots in bulk from Remington or Barnes. That would appear to be a good possibility, though exactly when they would be made available is an open question.
Just because you "can" use four pellets doesn't mean you have to. I've never had the absolute fastest thing coming out of the muzzle to be the most consistent, the most accurate, the most appropriate . . . in anything, whether centerfire rifles, muzzleloaders, handguns, shotguns, or even .22 rimfires. The only guarantee when using a heavy bullet at high velocity is recoil. The Remington 700 Ultimate is a substantial rifle at 8-1/2 pounds unscoped, so we will be looking at 9-1/2 – 10 pounds scoped up and ready to hunt. At the bench, working up loads, some would wish for a 20 pound rifle, no doubt.
Full boat retail on the 700 Ultimate is $1295, street price at perhaps 15% less. This is a comparative screaming deal compared to the ridiculously overpriced "Ultimate Firearms" slap-together product that has sold for $2500, $3500, $4000 and more depending on configuration. While the "Ultimate Firearms" product has been called the ultimate rip-off, quite understandably so, the Remington Ultimate looks to be better product at less than half the price of even the cheapest prior "Ultimates."
Using a Barnes T-EZ 290 grain (that you will likely want to change from the factory HPH-24 to a HPH-12 or the new Remington green sabot, in conjunction with a Hawke Optics Endurance 30 riflescope, the exterior ballistics I'm "shooting for" are as follows.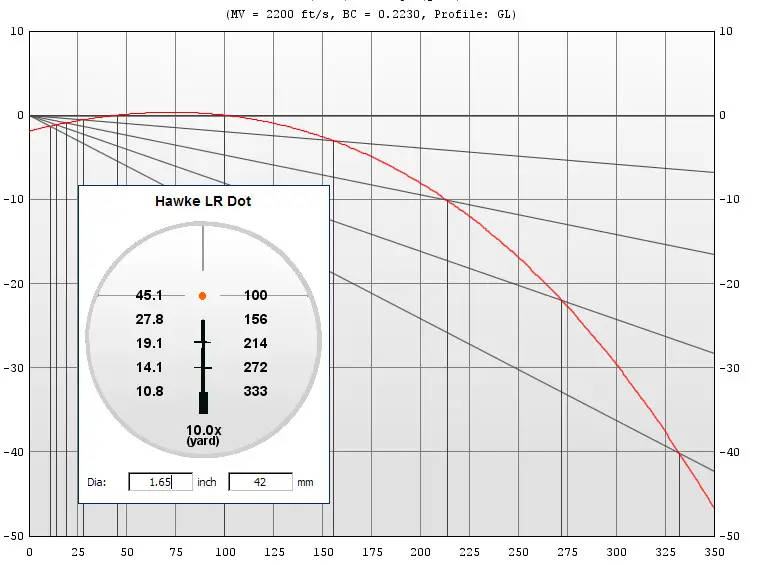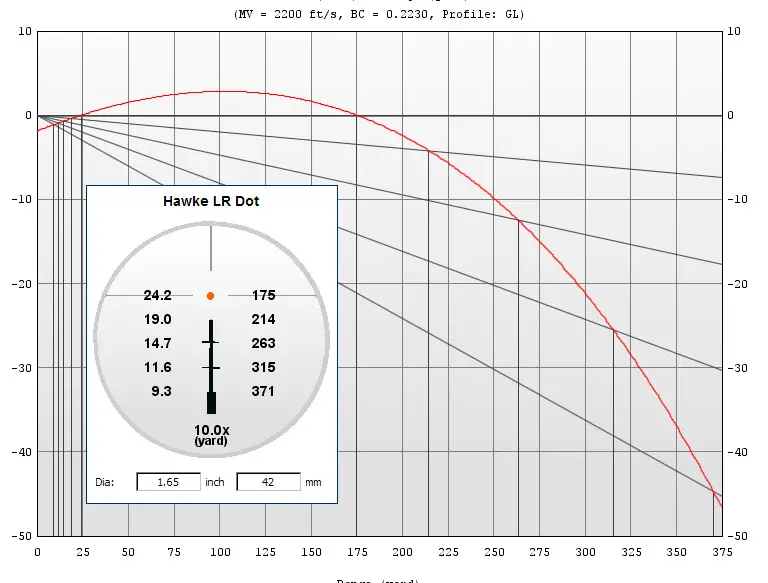 Using the full range of the Hawke reticle, with this load takes you to 333 yards with a 100 yard zero, 371 yards with a more appropriate 175 yard zero.
Copyright 2014 by Randy Wakeman. All Rights Reserved.
---
Custom Search