---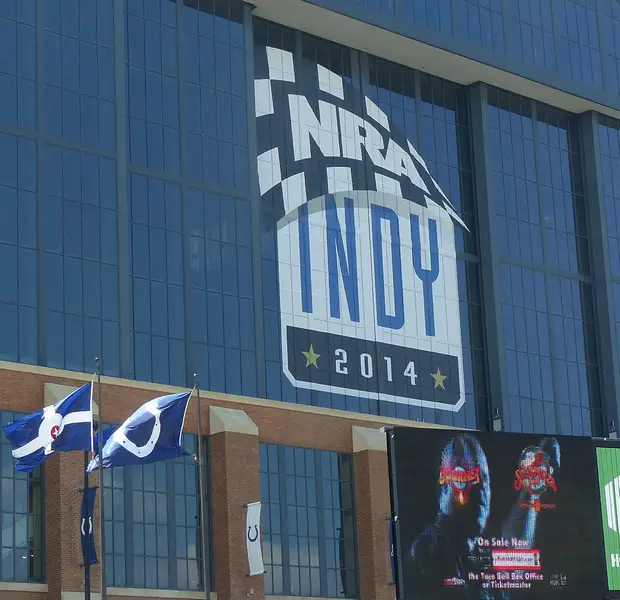 Remington Announces the Remington 700 Ultimate Muzzleloader
At this year's NRA Convention in Indianapolis, Indiana, Remington unveiled their "Ultimate Muzzleloader," a Made In the USA bolt-action sealed action inline. Initially, it is offered in two configurations: a stainless steel gray laminate, and a stainless steel Bell & Carlson stocked offering. Either way, the rifle is a 1:26 rate of twist, equipped with the latest X-Mark Pro trigger at a list price of $1295. Remington basic specifications follow.
Model 700 Ultimate Muzzleloader – Synthetic (86960)
   26-inch Stainless Steel Fluted Barrel
   Bell and Carlson Medalist M40 Stock with Primed Case Storage
   X-Mark Pro® Externally Adjustable Trigger, 2.5 – 5 Pounds
   24 Primed Cases and 24 Projectiles
   Ships in a Hard Case
  
Model 700 Ultimate Muzzleloader – Laminate (86950)
   26-inch Stainless Steel Fluted Barrel with Rifle Sights
   Laminate Stock with Primed Case Storage
   X-Mark Pro® Externally Adjustable Trigger, 2.5 – 5 Pounds
   24 Primed Cases and 24 Projectiles
   Ships in a Hard Case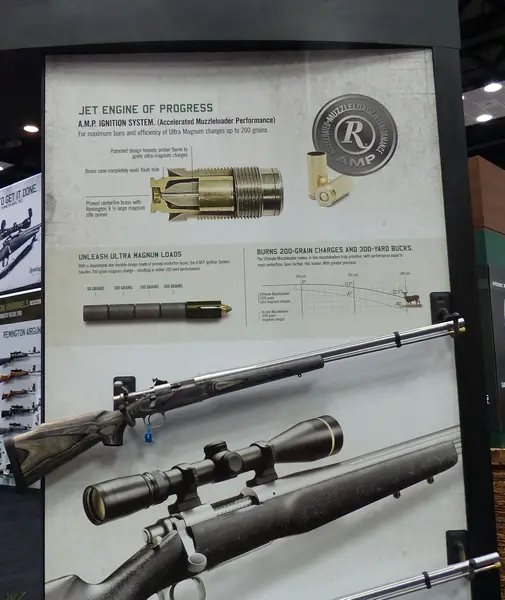 The "Ultimate Muzzleloader" has been around for some time, offered as the BP Express, a rifle that most feel is one of the most ridiculously overpriced parts gun type muzzleloaders ever to hit the market. It is hard not to agree, with the "Black Widow" model starting at $3450, the "Carbon Stealth" at a nosebleed $4450 and up, and even the base model (BP Express) starting at $2500.
Remington has acquired the patent to the breech plug: they feel they have improved the breeching system substantially, and with an estimated street price of $1050 or so, it is now an affordable option for those looking for a high-quality muzzleloader. Remington officials at Indianapolis cited the weight of the Remington Ultimate synthetic at about 9.1 pounds, the laminated stock version about a quarter pound lighter. To my eyes, they are fine looking rifles.
In terms of muzzle velocity, the Remington Ultimate can use up to four "50 grain" Triple Se7en pellets. The velocity increase isn't all that tremendous from other muzzleloaders, but it is there. Two T7 "Magnum" pellets throw 250 grain saboted bullets at about 2000 fps. 120 grains by volume of Blackhorn 209 produces 2150 fps or so, with a 250 grain projectile and around 2050 fps with a 300 grain saboted bullet.
The Remington Ultimate Muzzleloader is claimed to hit 2400 fps with a 250 grain sabot, 2200 fps with a 300 grain sabot. So, it is good for 150 fps with a 300 grain projectile, but not quite at the level of the now-discontinued Savage 10ML series that has been able to exceed 2300 fps with 300 grain bullets for over the last decade, albeit with propellants not specially marketed as "blackpowder replacements." I didn't ask the folks at Remington about their position on smokeless propellants, for it will undoubtedly be "No Flipping Way." I can't say that I blame them.
Representative 300 grain Saboted Bullet Velocities
80 gr. Volume BH209 1650 FPS (56 grains weight)
100 gr. Volume BH209 1850 FPS (70 grains weight)
120 gr. Volume BH209 2050 FPS (84 grains weight)
150 grains pellets (IMR White Hot / Pyrodex, or T7) 1988 FPS
200 grains T7 pellets (Remington Ultimate Only) 2200 fps
Classic Savage 10ML-II or SMI loads: 2300 fps (See http://www.smokelessmuzzleloading.com/loadingchart.html )
As for the rate of twist, Remington told me that they tried 1:28 and 1:26, like the 1:26 better, but didn't get around to the 1:24 or tighter twist rates based on time considerations. Initial testing was largely with Parker Productions Ballistic Extreme bullets that performed superbly accurately, but the production rifles with come with Remington Premier Accu-Tip bullets, actually Barnes flat base T-EZ 250 grain bullets in a new, green, proprietary sabot made by MMP.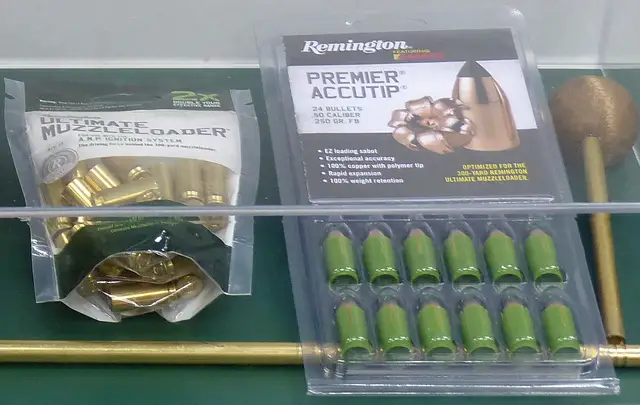 I have had exceptionally good results with the Barnes bullets, as most of my readers know, particularly the 290 grain flat base T-EZ and the Barnes Original .458 300 grain. The Parker Ballistic Extremes have been excellent as well. I'm interested if the 1:26 barrel at 2200 fps is enough to do the trick with the Parker Match / Hunters, but that will have to wait until I get my hands on a production rifle, perhaps some time in June. Although Remington didn't have the time to do any Blackhorn 209 testing, the brass / magnum rifle primer set-up shouldn't pose any ignition problems.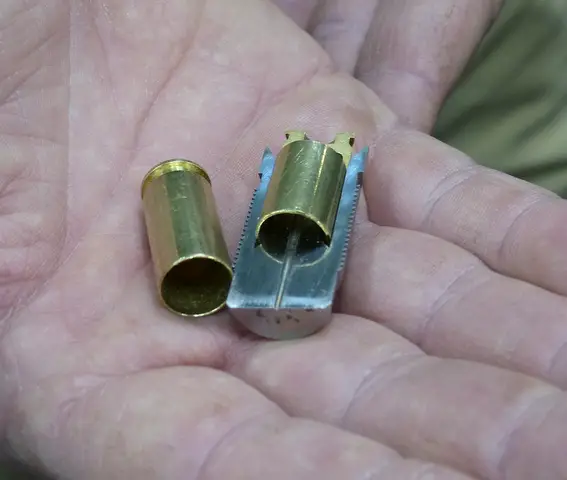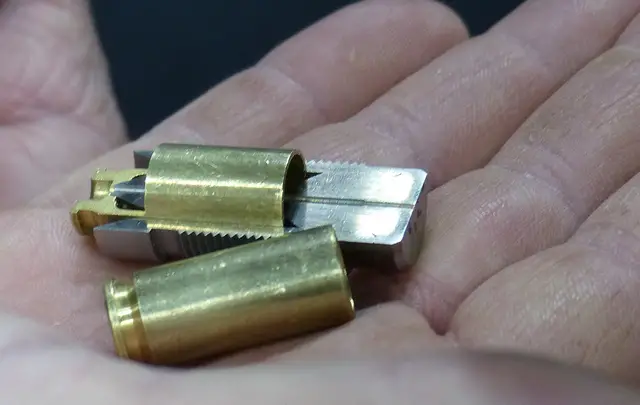 One of the more interesting advantages mentioned by Remington is that their improved .30 caliber brass / breechplug set-up stays clean, accumulating no primer crud. This is sure to delight those who are wearing of drilling out the carbon from their breechplugs, a necessity in many cases for reliability. Remington says that the breechplug does not need to be removed at all for regular cleaning: that has great appeal as well.
Marketing being what it has been, claims are being made that "it shoots like a centerfire." This obviously makes no sense whatsoever, for if you want .270 Winchester ballistics, for example, as a matter of course you need a .277 inch projectile coming out of the muzzle along with the traditional 3060 fps .270 Winchester muzzle velocity. Neither one is going to happen here: no chance.
All in all, though, if it sounds like I really like this muzzleloader, it is only because I do. It has very nice lines, the triggers that I tried were superb, and though four pellets are not my choice, or pellets at all for that matter, it shouldn't be much of a problem to work up loads to the recoil limit of what I (or most folks) find enjoyable. Much, much more information to follow as it becomes available.

Copyright 2014 by Randy Wakeman. All Rights Reserved.
---
Custom Search