---


Remington 700 Ultimate Muzzleloader Review, Part Three
Fifty charges of 100 grains of Blackhorn 209, by weight not volume, were carefully dispensed by RCBS Chargemaster 1500, then bagged and tagged. Ambient conditions were about 80 degrees F., actually slightly on the cool side for late July in northern Illinois.
A target was set up at 25 yards to get the coarse scope adjustments out of the way. The first shot, using a Parker 300 grain Ballistic Extreme pushed by 100 grains (weight) of Blackhorn 209 was on the paper, the subsequent shot was in the bull.
Fresh targets were set up at 100 yards, laser-verified. The first three shots produced an MOA 100 yard three shot group, quite satisfying. Burning this much powder means barrel heating and resultant sabot weakening is a serious issue, a potential problem that would not be a consideration in one-shot hunting conditions or at typical hunting temperatures. The barrel of the Remington 700 Ultimate gets hot quickly, so barrel cooling is mandatory for best accuracy. Aluminum cooling rods do work and work well, but I didn't bother with one in this inaugural outing. I tried as many combinations as daylight would allow, all using 100 grains by weight of Blackhorn 209. Yet, as you can imagine, I've barely scratched the surface of the countless combinations possible.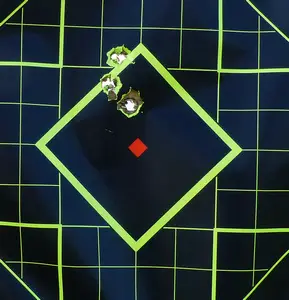 This load, as tested, with the Barnes Spitfire T-EZ 250 Flat Base in the green Remington / Barnes sabot, has a Maximum Point Blank Range of 211 yards, assuming a six inch kill zone.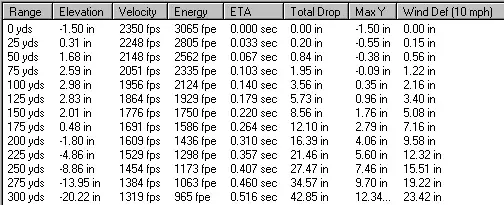 The Remington 250 grain Premier Accu-Tips, actually a Barnes T-EZ 250 Expander in a new, stiffer durometer proprietary MMP sabot designed for this rifle and higher intensity propellant charges, also performed superbly well, shooting sub-MOA at 100 yards. A representative 100 yard group is shown above and this was fired with an excessively hot barrel to boot. Muzzle velocity (100 grains weight BH209) is in the area of 2350 fps.
All in all, for a first outing, the Remington 700 Ultimate did superbly well, with two extremely consistent sub-MOA loads that I'd happily hunt with tomorrow, with a bare minimum of load work up and hassle. The 100 grain by weight / 143 grains by volume Blackhorn 209 charge was just an educated guess. The recoil, off of bag and cradle with 300 grain projectiles is stout but quite manageable, with the felt recoil of 250 grain saboted projectiles remarkably softer-shooting. Neither level of felt recoil is of any importance with fur in the cross-hairs.
CONCLUSION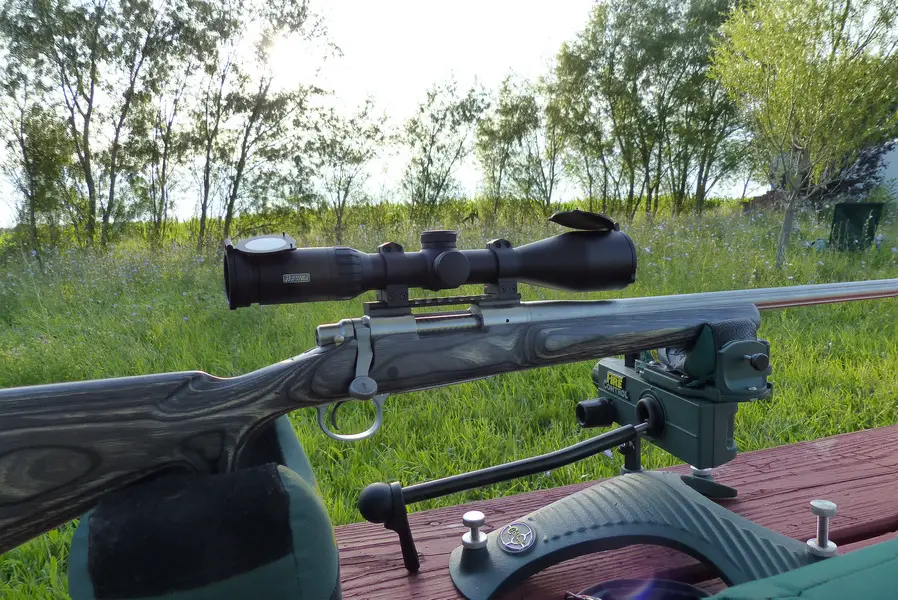 The tested Remington 700 Ultimate Muzzleloader is a superb shooter out of the box, with no suspicion of hang-fires or anything less than instant ignition with Blackhorn 209. The breeching system works like a charm and is easily the handiest, easiest to use, cleanest breeching array of any affordable muzzleloader on the market today.
In times past, the Knight Rifles accuracy guarantee has been 2-1/2 inches at 100 yards, Savage Arms promised 1-1/2 inch 3 shot 100 yard accuracy and T/C has never promised any standard of accuracy at all. This Remington Ultimate is a 1 inch gun right out of the box, with extremely high-performance velocities of 2350 fps +. What is not to like?
With an excellent, zero take-up, zero-creep trigger, dashing good looks, and perfect reliability, the new Remington 700 Ultimate muzzleloader is the most appealing standard production long-range muzzleloader on the market today. For shorter range applications or when doing a lot of walking and climbing, its 8-3/4 lb. unscoped weight might direct you to the substantially lighter LHR Redemption (7-1/4 lbs. in walnut with a 24 inch barrel). However, as the Remington 700 Ultimate is made for high-intensity loads, its weight is no different from several prior muzzleloaders. For example, the now-discontinued Savage 10ML-II with a laminated stock is a 9 lb. pound gun.
When firing "high-horsepower" long-range loads, the current more substantial weight of the Remington Ultimate is highly desirable. I'm thrilled with this muzzleloader and if you are interested in a long range muzzleloader for hunting from a stand or box blind, you will be too.
This Remington eliminates regular breech plug removal altogether, the filthiness of 209 primers, the drilling out of carbon from breech plugs, the poor ignition of extremely long interrupted thread breech plugs, and the many various and sundry hassles of stuck primers, fouled or crispy scopes, external blowback, and the only "maintenance" needed after shooting with Blackhorn 209 is a couple of Hoppe's No. 9 patches up and down the barrel. The Remington Ultimate fires like a "real rifle," without the turtle-slow locktime of hinge-pin hammer guns (the break action genre).
The direct predecessor to this gun, the rip-off priced "Ultimate Firearms, Inc." models start at $2500 for the base model and hit a a nosebleed $4450 start price for the "Carbon Stealth" model. For those who know a great product when they see it, the $1295 retail ($1150 approximate street price) of this Remington makes it not just an outstanding muzzleloader, but a screaming deal of value as well. This is the muzzleloader that everyone has always wanted and now it is finally here. The Remington 700 Ultimate is quite easily the best muzzleloader Remington has ever offered and the finest production muzzleloader available today.

More load combinations, 200 and 300 yard accuracy results, and chronograph data to follow as time permits.
For those that have asked about availability, the Remington 700 Ultimate should soon be available through Cabela's and Gander Mountain, and can currently be ordered through the following wholesalers:
BILL HICKS & CO LTD

CHATTANOOGA SHOOTING

GRICE WHOLESALE

BIG ROCK SPORTS

HORTON DIST CO INC

JERRY'S (PA) SPORT

SPORTS SOUTH LLC

W L BAUMLER CO

WILLIAMS SHOOTERS Supply



Copyright 2014 by Randy Wakeman. All Rights Reserved.
---
Custom Search