---


Coming Soon: New Company, New Muzzleloader: the LHR Redemption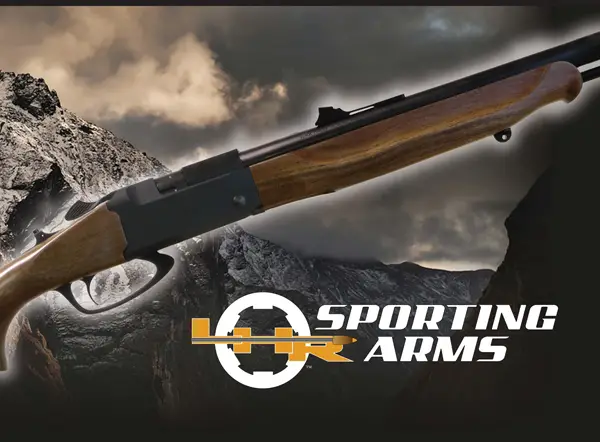 In what looks to be the biggest muzzleloading news of 2013, a new company has been formed by former T/C employees in Rochester, New Hampshire. The new company is LHR Sporting Arms and I'll speculate the letters stand for Mark Laney, Patrick Hanley, and Karl Ricker. Together with Michael Garland, they form the nucleus of LHR Sporting Arms. I've known Mark Laney for some time.
Their initial offering has been designated as LHR Redemption. This rifle is scheduled for release on January 1, 2013, apparently in the walnut version with composite stock versions to follow. According to the LHR website, you can order an engraved First Edition right now through January 31 for $799. The standard Redemption models start at $599. Here's a look at the basic specifications of the Redemption.
PRODUCT SPECIFICATIONS
Length of Pull: 13 1/2
Weight: 7 lbs
Trigger: FT2™ Match Trigger
Barrel Length: 24"
Cocking Mechanism: Stealth Striker™
Stock: Walnut Stock and Forend
Finish: Armornite™ Corrosion Resistant Hard Coat (internal and external of barrel and all critical components)
Sights: Williams Fiber Optic Metal Sights and Weaver Base

Muzzleloading hasn't had much innovation in the last decade. LHR appears to finally be applying some very solid, common sense ideas to the inline muzzleloader. I'm going to touch on a few of the areas that I find interesting, the first being the "Armornite™" nitrided barrel and components.
Cheap plating has been around for a very long time on muzzleloaders. The nasty, soft-barreled Spanish made disasters were long supplied with nickel-plating. The nickel-plating gave the appearance to the casual observer that they were getting stainless steel, but they were actually getting the same old extruded junk-level tubes with a cheap external finish. Thompson has done the same with their "Weather Shield™" externally coated mild carbon steel barrels. An external-only finish makes no sense on a muzzleloader, for the outside of a barrel is very easily monitored, cleaned, and protected. Whether using corrosive blackpowder, even more caustic Pyrodex, or still corrosive Triple Se7en, external barrel finishes do nothing to protect your muzzleloader where it really matters: inside the bore. As many people have sadly discovered, stainless steel can indeed rust and corrode. It is "stainless" but absolutely not rustless. As Doc White has long lamented, Pyrodex can etch stainless steel. Nitrided metallurgy has been used by Glock, Ithaca, but ignored by muzzleloading manufacturers until now. This is the first factory muzzleloader with an inside and out nitride treatment that I'm aware of and this is very good news.
The class of hinge-pin hammer guns have always featured slow locktime and generally give an annoying click when you cock them. The Stealth Striker™ of the Redemption promises whisper-quiet operation and does not interfere with scope mounting. Another very good, well-reasoned approach.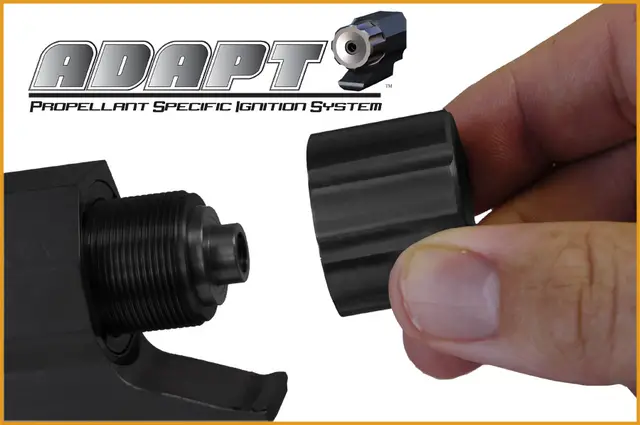 Triple Se7en in particular can create a hard slag-like crud ring that has seized breechplugs and given people headaches for years. In the breechplug area, we have had excessively long "speed breech" attempts that steal away usable barrel length and, in general, are nonsensical. When was the last time you heard a couple of muzzleloading hunters bickering out in the field as to who could remove their breechplug the fastest? Really silly stuff, but its obvious silliness didn't stop it from being introduced, and it didn't stop the cheap-charlie importers of Spanish fodder from trying to copy it, either. You'll never seize any internal barrel threads on the LHR Redemption: there aren't any, as the threads are on the outside of the barrel. The Adapt™ System of the LRS Redemption appears to be an industry first and like the rest of the rifle, makes perfect sense.

The LHR Redemption looks to be one of most competent, supremely well thought-out, most user-friendly muzzleloaders ever. For many formerly frustrated inline muzzleloading enthusiasts, January 31st just can't come soon enough.
More details will be forthcoming. For now, check out the Redemption at http://lhrsportingarms.com/index.html .

Copyright 2012 by Randy Wakeman. All Rights Reserved.
---
Custom Search