---
Primos The Escape Deluxe Blind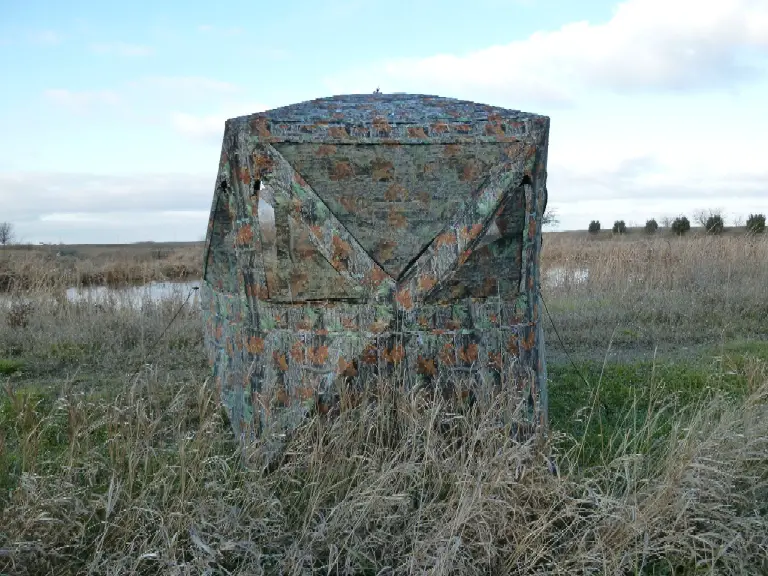 A few of our vintage blinds have been starting to look a little sad, so we opted to do some blind shopping and decided on the Primos Escape Deluxe. The basic specifications are as follows.
Matrix Camo pattern
Water-resistant 600-denier polyurethane-backed polyester fabric
Phantom Pro dark black lining
Large scent/tight flaps line the blind's bottom
Full seam zippered entrance
Interior and exterior accessible zippers
One large roof opening
One set of shoot through mesh windows
12 Large view windows designed for easy access with a gun or bow
77-inch shooting width
75-inch stand-up height
Weight: 17 pounds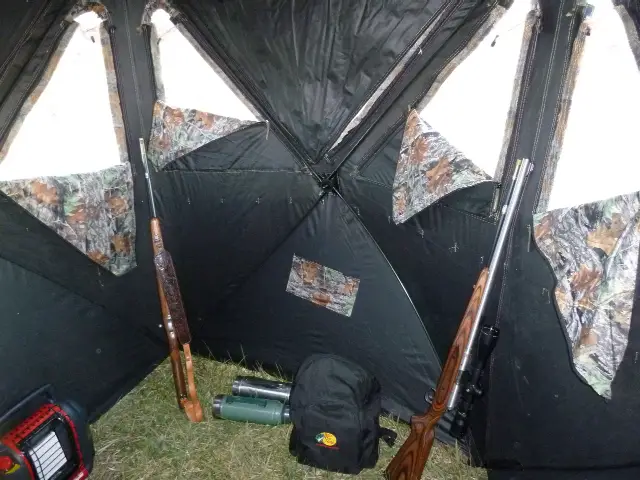 The Escape Deluxe sets up in a minute or two and comes down just as quickly with no hassle. Shockingly, it is even possible to put it back into its carry bag, a feature not always easy to accomplish. It is a generously sized blind, extremely roomy enough for two of the largest adults and lots of gear. Three average sized adults can hunt out of this blind with little drama. Windows, it has in spades, twelve in all. For a sub $200 blind, we were completely satisfied. The zippers all worked, but like most all zippers they could use a bit of light silicone lube to quiet them down a bit. Like most blinds of this type, the zippers are no particular problem unless you try to "muscle beach them" or force them with fabric or debris in the way. Velcro remains noisy, with the next step up being magnetic curtains and windows, albeit at a generally higher price point. As long as you get most of your adjustments taken care of early on, there isn't much noise when the sun starts to set.
To set up, it is tug on the roof, quick tugs on the sides, stake the corners and door, and stake the sides. Take down is just as easy, just reversing the procedure. We didn't find any build flaws in zippers or windows, and we checked them all. The windows are set a bit higher than some blinds, so you'll want to use chairs of appropriate height. It is certainly tall enough so you can shoot standing up, as you prefer. For two adults, two chairs, a pair of heaters, four guns, two backpacks, and so forth, there is not just plenty of room, but room to spare. You can find this blind discount-priced at about $160 and at that price point, we found nothing lacking at all.

Copyright 2011 by Randy Wakeman. All Rights Reserved.

---
Copyright 2011 by Randy Wakeman. All Rights Reserved.
Custom Search