---


Preview: new Fabarm XLR5 "Long Rib"


Available in right hand and left hand versions, with your choice of no-nonsense black anodized or the bit more flashy titanium silver receiver, the retail prices for this dedicated clays gas-operated autoloader are as follows:
FA03140 XLR5 Velocity LR 12g 30" Black RH $2,150*
FA03141 XLR5 Velocity LR 12g 30" Black LH $2,295*
FA03142 XLR5 Velocity LR 12g 30" Silver RH $2,495*
FA03143 XLR5 Velocity LR 12g 30" Silver LH $2,650*
FA03160 XLR5 Velocity LR 12g 32" Black RH $2,150*
FA03161 XLR5 Velocity LR 12g 32" Black LH $2,295*
FA03162 XLR5 Velocity LR 12g 32" Silver RH $2,495*
FA03163 XLR5 Velocity LR 12g 32" Silver LH $2,650*
The basic specifications are similar to the Velocity XLR 5:
Action: Semi-Automatic - Pulse Piston, gas operated
Gauge: 12 Ga
Barrel Length: 30"
Capacity: 4
Chamber: 2 3/4"
Weight: 8.4 lbs
Length of pull: 14.3"
Drop at comb: 1.37"
Drop at heel: 2.16"
Stock: Pistol Luxe
Wood Finish: Matte, Hand Oiled
Frame: Ergal 55 alloy
Frame Finish: Black Anodized
As compared with the adjustable rib XLR5, you can see that the price difference is significant. In general terms, the adjustable rib XLR5 runs about 20% more.
FA02140 XLR5 Velocity Sptg 12g 30" Black RH $2,625*
FA02141 XLR5 Velocity Sptg 12g 30" Black LH $2,795*
FA02142 XLR5 Velocity Sptg 12g 30" Silver RH $2,975*
FA02143 XLR5 Velocity Sptg 12g 30" Silver LH $3,150*
FA02160 XLR5 Velocity Sptg 12g 32" Black RH $2,625*
FA02161 XLR5 Velocity Sptg 12g 32" Black LH $2,795*
FA02162 XLR5 Velocity Sptg 12g 32" Silver RH $2,975*
FA02163 XLR5 Velocity Sptg 12g 32" Silver LH $3,150*

Despite the lower cost of entry, the main difference is the adjustable rib of the Velocity, a feature wildly popular on the Caesar Guerini Impact series of O/U shotguns, the Maxum Impact, Challenger Impact, and Summit Impact. Having an adjustable point of impact on an autoloader is a dream come true for many shotgunners, as it lets you set up your shotgun to throw the pattern the way you personally prefer it, instantly, and with no gunsmithing.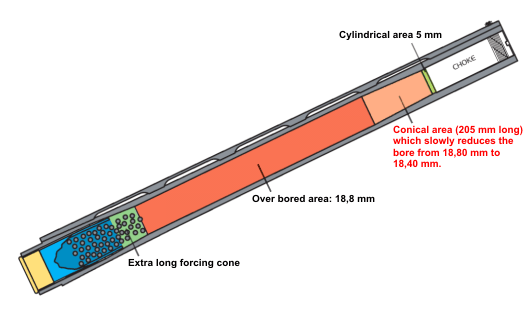 The XLR 5 LR, for "long rib" retains the same "Pulse Piston" Fabarm action that has been tweaked since 2003, getting the addition of an improved action bar back in 2005. Also in 2005, Fabarm introduced their "Tribore HP" barrels, as shown in the graphic above.
Fabarm, now combined with Caesar Guerini, is the second largest shotgun manufacturer in Italy. The above video offers a tour of Fabarm's Brescia, Italy, manufacturing facilities.
The Fabarm XLR 5 is one of the precious few shotguns out there that absolutely needs no aftermarket chokes and all of their factory chokes (five EXIS HP™ Competition Chokes) are steel rated. As in the XLR 5, the XLR 5 LR has an installed recoil reducer in the buttstock, weighs about 8-3/4 lbs. with the recoil reducer (and a choke tube) installed, and includes a series of factory forearm weights so your XLR 5 balances the way you want. It also has an extremely well-done hand-oiled walnut stock with a factory adjustable comb, just as in the XLR 5.
Though certainly not presented or intended as an economy gun, the XLR 5 LR looks like a screaming deal compared to something like the garish, $1900 MSRP Beretta A400 Xcel Parallel Target, that gives you a field trigger, a cheap-looking bright blue receiver, and a cheap grade of wood covered with a plastic picture of wood, the peculiar and impossible to refinish "X-Tra Grain Technology" plasticy coating that ranks as one of the latest in faddish gun finish crimes out there. You can also ad the Nintendo-inspired "GunPod" ($215 MSRP), but no factory adjustable comb. Consider the Maxus Sporting Golden Clays, one of the precious few clays guns out there with a good grade of walnut at $1999.99. Again, field trigger, you will need aftermarket choke tubes, no adjustable comb, and so it goes.
That, in my opinion, is one of the pervasive problems with several autoloading shotguns presented as dedicated clays guns. All too often, it is take a shotgun that was originally designed as a lightweight 3-1/2 inch waterfowl or goose gun, stick a 3 inch chambered barrel in the same receiver, give it a different paint job, add bit wider or slightly tapered rib, perhaps a plastic Hi-Viz bead, jack the price, and call it good. It has been done over and over again, and ignores the fundamentals as to what makes an autoloading clays gun a really good dedicated clays gun: competition triggers, precise fit adjust-ability, precise balance adjust-ability, and competition-ready choke tubes. And, of course, extremely low recoil levels . . . the reason there is a healthy market for $1300 Precision Fit buttstocks and Custom Soft Touch stocks, at the base price of a thousand dollars with several $225 - $290 options and upgrades. Even after all that, clays autoloaders are often left with small bolt handles and dinky bolt releases. Where factory "performance shop" reconfigurations are offered, the retail price might astonish you, as in $2949 for a plastic-stocked Benelli Performance Shop Super Sport.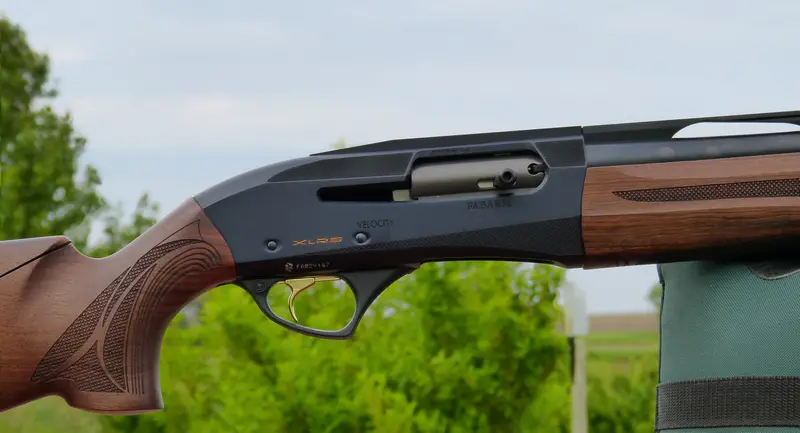 My 30 inch XLR5 Velocity LR just arrived. The factory trigger is outstanding, breaking at 3 lbs. 6 ounces as supplied. As expected, the wood and overall finishes are beautifully done, the buttstock with a subtle but functional right hand palm as well. For those that have held an objection to repeaters due to loose forearms, you'll notice right away that the forearm of the XLR is perfectly fitted to the front of the beveled receiver, with uniform contact all around. This gives the XLR a very sturdy, solid feel with no forearm movement or rattling. This is just a preview, not a full review at all, but hopefully it gives you a taste of why the XLR 5 has created a lot of enthusiasm since it was first released, and why the current subtly refined versions (as of September, 2012) continue to do so. The original XLR Velocity was the most impressive autoloading shotgun tested in 2012: low recoil, the smooth "swing under water" type of feel, and exceptionally easy to hit with. This 2013, with its slightly refined pistol grip, fits me even better out of the box. Much more to come.
Copyright 2013 by Randy Wakeman. All Rights Reserved.
Custom Search

---
Custom Search