---
Preview: North American Arm's new Secret Break-Action Mini-Revolver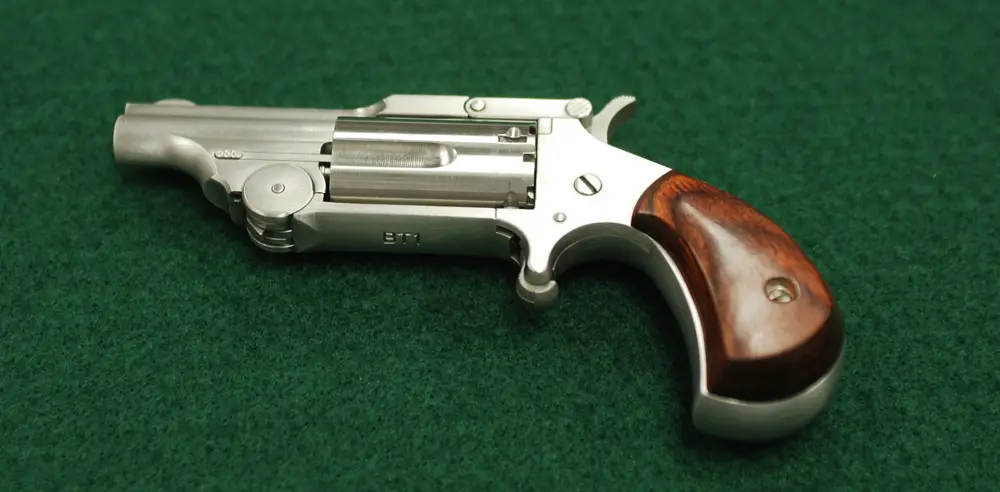 Sandy Chisholm and North American Arms have been working on a break-action mini-revolver for the last couple of years. Recently, NAA has announced that 500 units made from solid billet will be manufactured. As of this writing, some one hundred of them are already in circulation through their distributors and dealers. To locate one, you can contact Ken at North American Arms and he will be happy to tell you what distributors or dealers have recently been shipped some. Of course, this is from N.A.A. Owner Sandy Chisholm, who invariably has some sort of an evil plan suggesting that you don't call him. They are admittedly a bit pricey at $499, pricey compared to the popular Mini-Revolver and the N.A.A. Black Widow. If the decision is made to go ahead with new tooling and so forth to enable more efficient mass-production of this little fireball, then the target price is going to be $399. I don't think anyone really knows what exactly it will be, as these things are often contingent on costs of the tooling, modifications that may be made to the tooling, raw materials pricing, and so forth. For now, it is a $499 product with a total production of 500 pieces in this "machined from solid billet" form. If you live in California, you're out of luck. It isn't "California Legal" and doesn't look like it could be.
N.A.A. does have a name for it other than the "break-action," the "NAA Ranger." I'd call it the "Silver Stinger," a far more interesting name for a little fire-breathing stainless steel pocket .22 Mag than than the less than totally engaging Ranger moniker, but I don't get to name them.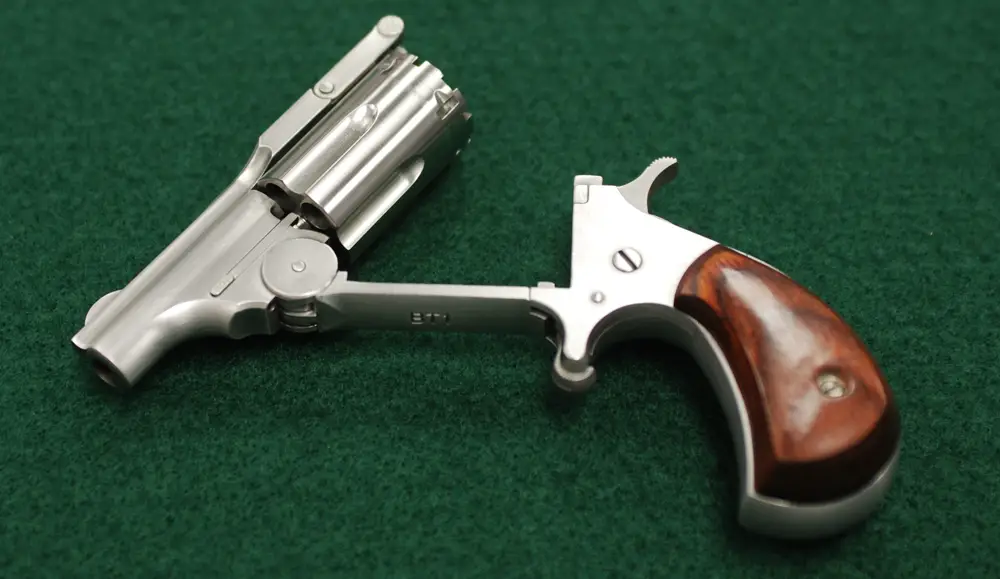 As a break action, it requires far more machining and craftsmanship than a solid framed gun. Those that have a sense of small parts and close tolerances will quickly "get it," but those who do not probably never will. The obvious appeal of the break-action is that you don't need to remove the cylinder to load or unload it. I like it, just based on the pictures, due to its beefy, solid, aesthetics. It looks tough and durable or "sexy and robust" if you prefer.
The basic premise of all NAA mini-revolvers is the same: if it isn't instantly accessible and in your hand, it is worthless. If it is in your hand, it may well be priceless compared to everything else that is not. I'm looking forward to testing one. If you want one right away, you might have to make a few phone calls. The first 500 pieces come with a 30 day money-back guarantee in addition to the lifetime warranty that all NAA mini-revolvers come with. It may not have been a secret to you, but it was to me . . . not that it was under consideration, but that it is now out. It sure looks like a tough little intimate social revolver to me.
Copyright 2010 by Randy Wakeman. All Rights Reserved.
---
Custom Search