---

Panasonic Lumix DMC-FZ60K: Bridge Camera for the Outdoors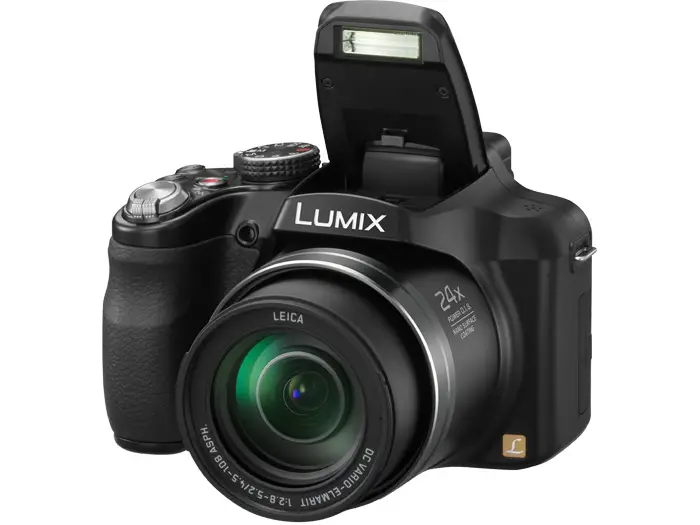 The notion of a bridge camera is broad and vague: it can mean just about whatever you want it to. It seeks to fill the gap between a shirt pocket point and shoot snapshot camera and a larger, heavier, more expensive DSLR system camera. At one time, the pocket camera was something like my old Canon Powershot A610, a 4X zoom 5 megapixel camera powered by four AA batteries, with a diminutive two inch articulated, low resolution LCD display and an inaccurate optical viewfinder. Back in its day, it was considered living large by many, including myself. The "5-megapixel CCD captures enough detail for photo-quality 13 x 17-inch prints" as was the ad-brag back then. In 2005, it carried a $299 retail price: a bargain at $100 less than the Canon A95 it replaced from a year prior, with its zoom increasing from 3-4x and its 2 inch LCD generous compared to the A95's 1.8 inch screen. While the A95 took 30-second video clips of 640 by 480 pixels in size and ten frames per second, the A610 grabs 640 by 480 at 30fps until you ran out of memory card or battery. The A610 was a bit over three quarters of a pound in operation.
We've moved on from the dark ages of 2005, to the point where the old Canon A610 now isn't considered pocketable or to some folks, even usable. Shutter lag was .6 seconds or so, with shot to shot cycle time of about 1.1 seconds, with flash recycle time of about 5 seconds or so. This camera today looks like a crude, expensive contraption compared to the lighter and more pocketable long zoom cameras such as the Canon SX230 / SX260 / SX280 group, and the Panasonic ZS-15 / ZS-20.
The basis for selecting the Lumix DMC-FZ60K is not to displace the comparatively inconspicuous pocketable travel zoom genre of camera, nor is it even to seek the best image quality regardless of price. The motivation here is an upcoming trip back to South Africa, and the desire to carry one affordable optical unit with good battery life replacing what I might otherwise carry: a Panasonic ZS-15, an LX7, and a dedicated video camera with one unit of practical size, weight, and zoom.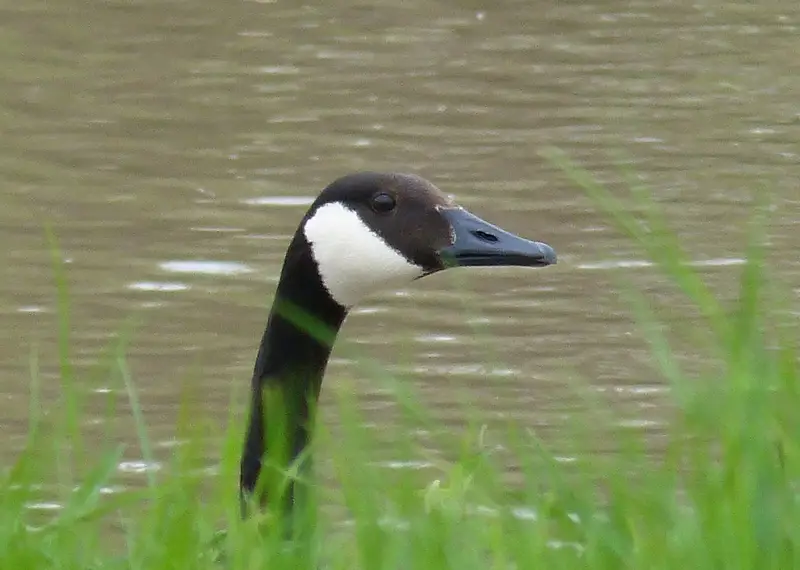 This entertaining goose was captured at full 48x "Intelligent Zoom," handheld. This image is resized, of course, but otherwise is just as it came from the camera with no enhancement. The video is very good from a still camera, below.
The approximately $290 street price 24x optical / 48x "Intelligent Zoom" FZ60K is very close in operation and envelope dimensions to the more celebrated Panasonic FZ200 (about $490 street). In fact, they both share the same owners manuals. The decision was made to go with the FZ60K on the basis of its lighter weight, smaller bulk, and smaller price than the FZ200, the Canon SX50, or the Sony HX200V. The Sony, as of this writing, is about $60 more, has a 30x zoom, but it was the Canon SX50 for about an extra $80 that offered the most appeal with its whopping 50x optical zoom capability. Actually, for some the Canon may be the better choice. For me, it wasn't, despite the Canon's superior zoom range, RAW capability, and articulated screen. It was close, but the Canon lost out due to its approximately one third heavier weight, extra bulk, slightly slower lens, and weaker battery life (CIPA 310 shots). The primary stopper for me was the choppy 1080/24p video capability of the Canon compared to the 1080i60 capability of the FZ60. If HD video is of little interest to you, the Canon might well be your choice.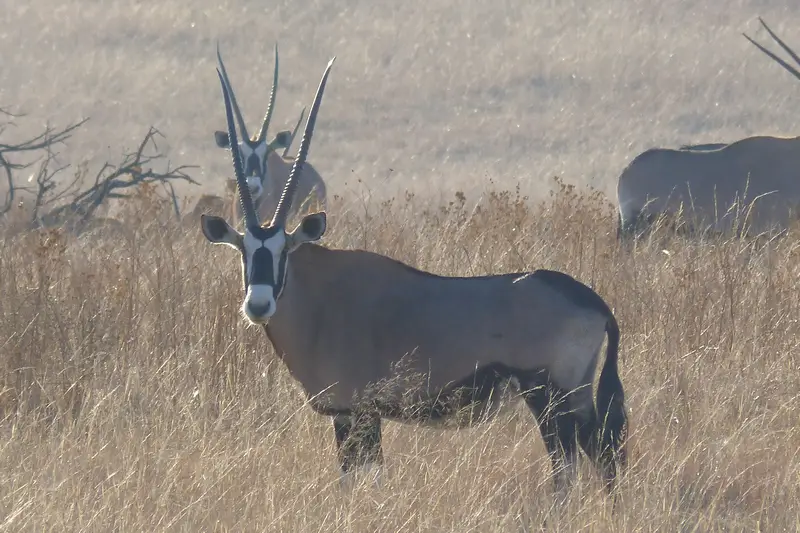 Gemsbok in South Africa, shot handheld, just as it came out of the FZ60. Below, the same image, cropped.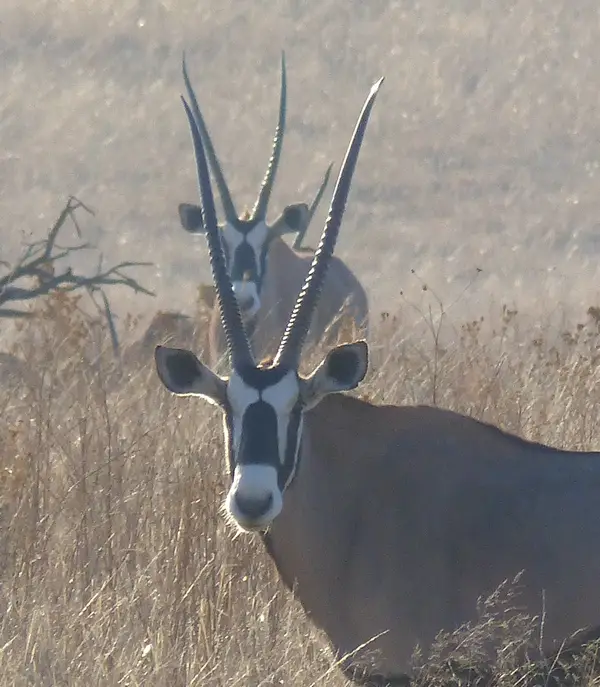 There is a theory of image quality that holds that the higher pixel density, the less light each photosite can get, and overall image quality suffers. While the cleanest, sharpest pictures are certainly related to the largest sensor with the lowest pixel density along with the brightest lens, the reality is that there is a lot more to it than that. The FZ60 has a dinky 17.5 megapixels photo receptor 1/2.33 CMOS with an effective 16.1 MP ability, so you might think that spells doom for critical image quality. Note that despite the remarkable dinkiness of this sensor, the Apple iPhone 5 (8MB) has a smaller 1/3.2 inch sensor and the HTC One (4MB) has a 1/3 inch sensor. The Nokia 808 PureView uses a whopping 41 megapixel with a 1/1.2 inch sensor for oversampled 8MB output. In reality, sensor size alone doesn't define image quality, it is quality of lens, sensor, processor, and how well they all work together.
In this case, thankfully it is not so, and of note is that some makers such as Sony don't subscribe to this at all, for their HX200V sports an 18.2 MP sensor (18.9 MP photo-sites) on the same postage stamp sized 1/2.33 sensor . . . a whopping 20.4 MP on their forthcoming HX50 travel zoom. There is no doubt a limit to pixel density than can be effectively used, but it isn't an exact science nor readily apparent. High pixel cameras are apparently effective primarily for marketing, but as long as the images meet your personal standards of quality you do have more room to crop your photos after the fact, while still retaining enough image size to give you enough pixels per inch to do a 16 x 24 inch poster. Based on viewing distance, even a 5 MP image may net you 108 ppi, more than the 80 ppi often designated as needed.
Panasonic has priced the FZ60 two hundred dollars less than their flagship FZ200 to make the FZ60 either the best on the market in the "price performance" ratio, or worthless depending on your needs and budget. If you need RAW, an articulated screen, a higher resolution electronic viewfinder, or are shooting regularly at full zoom under dim light . . . the FZ200 will empty another two hundred dollars from your wallet instantly, and you'll likely feel richer despite your thinner wallet. None of these are of great importance to me, for other cameras (LX-7) handily exceed the no flash, low light, low noise capabilities of any long-zoom bridge camera if that is requisite for the application. In the vast majority of outdoor still and video uses, you won't be able to tell the difference on any 8 x 10 framed print, much less a website image.
The FZ60 24x zoom lens has a 35mm equivalent range of 25-600mm , starts out at an F2.8 aperture, slows to F4.1 at 300m, and finishes up at F5.6. It invariably lets a bit more light through than the 16x Panasonic ZS-15 (F3.3 – F5.9) and the 20x Panasonic ZS-20 (F3.3 – F6.4). Its battery life of 450 shots dwarfs the 260 shots of the ZS-15 and the 230 shots of the pocket long zoom Canon SX260 as well.
It isn't all rosy with the FZ60, however. While Panasonic touts the 10 fps (frames per second) in 16.1-megapixel full resolution capability of this camera, it isn't happening. No way is anyone going to get ten frames per second at full resolution: two or three is it. It is one of the obvious problems when you start moving large files around; if you are hoping for machine gun 16.1 image burst shooting with this camera, you can forget it.
What this camera offers, despite its $290 acquisition cost, is an included external charger that saves you a few pesos against the slow, in-camera charging of several compacts, a color electronic viewfinder (202K), longer battery life, and manual focusing ability needed for cutting through brush, grass, and foliage. The flash unit is more powerful than many compacts; the 24x zoom is a fifty percent jump from the ZS-15 and similarly specified cameras. Some will find the larger size of the FZ60 far easier to hold steady than some of the flyweight pocket cameras, and it does retain the industry-leading Panasonic Intelligent Auto mode, generally peppy autofocus, start-up time, very good optical image stabilization, and brisk shooting performance. It adds eight new filter option special effects to the Lumix platform: the star effect and one point color are the most interesting.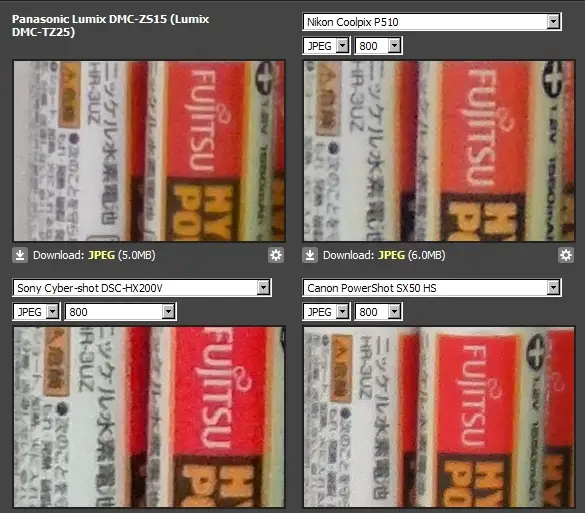 At ISO 800, 100% crop, the Nikon and Sony bridge camera images are already breaking up: even the compact ZS-15 does a better job. In the still image category of bridge cameras, only the more expensive Canon SX-50 can hang with the FZ-60 although the Canon HD video capability lacks the frame rate and smoothness of the Panasonic.
Although a bridge camera can just as well be called a compromise camera, at this price point ($283.52 delivered in my case) there isn't much to carp about, for its image quality is noticeably better than the competitively priced Nikon P510, Fuji HS30EXR, and the more expensive Sony HX200V. Although a jump in price, the Canon SX40 with its 50X lens is quite worthy of your consideration, especially if video frame rate at 1080p is not important to you, and you typically shoot with a tripod. You might call the FZ60 a stripper version of the FZ200, but the strip in price far exceeds overall camera performance in favor of the FZ60.
For a camera bag that offers plenty of room for quick retrieval and replacement of the camera, I like the Case Logic DCB-305 "Camcorder Kit Bag." Another bag that fits, but fits the FZ-60 quite snuggly is the Lowepro "Edit 100 Bag." If you want a bag that allows no movement at all, you'll want the Lowepro but I'm happier with the Case Logic overall. Rather than getting soaked for extra Chinese batteries with the official Panasonic logo, I picked up a pair of the "Panasonic Lumix DMC-FZ47 DMC-FZ150 Digital Camera Battery - Premium DMW-BMB9 Battery" generic batteries, allegedly 1200mAh meaning higher capacity than OEM. They charge right up in the Panasonic charger and work beautifully in the FZ-60, with at least as good of operating life as the supplied battery.
There are plenty of manual controls to satisfy most folks on the FZ-60. I shoot in 14M, 3:2 aspect ratio for the most part as it matches the three inch LCD's dimensions. In "IA" mode, indoors, low light, rarely would the camera shoot at more than ISO 400. Though the burst mode isn't much of a burst at all, the camera is speedy enough that you won't find yourself waiting between shots, the flash recycles quickly as well, and the video is just as bright as the stills with ambient lighting.
I did do some side by side comparisons of the FZ60 against the Panasonic ZS-15 pocket zoom that uses the same sensor as the well-received FZ150 Panasonic 24x bridge model. A few things were easily discerned: the FZ60 LCD is far better, with essentially unlimited viewing angles, though both are 460K resolution. The FZ60, despite its sensor's higher pixel density, delivers sharper, clearer images. Where 16x images taken indoors across the room in dim lighting were shot at ISO 400 with both cameras, the aperture dimmed to F5.9 in the ZS-15 vs. F4.2 with the FZ-60.
The FZ60, perhaps due to its carefully polished plastic body made by Old World Craftsmen is lighter than you might think in field use. Consider that a well-regarded DSLR lens alone, the Nikon AF Zoom-Nikkor 80-200mm, runs a thousand dollars or so, gets close to three pounds, yet cannot compete with the utility of the FZ60's 25-600mm zoom range. The Intelligent Zoom feature, though not strictly as good as straight optical zoom, is a lot more than just a gimmick.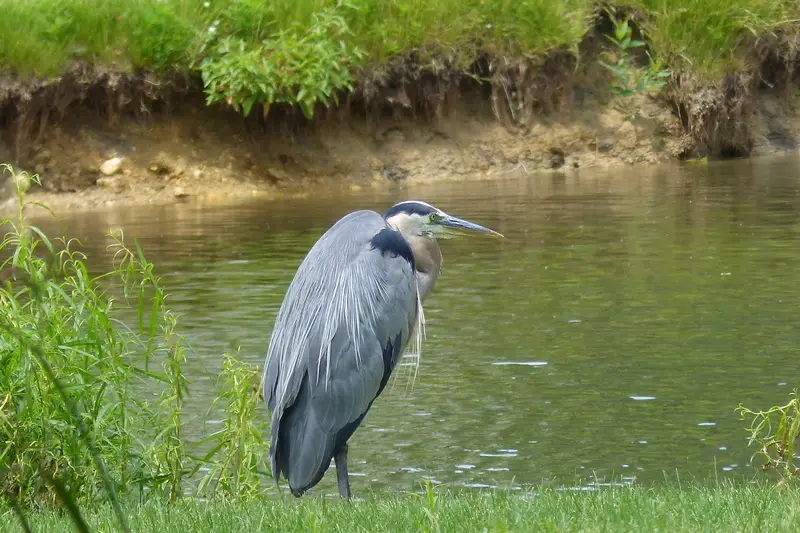 To sum up the FZ60, I'll call it "very good plus" in most every way. Very good plus images, very good plus video, very good plus shooting performance, very good plus LCD screen, very good plus battery life. It is fun to shoot with and is as close as you can get to an all-in-one outdoors still image and video acquisition system for $285 in a one pound package.

Copyright 2013 by Randy Wakeman. All Rights Reserved.

---
Custom Search