---

Of Course Illinois Gun Owners are Pizzed
Illinois citizens are far from alone. Consider the words of Joshua Boston, who posted an open letter to Senator Dianne Feinstein on CNN.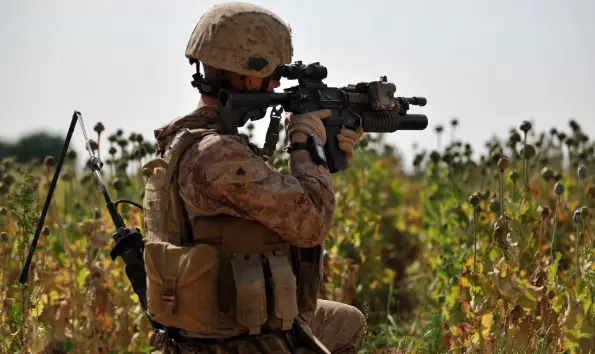 Senator Dianne Feinstein,
I will not register my weapons should this bill be passed, as I do not believe it is the government's right to know what I own. Nor do I think it prudent to tell you what I own so that it may be taken from me by a group of people who enjoy armed protection yet decry me having the same a crime. You ma'am have overstepped a line that is not your domain. I am a Marine Corps Veteran of 8 years, and I will not have some woman who proclaims the evil of an inanimate object, yet carries one, tell me I may not have one.
I am not your subject. I am the man who keeps you free. I am not your servant. I am the person whom you serve. I am not your peasant. I am the flesh and blood of America.
I am the man who fought for my country. I am the man who learned. I am an American. You will not tell me that I must register my semi-automatic AR-15 because of the actions of some evil man.
I will not be disarmed to suit the fear that has been established by the media and your misinformation campaign against the American public.
We, the people, deserve better than you.
Respectfully Submitted,
Joshua Boston
Cpl, United States Marine Corps
2004-2012
Small surprise that gun sales soar yet again across Illinois and the United States. The very people that have sworn to uphold or affirm the Constitution are users. Horrible users of tragedy as an excuse to trample the Constution and betray the rights of the American Citizen, the people that they supposed to serve, not enslave. The "Land of Lincoln" is not being run by those who share the values of Lincoln. Nor are those who claim to value liberty and freedom able to show that they so much as respect it. One of the classic methods of tyranny is conversion of rights into privileges.
"If there is anything which it is the duty of the whole people to never entrust to any hands but their own -- that thing is the preservation of their own liberties and institutions." -- Abraham Lincoln
"Today, we need a nation of Minutemen, citizens who are not only prepared to take arms, but citizens who regard the preservation of freedom as the basic purpose of their daily life and who are willing to consciously work and sacrifice for that freedom."--John F. Kennedy
Stanislav Mishin, lamenting the current oppression in Russia, wrote on December 27, 2012, on his blog:
"To this day, with the Soviet Union now dead 21 years, with a whole generation born and raised to adulthood without the SU, we are still denied our basic and traditional rights to self defense. Why? We are told that everyone would just start shooting each other and crime would be everywhere....but criminals are still armed and still murdering and to often, especially in the far regions, those criminals wear the uniforms of the police. The fact that everyone would start shooting is also laughable when statistics are examined.

While President Putin pushes through reforms, the local authorities, especially in our vast hinterland, do not feel they need to act like they work for the people. They do as they please, a tyrannical class who knows they have absolutely nothing to fear from a relatively unarmed population. This in turn breeds not respect but absolute contempt and often enough, criminal abuse.

For those of us fighting for our traditional rights, the US 2nd Amendment is a rare light in an ever darkening room. Governments will use the excuse of trying to protect the people from maniacs and crime, but are in reality, it is the bureaucrats protecting their power and position. In all cases where guns are banned, gun crime continues and often increases. As for maniacs, be it nuts with cars (NYC, Chapel Hill NC), swords (Japan), knives (China) or home made bombs (everywhere), insane people strike. They throw acid (Pakistan, UK), they throw fire bombs (France), they attack. What is worse, is, that the best way to stop a maniac is not psychology or jail or "talking to them", it is a bullet in the head, that is why they are a maniac, because they are incapable of living in reality or stopping themselves.

The excuse that people will start shooting each other is also plain and silly. So it is our politicians saying that our society is full of incapable adolescents who can never be trusted? Then, please explain how we can trust them or the police, who themselves grew up and came from the same culture?"

Copyright 2013 by Randy Wakeman. All Rights Reserved.
---
Custom Search