---
Notes from the 2011 SHOT Show
The 2011 SHOT show was held at the Sands Convention & Expo Center in Las Vegas, Nevada, from January 18-21. The 2010 attendance numbers, according to the NSSF, were 58,444 "total attendance" including 31,280 buyer attendance with 1633 exhibitors. For 2011, the estimated result was 57,390 total attendance including 31,769 buyer attendance and 2074 media attendance. In practical terms, the size of the show was the same as last year with a handful more visitors classified as buyers and media, yet slightly less total attendance. It was, however, one of the most enjoyable SHOT shows I've been to in many years.
Some credit is due to Mother Nature, as last year's event in the same venue was rainy, cool, and windy with the added bonus of flooded parking decks and snared traffic. Rain isn't a good thing in Las Vegas, particularly when a goodly portion of the annual rainfall happens in a day and a half. By contrast, this year the weather was spectacularly beautiful, a bit on the warm side for this time of the year of Las Vegas with sunny skies and enchanting sunsets. It made the entire event more efficient, productive, and enjoyable starting right away with the pre-show events, like the Bass Pro sponsored "Media Day at the Range."
New product releases are tricky, at least that's the way it seems. Prior to the SHOT Show, even the simplest information is either incapable of answer from many manufacturers, or you are sworn to eternal secrecy. Then of course a day or two later the same manufacturers like to carp a bit when their "new" products aren't mentioned quickly enough. Mentioning a new product is a bit of a double-edged sword in itself, as the natural questions that follow are "Is it any good?" and "Where can I get one?" Some new products are a very long ways from actual production items, instead tool-room or non-functional concept guns that are months away from actually being produced, if indeed they ever are. It makes all of this "interesting," to say the least. The best thing about the SHOT show is that it brings folks together from all over the United States, and the world for that matter, that would not otherwise have the opportunity to meet, much less all gather at the same table.
Sunday evening at the Flamingo I "turned the tables" on Las Vegas, scoring an upset victory at the blackjack table for the astounding sum of twenty-two dollars and fifty cents. That's only $12.50 short of being able to pay for a second checked bag on American Airlines for the return flight, but what do you expect for eighty-seven decks out of the shoe, anyway? Waldo, the pit boss, was naturally nervous about this stack of several chips going the wrong way, so I even offered to buy him a massage. A massage for myself would have been an unnecessary distraction from my dedication to splitting Aces and Eights. I also assured Waldo that if this fortuitous happenstance repeated itself often enough, I just might be able to reward him with his very own autographed Donny & Marie t-shirt by week's end. It was good times, regardless.
Monday, it was off to Media Day at the range. On the ride over, I had the chance to visit with one of the best we have, Bruce Buck of "Technoid" and Shooting Sportsman renown. It was great to see Bruce again. Bruce is one of the few that understands that the first responsibility of a writer is to his readership and it shows. That, and Bruce's talent, is what has made him one of the most valuable assets to the shotgun enthusiast for many years.
It was a gorgeous day at the range with something like seventy-five or eighty exhibitors. A couple of things impressed me, one being the new Beretta A400 Xcel Sporting Clays model. I also broke some clays with the A400 Xplor Light which, comparatively, I didn't care for, but the Xcel Sporting Clays (with KO) was smooth, steady, comfortable and effortless to break clays with. I liked the wide, stepped rib on this model anyway, and think there is some value in the "Balance Cap" interchangeable weight system. The Xcel also has the Beretta "Gun Pod," a glorified LCD shot-counter added to the bottom of the pistol grip. I take it or leave it, but at least it is out of the way and nothing you need to look at-- so it doesn't detract from the rest of the package. Things like this are best left to personal preference or the internment of merciful time. It is from the Nintendo division of Beretta, in my view, but those that enjoy gadgets made of soft plastic by old world craftsmen might think more highly of it.
Savage Arms has struck gold with their new "Lightweight Hunter" models in 5.5 lb. short action (Model 11) and 6.0 lb. long action (Model 111). A sharp-looking model with a lightened bolt, oil-finish American Black Walnut stock, black fore end tip and Pachmayr recoil pad, this is just what the doctor ordered and I'm very much looking forward to reviewing Model 11 in 7mm-08. This shaves a full pound and a half off of what has become one of my favorite hunting rifles, the Savage American Classic 7mm-08, reviewed six years ago: http://randywakeman.com/ballltd96.htm .
It was a well-attended and successful Range Day, to be sure, with far more material than can be properly covered in an article of this type. On the way back, I shared a seat with eternal Olympic champion Kim Rhode. It was great to see Kim again. Kim is far too young to be considered truly eternal, I suppose, but she is the youngest gold medalist in Olympic shooting history (17 years old in 1996) and she's been shooting and winning ever since. To comport with Olympic requirements, I may have offered to give Kim my own "gender test" that wouldn't take more than an hour or two. I think Kim said she would rather be watching or Samsung or something like that, though. It was an interesting visit with Kim, as always, and nice to be able to chat with Phil Bourjaily from Field & Stream as well. Phil is finding it a bit difficult to accept the idea of the $1500 mass-produced aluminum autoloading shotgun and I agree with Phil to be sure. Phil wrote of a "$2500 Gobbler Rig" he had used and that was a couple of years ago. The hoary "Is it worth it?" question is redundant and impossible to answer for an individual, but it is no stretch for me to say that I don't want (much less actually "need") a $2500 scattergun to whack a big Tom.
The SHOT show venue was somewhat improved from last year, however minimally. The pleasant weather made more of a significant difference than anything else. The SHOT show is still plagued, or infested if you prefer, with too many garage and yard sale type trinket exhibitors, showcasing items with zero relevance to the hunting and shooting sports industry. I have nothing against toys and trinkets, but selling things like electric massage equipment seriously detracts from what is continually touted as the "largest and most comprehensive trade show for all professionals involved with the shooting sports and hunting industries." What vacuum cleaners, massage equipment, belt buckles, kitchen utensils, and t-shirts might be considered intrinsic to shooting sports and hunting is beyond my comprehension. The SHOT show warns that this is for "the TRADE ONLY, NO one under 16 shall be admitted (including infants)." It is hard to find infants that have reached the age of 16 around here, but apparently the SHOT show has their own source for them.
The flowing maze of the combined Venetian – Palazzo – Sands Convention / Expo Center can be a bit confusing if it is your first time there, or if you are driving. Going to valet parking to pick up your wheels might take a while, unless you remember if you parked at the Venetian, the Sands, the Palazzo, or another nearby spot. If you see the giant bunny, you're not at the Sands, and if you see the same gondola more than once, you're probably not making good progress. I did get "lost" for a while with Tricia who few in doing some work for ABC, who was equally lost. So, if you are going to get lost, make sure it is with someone both intelligent and attractive then you'll find that getting lost together isn't so bad at all.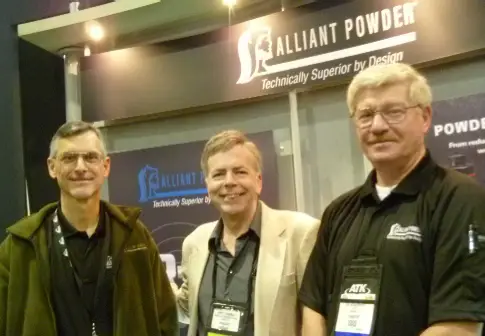 Ben and Dick from Alliant Powders are two of the industries finest, most experienced professionals that have helped make shooting and reloading a better place to be for many years. If you ever had some help from Alliant, it most likely has come from Ben or Dick over the last several years.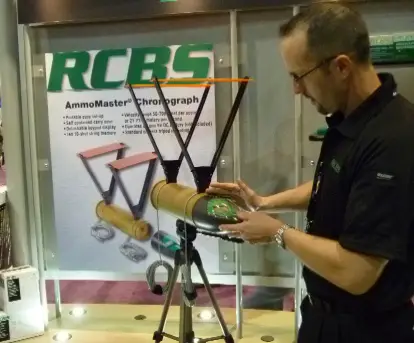 Naturally close to the Alliant area is the RCBS exhibit. The Ammomaster chronograph has been out for short while by now and has been very well received. You can expect a full-fledged review of the Ammomaster in the near future.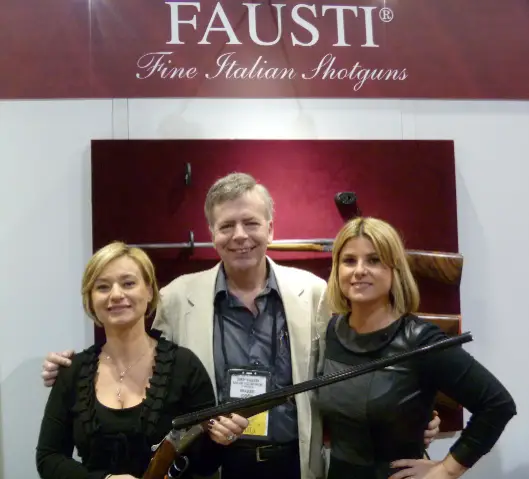 There are several things about Fausti that I've always found extremely attractive and appealing. Here are two of them, Giovanna and Barbara. Fausti USA has some good things in store for the American market under their own name at last. Expect good coverage of Fausti USA product coming very, very soon.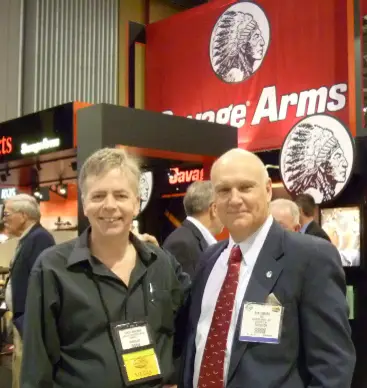 It's everyone's favorite CEO, Ron Coburn of Savage Arms. Everyone excepting a few unhappy competitors, perhaps. The always supremely confident Ron Coburn promises some big things in the works; he's never been wrong about that before. Savage has already struck gold with their industry-leading 220F. You'll can expect a full review to follow on the Savage 212 Slug Gun as well as the new Savage Model 11 "Lightweight Hunter," with the rest of the goodies to follow as they happen.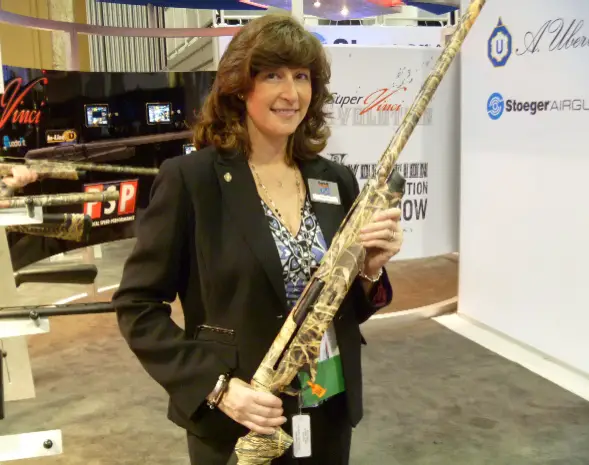 She's reliable, appealing, has smooth lines, and handles beautifully. She's Cristi Gates, representing Benelli USA . . . also known as "Super Cristi." Cristi is holding up the "Super Vinci," the new 3.5 inch chambered version of the Vinci that, in my opinion, has been the most significant autoloading shotgun introduction in many years, the Benelli Vinci. Cristi still looks perky, no small feat considering she had been up until past the wee hours finalizing the extensive Benelli displays.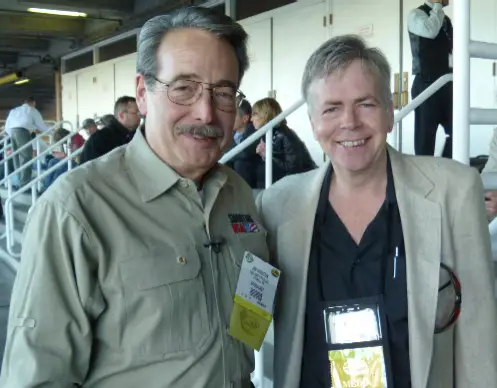 Most are familar with the dulcet tones of Jim Scoutten, the mellifluous host of Shooting USA. Jim was on hand to cover SHOT for his own unique brand of media journalism and to offer up a Tom Knapp impression or two.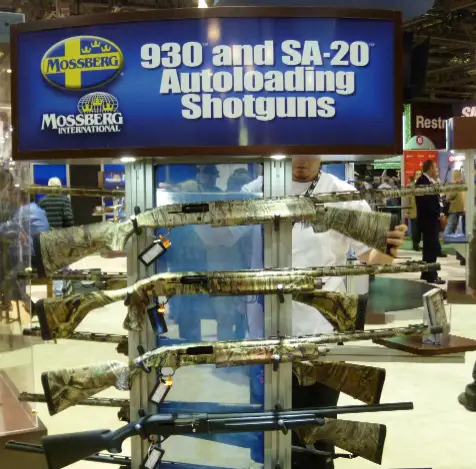 I'm expecting a lot of news from the revitalized Mossberg. Mossberg has sponsored Xtreme Sport Shooter Patrick Flanigan as of late. I was also pleased to learn that Mossberg now has Linda Powell, one of the industry's best and most accomplished marketing professionals, on their team as well. It's always great to see Linda . . . I enjoyed visiting with her and I'm extremely happy to see her in her new position.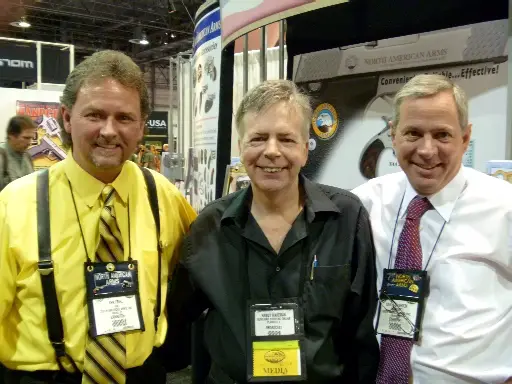 If it is deep concealment, then North American Arms General Manager Ken Friel and North American Arms proprietor Sandy Chisholm are likely involved. It was nice of Ken to color-code himself to match my media badge and the always upbeat Sandy is more upbeat thqan ever with new products in the pipeline. Notably, "Hornady Critical Defense" has just developed some new loads with impressive velocities out of mini-revolver barrels. We will be testing the new Hornady ammo along with others in several NAA products, including the PUG, in short order. Ken and Sandy are two of the truly "good guys" in the shooting sports industry, in my book.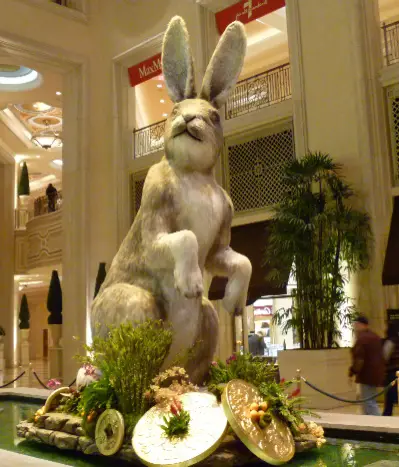 Yes, it is the "Big Bunny" . . . a really big bunny, one that blinks. It is also a clear indication that you're not in the Sands Convention Center any longer. I asked Dan from "Nice Shot" to suggest a good load for this fellow. Not unsurprisingly, Dan offered up no immediate answer.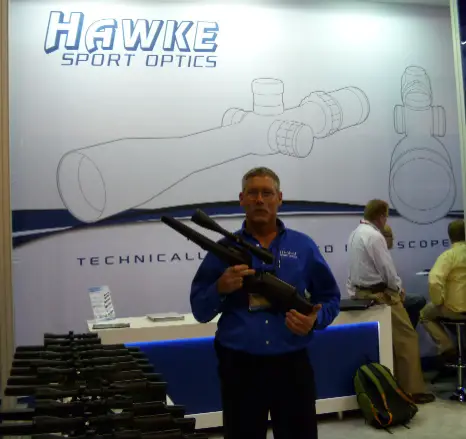 The always-innovative Hawke Sports Optics, known for their unique reticles and superb software that goes along with them, has several hot new offerings that will be the subject of full-fledged reviews in the near future.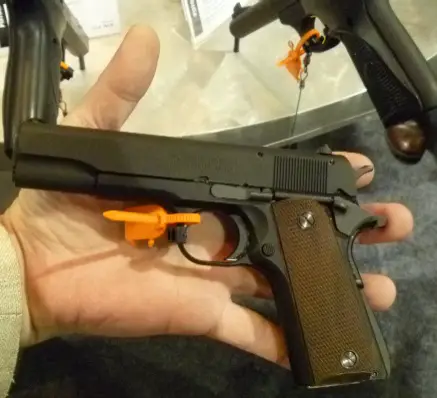 New from Browning Arms and one of the big hits of the 2011 SHOT show is this .22 rimfire version of the classic 1911, above, made in Salt Lake City and available in two models.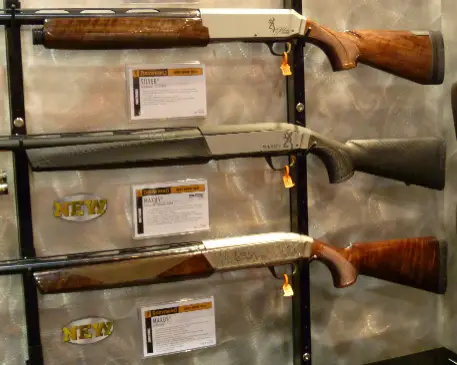 For those that think there has been some sort of unofficial race as to who can build the world's most homely shotgun, they might be right. Browning displayed their well-figured walnut Maxus Sporting Clays autoloader, lowermost in the picture above. The wood was spectacular and the gun has a modified, more relaxed pistol grip that handily fit me the best of all the Maxus models. It's a great-looking shotgun, I'm delighted to say.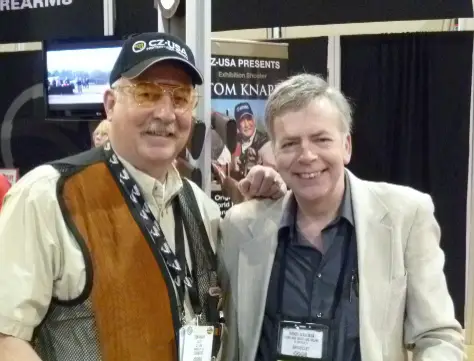 That's no Tom Knapp lookalike folks, it's the Real McCoy. Yes, International Shooting Legend (and perhaps one-time Ruler of China) Tom Knapp was on hand, looking as dignified and healthy as ever. I enjoyed visiting with Tom again, who is busy flying the CZ-USA banner at the moment, booking his beloved shooting exhibitions, and getting set for Tom Knapp hosted specialty hunts like one he has upcoming in Argentina you can join him on. Tom looked and sounded great . . . it is good to have our most prominent shooting ambassador back in action joyfully smashing things.
As you might expect, with over 1600 exhibitors there is just far too much content to mention properly in one article. Crosman / Benjamin has some exciting new products just released, including a PCP .357 that was easy for me to make head shots with at 75 yards. Sightron has a new power zoom range scope that looks to be one of the most versatile big game hunting scopes ever released.
George Trulock, along with sons Jerrod and Scott, proved to me that there is at least one hotel in Las Vegas that really does have a 13th floor. There's quite a story behind that one, to be sure. It is always a pleasure to spend time with Trulock and Company. The news from Leupold & Stevens is their new VX-6 line of riflescopes, their new illuminated reticles, and what Pat Mundy promised was a significant upgrade to what is already my favorite, most used rangefinder that will be tested here shortly.
It is hard to beat good friends, good guns, and great weather. This year's SHOT had all that. There is too much to mention, but that's what keeps things going all year. Good visits with Coni Brooks of Barnes, Jason Evans of Benelli USA, Steve Hornady, Doug Phair of Western Powders, Wes Lang of Caesar Guerini, Mark Laney of Thompson / Center, Ron Reiber and Tom Bowen of Hodgdon Powder, Paul Thompson and Cindy Jensen from Browning, Brian Herrick and Cathy Hale of Savage Arms, Mike Farrell and Zak Amert of Ithaca Gun Company, and Dan Tercho and Ming from Nice Shot / Ecotungsten respectively. It was one of the best SHOT shows in recent memory, and we have a lot of people to thank for that. It is going be an exciting, very busy year in the shooting sports industry, to be sure.

Copyright 2011 by Randy Wakeman. All Rights Reserved.
---
Custom Search