---
Notes from 2012 SHOT Show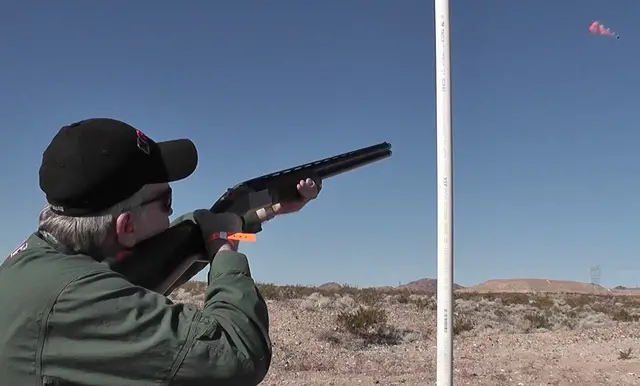 Taking a Browning 725 Sporting test drive.

The 2012 SHOT Show was held at the Sands Expo & Convention Center in Las Vegas, January 17-20, and as far as I know this same site is the home of SHOT through 2015 at least. Most every SHOT is heralded as a record of some sort, but my impression is that this one actually was. With some 1600 exhibitors and a stated 36,383 buyers, it was an extremely busy show. It was a positive, energetic atmosphere and the current state of the industry is universally strong as a general consensus.
While you might think that new product introductions are always made at the SHOT show, the answer to that is not exactly. Several major companies release new models as they happen, meaning year-round introductions from some of the more prominent companies such as Browning, Savage Arms, Leupold, and Hornady to name a few. Other companies hold fast and use Shot Show as their official launching pad for a new product, or a new product line.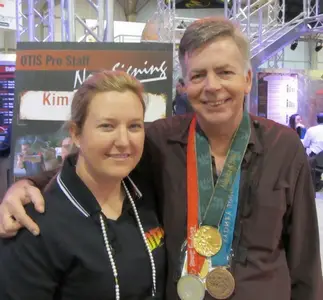 Kim Rhode, Olympic Champion, soon to be shooting for her fifth consecutive Olympic medal at the London games.
One of the biggest stories in shooting sports, or in American Olympic Sports in general right now is Kim Rhode. Kim was the first American athlete to qualify for this years London Olympics. In 1996, she won the Gold in Atlanta, the youngest female medalist in the history of Olympic shooting. Kim has medaled in four straight Olympics, winning the bronze in Sydney in 2000, following up with another gold in Athens in 2004. This cemented her position as one of the most dominant international Double Trap competitors in the world. Women's Double Trap was dropped as an Olympic event, so you might think that when your individual sport is dropped, that is that. Not so with Kim, who changed to international Skeet and won the Silver in Beijing in 2008. So, this year, it is off to London to compete for an unprecedented medal for her country in five consecutive Olympics. It is a great story, a great shooting story, a great Olympic story, and a great American Olympic Champion story all in one.
Kim draped those medals around my neck and I liked them. So, naturally I asked if I could keep them. She said, "No!" All these medals she's one over the years has to slow her down going through airports. People must be ready to chase her with magnets or something. Kim was on hand throughout the SHOT Show, making numerous appearances and signing autographs for her sponsors such as Otis Technology. If there is one person that truly deserves sponsors, it is Kim Rhode. She's overcome a lot of challenges and should be recognized constantly by shooting sports fans which is why she is mentioned here. Kim is currently training daily, 500 – 600 shots per day, ramping up to 1000 shots per day for the London Olympics.
It's Cristi Gates, helping to unleash the new Franchi Affinity autoloading shotguns on an unsuspecting world.
Franchi made a big splash with their new line of Affinity autoloaders and Instinct O/U shotguns, both at "Range Day" and at the SHOT Show itself. The prices and the weights are both pleasingly light. Browning introduced several new models, the A5 shotgun perhaps getting as much attention as the new Citori 725. Ruger has made a big push with their new SR22 autoloading pistol and their "Ruger American" bolt action rifle line.
Mossberg rolled out their "Flex" quick change everything shotgun system, based on the popular Model 500 pump. Thompson / Center, a S & W company, introduced their "Dimension" bolt action rifle platform allowing for quick and easy chambering changes.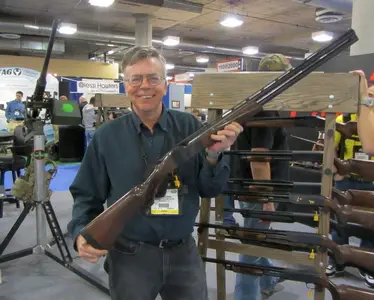 Ithaca introduced their long-awaited Phoenix O/U shotgun, above, along with their Larabee single-shot trap model. Additionally, they have expanded their line of home defense models, their 1911 handguns, have a 75th anniversary Model 37, with more to come later in the year.
Savage Arms, having recently increased their workforce by fifty percent, is on track to ship 500,000 or so rifles this year. New models include their Hog Hunter, the Rascal Accu-Trigger youth series, their Lady Hunter, the stainless 220 bolt-action slug gun, a new affordable slide-action shotgun line, and their new "Trophy Hunter XP" bolt action series supplied complete with ballistic reticle Nikon scopes. It is good to see that Savage is rightfully paying attention to both lady hunters and shooters and youth rifles, two areas sorely ignored by many.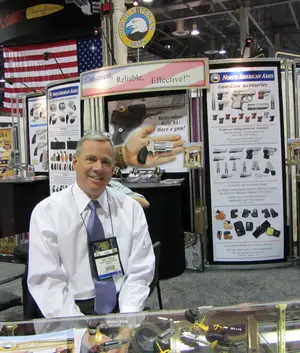 Sandy Chisolm, the owner of North American Arms, proudy displays some of his pocket-sized firebreathers.
A jubilant Sandy Chisholm of North American Arms has his team working on a healthy backlog of mini-revolver orders, with a couple of new models including a tactical model in the works. Long a strong supporter of our 2nd Amendment rights, the Second Amendment Foundation recently announced that North American Arms has joined the SAF's new corporate sponsorship program at the Bronze level.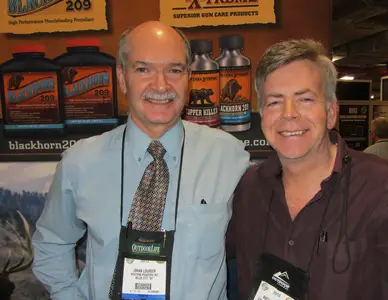 My good friend Johan Loubser, former combat paratrooper, now happily settled in Montana with his bride of many years. Johan, of Western Powders, has long been regarded as one one of the top ballisticans in the world.
The team from Western Powders, the main company that owns Ramshot Powders, Accurate Powders, Montana X-Treme, and Blackhorn 209 was on hand. This time, it included a special appearance by everyone's favorite professional ballistician, Johan Loubser. FN introduced their new FNS-9 pistol, a handgun I fired at the range, that has a an extremely crisp and light trigger due to its pre-loaded striker mechanism. It is an extremely comfortable 15 shot 9mm to shoot fast and accurately. Hawke Optics has upgrades their already exemplary binocular line, with a list of new scope and reticle combinations too numerous to mention.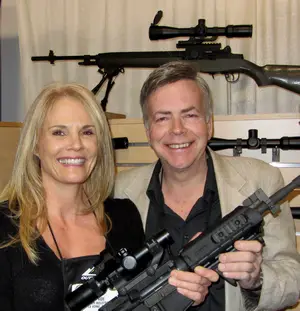 Hitting your target at 800 yards and beyond is easy and fast, if you have a PFI riflescope. That's according to Rae Pride, one of the deadliest C.O.O.'s in optics today.
Rae Pride and the P.F.I. team exhibited, showing off the only ballistic reticles that really are rapid. Regardless of power setting, if you want to shoot to 200 yards with a .22 Long Rifle, Pride-Fowler can get you there, quickly. Or, up to 250 yards with a .44 RemMag handgun. Or, 600 yards with many popular center-fires, 900 yards with the latest addition to their dedicated combat-sniper scopes, the RR900-1 that features an illuminated reticle, 9 day full power battery life (1 year when off), this first focal plane scope has been accepted as a standard through the US Army Force Modernization division. Whether hunting, target, or battlefield, the PFI line means quick, accurate shooting, regardless of magnification, with no scope adjustments. It is a very interesting line, with John Pride known as one of the top pistol shooters and instructors in the world and Rae with a strong background in law enforcement herself.
Whenever you have an extremely busy event like SHOT, there are far more interesting people and products than can possibly be properly covered in one brief article. Let me try to mention a few of the folks that made this year's SHOT so very memorable. Thanks to Bruce Buck of Shooting Sportsman, Lou Ferrigno, Mike Farrell and Dave Dlubak of Ithaca Gun Company, Don Luhr, Keith Anderson, and Doug Phair of Western Powders, Larry Weeks of Brownells, Cristi Gates of Benelli, Paul Thompson of Browning Arms, Cathy Hale and Ron Coburn of Savage Arms, George Trulock of Trulock Chokes, Desiree Burt , Darlene Small and Mark Laney of Thompson/Center Arms, and Waldo at the Flamingo. We will see you all next year!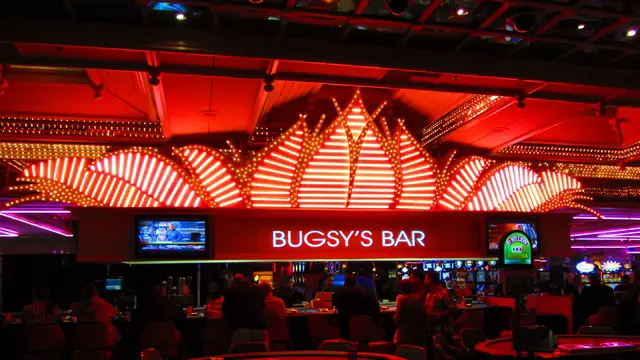 Copyright 2012 by Randy Wakeman. All Rights Reserved.
---
Custom Search