---
Postcards from South Africa (Part One)
South Africa is an amazing place. The broad spectrum of game you can see in any one day, from Steenbok to Giraffe, from Springhare to Waterbok makes it all quite a spectacle. Rangefinders proved to be quite worthless stalking the bush in this particular area-- you have just a moment to assess your fleeting look at an animal, and to take him or not for the most part. The warthog population was doing well, particularly in grassy areas the sophisticated swine could feed and also the waterholes sprinkled through this area that is close to the Limpopo River and Botswana just across it. The Barnes 275 grain .451 XPB and an MMP HPH-12 sabot was used exclusively, as was the Savage 10ML-II.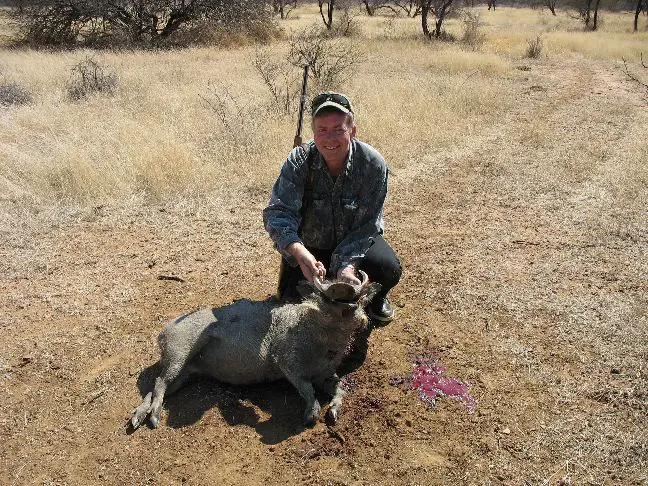 The first shot out the of Savage 10ML-II in S.A. "bushy field" stopped this warthog instantly at 179 yards. It was the nice set of ivories, easily visible through the bushveldt, that did this old girl in: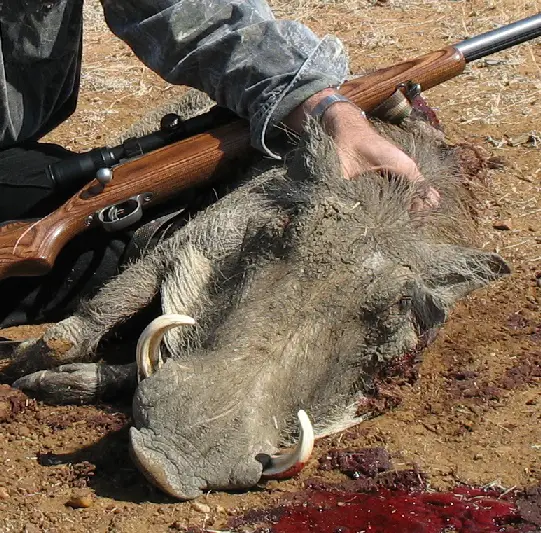 We found all the game we tried to be very good. Warthog, Gemsbok, Steenbok, Impala, Kudu all tasted great-- with perhaps the Gemsbok considered the filet of the bushveldt.  My understanding is that while both male and female warthogs have large ivory tusks, the male has four large warts on its face. The female has only two, making it (as you can plainly see) the far more delicate, svelte, and glamorous creature.

We hunted with Karel Haefele (kemonati@webmail.co.za) , Professional Hunter Pierre, and the amazingly competent Ke Monati Safaris staff. I can tell you right now, you will not do better in S. Africa than to hunt with these folks.

After a few calls from South Africa, I have agreed to handle booking arangements for Karel, for this hunt and many others. I'm delighted to do so Karel and his KeMonati team are the best. Please call me anytime, at 815-254-2135, or e-mail me at randymagic@aol.com . And-- get set for the time of your life!

Finally-- specifically, we were at Serengeti Safari Lodge in Limpopo Province, South Africa (23*29.098S x 027*16.381E). The camp is about 80km west of Lephalale, right on the Botswana border (Limpopo river). Last game count showed nearly 2000 head of game in about a 7,000 hectare area of very thick bushveldt.
Contact: Randy Wakeman, 12362 S. Oxford Lane, Plainfield, IL 60585

By phone: (815) 254-2135

Email: randymagic@aol.com

Copyright 2006 by Randy Wakeman. All Rights Reserved.
---
Custom Search