---
Nice Shot Reloading Data: 16 Gauge
From our friends at Precision Reloading comes a portion of the Nice Shot reloading data they have developed thus far for 16 gauge loads.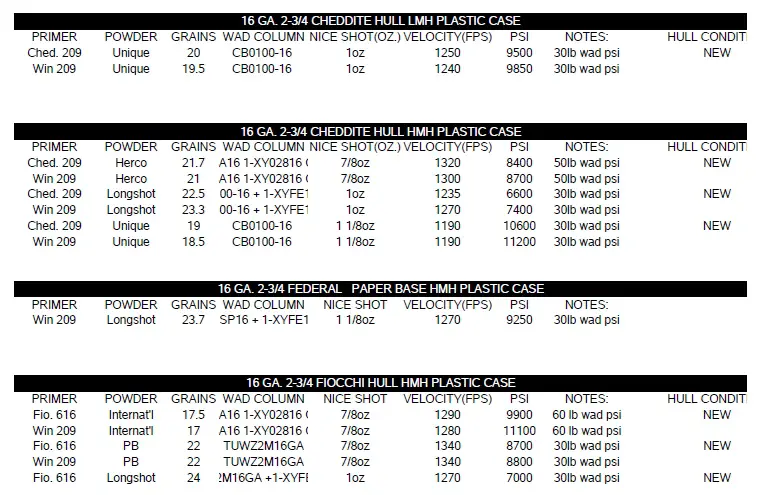 NOTE: SOME OF THE ABOVE INFO IS TRUNCATED. The "XYFE..." for example, is a Precision Reloading wool felt cushion wad (p. 25 P.R. current catalog). "WYFI . . ." is a fiber wad, same page. "WXY0 . . ." is a Precision Realoading overshot card, also on p. 25 of the 2011 Precision Reloading Catalog.
TUWZ2M16GA is Precision's part number for the Bascheri & Pellagri 1 oz. 16 ga. wad, found on p.24 of the P.R. catalog.
If there are any questions at all, call Precision Reloading at 1-800-223-0900.
For more information or to purchase Nice Shot in bulk, contact Precision Reloading:
http://www.precisionreloading.com .
For the Nice Shot home page or to purchase loaded Nice Shot shotshells, see http://www.niceshotinc.com .
Copyright 2011 by Randy Wakeman. All Rights Reserved.
Custom Search

---
Custom Search