---
New for 2007: The Sightron SII "Big Sky" Line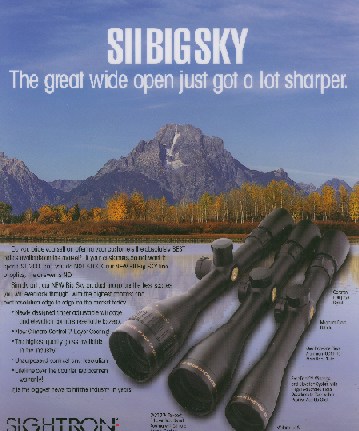 I've been impressed with Sightron the company, and Sightron the product for quite some time. The most interesting new line of scopes presented at the 2007 SHOT Show was, as far as I'm concerned, the new Sightron SII "Big Sky" series. This is the biggest news to come out of Sightron to date. Their popular SII scopes are not being discontinued, but the "Big Sky Series" is a redesigned line of premium scope designed to outperform anything near its price category: premium scopes without the nosebleed pricing. It appears they have managed to do just that.
They began by taking on a brand new glass supplier with a higher level of stock, with more closely held tolerances. They have retained what has set Sightron apart in times past: the "shoot a box" ExacTrack Windage and Elevation Adjustment System, and their proprietary seven layer coating system. The have retained the excellent adjustment range of their scopes, and have tighted up the eye relief. Throughout the line, the eye relief is very close to "constant eye relief" throughout the zoom range, and the eye relief is generous as well. The zoom range is as stated, or better than stated with Sightron-markedly better than many scopes. The Big Sky scopes all come with lens caps, and are both finger adjustable and resetable to zero.
Big Sky scope also feature the Sightron "Climate Control" coating, a no-fog external coating that Sightron, a subsidiary of a camera lense company, has used for some time on camera lenses and filters. This makes Sightron the only quality brand of scope to offer a moisture-repelling coating that compares with Bushnell's Rainguard. Alan Orr mentioned that they tested "non-Climate Control Coating" scopes versus Climate Control scopes, and found that there was no effect on light transmission, and the coating was durable as well.
Sightron conducted a series of tests of their Big Sky 3.5-10 x 42mm scope again Leupold VXIII and Swarovski Habicht AV scopes. The Sightron beat out Leupold handily in zoom range, optical resolution expressed in seconds of arc, eye relief, internal adjustment, and actual magnification. The Sightron had better eye relief than the Swarovski, more internal adjustment, a better warranty, and sells for less than half the price. The Big Sky scopes also sell for less dollars than the Leupold, for that matter, and neither competitor has a hydrophobic lens coating as does the Sightron. Sightron's "over the Counter" lifetime warranty is something Leupold can't compete with.
An extensive line, the Big Sky scopes range from 3-9 x 42's to 4.5 - 14 x 50's in their hunting scope line, 4-16 power in target scopes, and also include both fixed power and compact scope offerings. Most of the SII scopes have been given the "Big Sky" redesign and upgrade. In one fell swoop, Sightron has sought to completely obsolete Leupold VXIII and Zeiss Conquest scopes, based on higher resolution, better adjustment range and accuracy, in a fog-proof inside and outside constant eye-relief package that has a better warranty than either and takes less of a bite out of your wallet at the same time. It seems they have done just that. Detailed Sightron SII Big Sky riflescope reviews and comparisons are forthcoming.
 
Contact: Randy Wakeman, 12362 S. Oxford Lane, Plainfield, IL 60585

By phone: (815) 254-2135

Email: randymagic@aol.com

Copyright 2007 by Randy Wakeman. All Rights Reserved.
---
Custom Search