---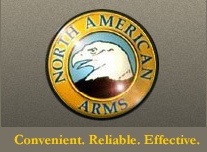 NAA and Hornady Revolutionize Intimate Self-Defense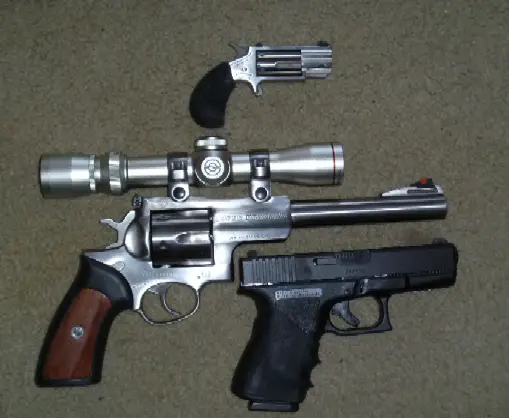 Above, top to bottom, the "NAA-PUG-T," Ruger Super Redhawk, and the Glock 19. All are superb handguns contingent on the application. The diminutive North American Arms PUG fits whether the others obviously cannot, by no small amount. The PUG is just 7/8 in. wide, height of 2-3/4 in., with an overall length of 4-1/2 inches. Its small package does not reveal its new level of performance just brought to it by Hornady Critical Defense.
I've tested and reviewed several examples of the North American Arms mini-revolvers over the past several years, with universally positive results. The latest model covered is the new NAA Break-Top, designated as the NAA Ranger. The premise of the North American Arms mini-revolver platform is straightforward: you can have a dependable NAA mini-revolver at the ready where no other product fits or is available.
It isn't about an expected encounter, it isn't about offense nor is it what you might prefer if you were going to a gunfight. We aren't going to gunfights, of course, and if we were a handgun capable of reliable, deep concealment use wouldn't be the first choice. As far as I'm concerned, it wouldn't be a handgun at all . . . it would be a rifle. What is portable, dependable, and available always wins over what isn't at the ready. A technically superior defense tool is completely worthless if it is left at home, locked deep within your plush, fire-proof gun safe.
The disadvantage of conventional .22 WMR ammunition is well-known in very short barreled handguns. Designed for rifles and longer barreled handguns, anemic velocities and excessive muzzle flash has been the result with light, short-barreled platforms. No company has specifically designed quality self-defense ammunition before, taking into account short-barreled ballistics, the most modern propellant blends, and a bullet that offers both substantial penetration and expansion when fired from diminutive barrels. Hornady has just changed all that, with the introduction of their new 45 grain "Critical Defense" 22 WMR load. It appears to be a tremendous game-changer, offering terminal performance out of NAA Mini-Revolvers that has simply never been available before.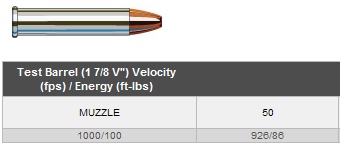 The new Hornady Critical Defense® delivers 1000 fps out of a 1-7/8 in. vented barrel, with a heavier and tougher than standard 45 grain projectile.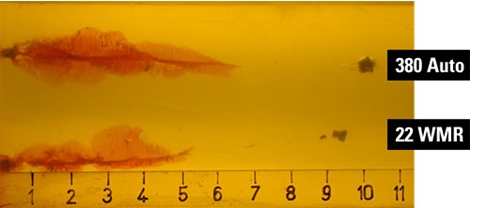 Above, Hornady's ballistic tests have had astonishingly impressive results. Hornady has discovered that their new .22 WMR Critical Defense ammo out of a 1-7/8 in. vented barrel delivers terminal performance that gets near the .380 auto arena. The testing was not against generic, no-name, substandard ammunition, but rather against Hornady's own highly-rated, premium .380 Critical Defense loads from a 2-3/4 in. non-vented .380 autoloader.
I've just been advised by my friends at Hornady that this new .22 WMR ammunition will not be available in suitable quantities for testing until April. Expect full-fledged reviews of the NAA PUG, and detailed testing of the new Hornady ammo in the PUG, the new NAA Break-Top, the NAA Black Widow, and the NAA Mini-Master shortly thereafter.
Copyright 2011 by Randy Wakeman. All Rights Reserved.
---
Custom Search