---


More Details on Federal's Breakthrough Inline Muzzleloading Bullet: Trophy Copper 270 Grain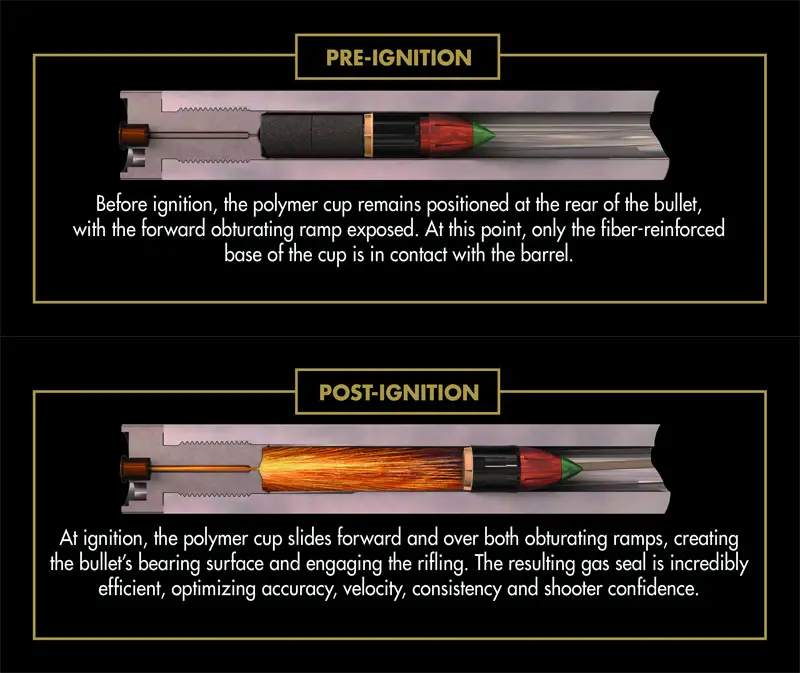 As far as Federal's in-house testing of the Trophy Copper B.O.R.- Lock, they have successful tested the bullet to 27,000 PSI Maximum Average Pressure loads. This is well above the level of Blackhorn 209's recommended, published loads limited to 120 grains by volume.
There have been some questions about the "fiberglass base." In Federal's testing, thousands of rounds were fired in one rifle there were no issues with barrel scuffing or abrasion. Federal feels it is important to note that it is not a fiberglass base. It is a polymer base cup that is reinforced with a matrix of fiberglass fibers.
The actual bullet mass is 250 grains, the remaining 20 grains is the B.O.R.-Lock array and the base. Federal has measured the static G1 ballistic coefficient as .168. Although Federal references a 1:28 twist barrel, the 270 grain Trophy Copper was tested successfully with 1:28, 1:26, and 1:24 rate of twist fifty caliber barrels.
To date, I've tried the Federal Trophy Coppers in four muzzleloaders, all with Blackhorn 209. It has shot quite well from the Remington 700 Ultimate (1:26 barrel), the T/C Encore (1:28), and the LHR Redemption (1:28 rate of twist). It did not do well out of one Savage 10ML-II with 100 grains by volume of Blackhorn 209, but ignition was no problem. I have not tested any Savages with smokeless propellants and this projectile and have no immediate plans to, as neither Savage or Federal recommend its use with smokeless powder or have tested it. The new Federal have shot 3/4 MOA and under in the new Remington Ultimate and the T/C Encore, holding accuracy in the Remington with 130 grains by volume of Blackhorn 209.
The new Federal Trophy Coppers are one of those rare new products that lives up to its hyperbole, offering convenience and accuracy as well as conforming to hunting regulations that prohibit sabots or lead projectiles. While there never be the penultimate ideal projectile for all rifles and all conditions, the Federal 270 grain Trophy Copper comes as close as anything that has ever been made available.
Copyright 2014 by Randy Wakeman. All Rights Reserved.
Custom Search