---

Minox Flagship Riflescope: ZE 5i 2-10x50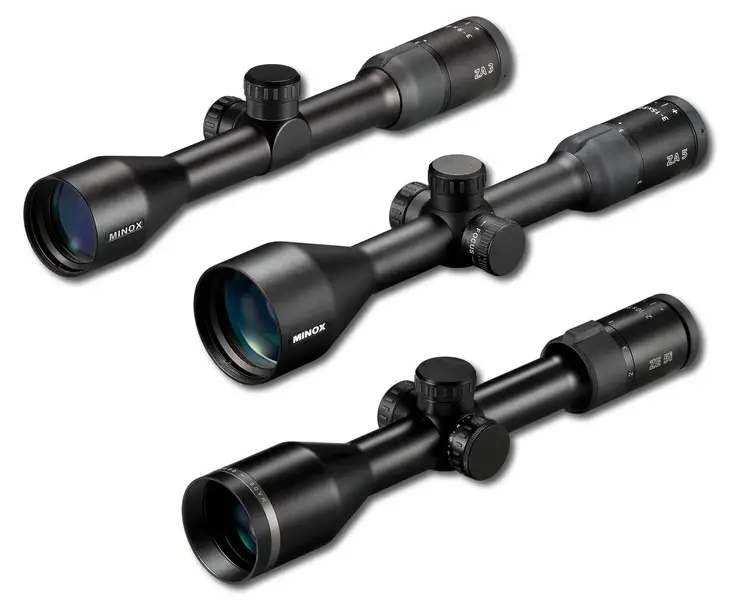 The Minox hunting scope line continues to grow: the all German Ze5i 2-10 x 50 (lowermost) is part of their top of the line all-German hunting riflescopes.

Made in Germany, the Minox ZE 5i 2-10 x 50 illuminated reticle riflescope features a five times zoom ratio, a beefy 30mm tube, and your choice is the illuminated dot, illuminated dot German #4, or the illuminated dot BDC. Powered by a CR 2032 three volt battery, the compartment holds two so you always have a spare. It automatically turns off after about three hours, so even if you forget to turn it off you won't end up with a dead battery. There are 11 brightness control settings; the illuminated dot turns off between each increment: a very good addition.
Eye-relief is about 4 inches; the unit is argon purged, touts the Minox M*coating system of up to 21 layers of coatings. This scope at $1600 competes in the arena with German Zeiss scopes (Zeiss Victory Varipoint), or the six power zoom range Swarovski Z6i 2-12x50, and perhaps the Schmidt & Bender 2.5-10x56 illuminated hunting scopes. Scopes in this elite class run up to $3000 and beyond, with no easily definable winners, losers, despite the various gushing notions of "good glass" and "amazing" that you might hear. Some folks buy scopes just based on brand, some on aesthetics, some for reasons unknown. Somewhere along the line design and features come into play, although this is subjective. I'm not prepared to suggest that the M*Coatings are vastly different than other high-end riflescope coatings, or what the light loss might theoretically be if we only up to 15 layers of coatings rather than up to 21.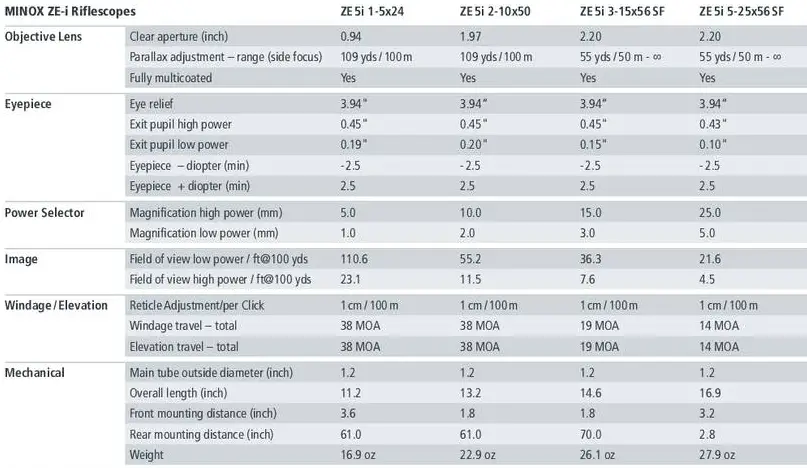 What I will do is try to go down the line, and mention the attributes that, in my opinion, must be present for a riflescope to be considered a premium riflescope. Clear glass, with edge to edge clarity is requisite, along with no noticeable flare or chromatic aberrations. The controls need to be very obviously precise, not just metal on metal but very crisp metal on metal with no soft clicking, over-clicking, or mushy feel. The caps and eyepiece must be properly machined, with clean threads and no binding or detectable rough spots. Consistent eye relief has to be there throughout the zoom range, so you need not change your stockweld or head position based on magnification. Naturally, the exterior finish of the scope must be uniform and evenly applied.
While mid-range rifles scope may do some or most of these things well, a premium price dictates that the scope must do all of them extremely well. There should be no noticeable point of impact shift from low power to full power, either. A fixed power scope has no exposure to changes in eye relief or point of impact shift due to magnification changes. Premium variable power scopes should not have these problems, either. Some camera lens arrays are far more complex than riflescope lenses, as in 14 elements in 11 groups, 5 aspherical Lenses, 9 aspherical surfaces, and so forth. The biggest difference from a user standpoint is that we don't expect cameras to withstand drops and jolts, much less the repeated intense shock of high-powered recoil.
The American-assembled Minox ZA 2-10 x 40mm was previously reviewed, a very, very good five hundred dollar class optic. So, what is it the all-German ZE 5i 2-10x50 nets you? It is a combination of things: the far stronger 30mm tube, the larger exit pupil throughout the range, and the broad-daylight usable crisp, illuminated dot. The windage and elevation adjustments on the ZE are noticeably more positive and exact.
The "E" in the "ZE" stands for "European." German design, German machining, Germany components, German assembly. It is aggressively priced for this type of "all-Euro" scope, for the Swarovski Z6 1.7-10 x 42 or the Swarovski 2-12 x 50 both run $2930 - $3000 so street price.
The Minox ZE 5i 2-10x50 is an impressive hunting scope with one of the most forgiving eyeboxes I've used. It is well worth the consideration of those looking for a premium German hunting scope, but literally cannot see spending the extra $1000 - $1500 prior reputations, a bit of mythology, and strong brand names sometimes command.

Copyright 2013 by Randy Wakeman. All Rights Reserved.
---
Custom Search