---
Minox BL 8 x 44 Binoculars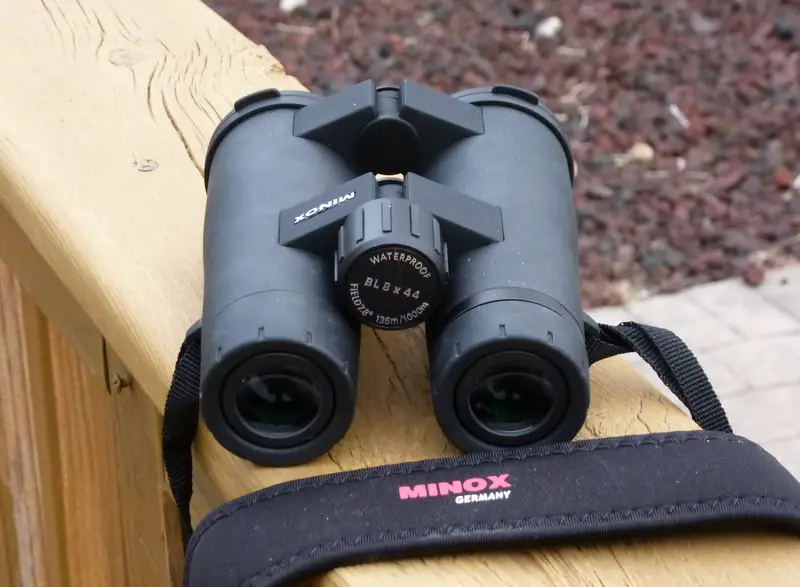 The Minox BL 8 x 44 binocular set offers a 406 foot field of view at 1000 yards along with a weight of about 26 ounces. This is an upscale, yet affordable pair of binoculars that runs a bit under five hundred dollars either in this 8 x 44 configuration or the 10 x 44 offering. Binoculars don't seem to get much love from hunters. Often the fellow with a five hundred dollar scope array on a dozen rifles may ignore even one quality set of binoculars that works well with most every firearm he has and serves well for general scouting, nature-loving, hiking, fishing, and so forth.
Binocular configuration is a personal choice and invariably a compromise. The heaviest part of most optics is the glass itself. So, while we all want light and compact, it doesn't happen without smaller lenses and a reduction in exit pupil diameter and image quality. Personally, I've always found the dinky "opera glass" binocular approach to be a headache, literally. The 8 x 32 platform is where binoculars become useable, to my eyes, and this 8 x 44 set offers superb image quality while still not being a pain to lug around. The 8 x 44s are easier to hold steady when out in the field, but the 10 x 44s give you a larger but shakier image at the expense of exit pupil and field of view. I find the 8x ideal but it is a close call contingent on your intended use. Shaky images rapidly degrade images. If you mount your binoculars on a tripod you'll quickly experience what I'm referring to. Let's get the obligatory factory specifications out of the way.
Technical data:  MINOX BL 8x44 with Comfort Bridge
Magnification 8x
Objective Lens diameter 44 mm
Exit pupil 5.25 mm
Field of view 136 m / 1.000 m
Eye relief 19.5 mm
Near focus 2.5 m
Diopter adjustment +/- 4 dpt
Twilight number 18.8
Operating Temperature -10 - +50° C
Waterproof Yes, down to 5m
Dimensions  (HxWxD) 13.3x5.3x15 cm
Weight 740 g
The worst piece of advice ever given is the hoary "you get what you pay for." You sure don't, unless you believe paying for overpriced junk is what you seek to pay for. It hardly matters how much those boots cost if they don't fit you, how much that jacket cost if it doesn't keep you warm, or how much that meal cost if it tastes like mud. If you are wondering what that has to do with binoculars, it really doesn't matter what they cost if they give you a shaky image, if you can't focus them, if they don't feel good in your hands, and if they are burdensome to carry around. Image quality read by machine, but imperceptible to the human eye is not worth paying for. You are buying optics for human use, specifically your use, not for your pet robot.
Today, we expect certain things in a quality roof-prism binocular: fully multi-coated lenses, phase-corrected prisms, waterproof / dustproof / fogproof design, etc. Any number of binocular sets promise "unrivaled brightness, edge-to-edge clarity, amazing color resolution and contrast." It is hard to find something that doesn't promise to amaze. Actually, I've been amazed so often lately I'd really like to take a break from it.
There are huge differences in handling and build quality and that is where this Minox set shines. The open chassis and slightly tapered barrel design makes one hand operation easy and conventional operation a lead pipe cinch. Where some binoculars have "instant collapse" eye cups, or all or nothing positions, the Minox has four distinct, steady positions based on the eye relief you need.
Some sets of binoculars have the rusty hinge folding / unfolding feel. These are both rock steady and smooth. The focus knob shows no excessive creep or play, so quick and precise focusing is fast and easy. Some sets of binos have diopter adjustment rings that easily move out of adjustment or locking focus attempts that don't lock properly. The diopter focus is flush on the right barrel of the Minox BL set, so once you focus your binoculars you won't have to try to refocus them at what is always the completely wrong time.
Not surprisingly, I do have several sets of 8x42 – 8x 42 binoculars, some above the Minox BL price point and some below. A couple sets are no longer in production. So, I did the usual side-by-side casual comparison. One consideration with the Minox is the small strap eyelets. They work fine with the supplied Minox strap, but the German made Vero Vellini strap that I wanted to use was too wide to attach.
One roof prism set, while optically comparable, had the "all or nothing" collapse syndrome on the eyecups, where the Minox stays in one of four positions. The objective caps seems to be a universal problem with twisting and falling open inadvertently. The Minox attempt is far better than most, but not perfect. Another, pricier ED set had perhaps slightly better image quality, ever so slightly, but it suffered from the easily knocked around diopter ring, where the Minox flush version is clearly superior. The Minox is a shorter, more compact unit as well. The $500 roof prism price bracket is, as far as I'm concerned, the sweet spot where you can get virtually all of the real-world performance of the $1500 sets when used by human eyes. It is no guarantee, but the possibility is there.
The salient differences in actual use are in handling, eyecup design, and diopter focusing. This is where the Minox shines brightly, along with its self-evident smooth operation and overall build quality. There are a couple of niggles: the small strap eyelets and a case that is on the small side for this set of binoculars. Yet, the end result is an extremely satisfying set of binoculars that deserves to be on everyone's short list if not permanently in your gear bag. It is an impressive offering from Minox.

Copyright 2012 by Randy Wakeman. All Rights Reserved.
---
Custom Search