---

Magellan eXplorist 350H GPS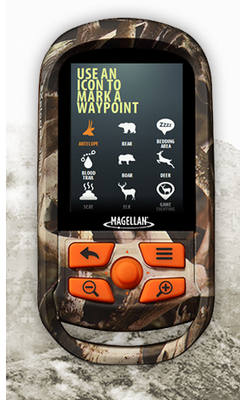 Announced at the 2013 SHOT Show in Las Vegas, this is what MiTAC Digital Corporation had to say about their new 350H model.
"The eXplorist 350H provides the features a hunter requires including pre-loaded detailed base maps with Game Management Units (GMU), Digital Globe satellite imagery for virtual scouting ability, hunting specific waypoints, hunting geofences, trail camera waypoint marking, and a camouflage exterior.
Preloaded on the Magellan eXplorist 350H is a custom detailed base map containing features needed by the hunter including GMU boundaries for the contiguous 48 U.S. states and for Alaska, and a 1:100k contour layer. This unique map also includes water features, urban and rural land use and a complete road network for the U.S., Canada, Western Europe, Australia, and major roads throughout the rest of the world.
Included with the Magellan eXplorist 350H is a one-year subscription to Digital Globe satellite imagery that gives hunters the ability to "virtually scout" a future hunt location from the comfort of their home by giving the hunter a satellite view of the area they plan to hunt. Hunters can quickly identify areas of interest such as game funnels, potential feeding areas, and suitable glassing locations. The areas of interest can be marked and waypoints loaded into the eXplorist 350H, ready for the field along with an area of Digital Globe satellite imagery."
As supplied, though, it really doesn't live up to its promises, actually offering few wildlife management units and public hunting area coverage throughout the country. The one year "Digital Globe" subscription, though designated as free, requires that you not only register your unit, but buy the subscription by supplying credit card info, your address, and your home telephone number before finally getting to the point where you can type in the supplied code and download the imagery. If it sounds burdensome, it is only because it is.
The unit is small, waterproof, and light. However, it also has a smallish 2.2 inch screen, the buttons are a bit too close together (particularly the joystick in the center), and it lacks quite a few features you might want in a GPS. No camera, microphone, or speakers are present, unlike the previously reviewed eXplorist 510 ( 3 inch screen) and other offerings.
The handheld GPS market is a crowded one, receiving pressure from several areas. Some binocular sets have basic GPS units installed, as do several compact digital cameras, some wristwatches, and of course Smartphones. Right now, the most popular GPS in the U.S. is Smartphones and Smartphones also take far more pictures than compact cameras do as well. The current Google Maps application is both impressive in detail and free.
It is hard for me to get enthusiastic about this product, as there are many options with better screens, better maps, cameras, and some can even make a phone call. While it is a usable, durable handheld device, it doesn't have enough features, a large enough screen, or included map power to make it particularly desirable.
Copyright 2013 by Randy Wakeman. All Rights Reserved.


---
Custom Search