---
Low Light Scope Comparison, Part II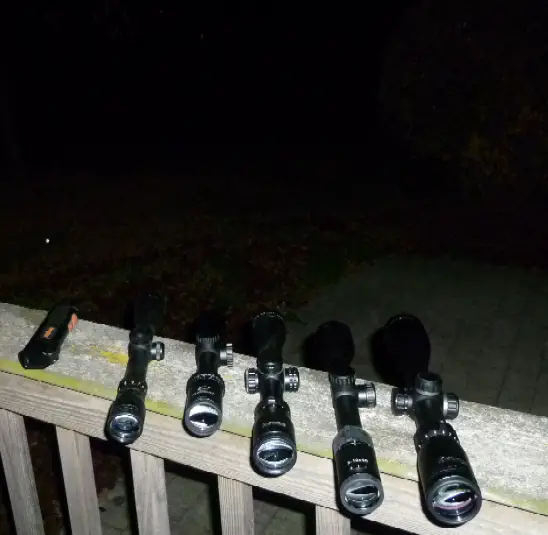 From the left: Simmons 8 Point, Burris Fullfield E1 2-7 x 35, Hawke Deer Pass 3-9 x 40 SR, Minox ZA 5 1.5-8 x 32, Hawke Endurance 30 3-12 x 50 L4.
A total of six scopes were compared, starting at one hour, fifteen minutes before sunrise, using the same targeting objects as before. It was 41 degrees F., overcast, with light rain falling. This subjective comparison pitted five additional scopes against the previous winner, the Hawke Endurance 30 3-12 x 50 with the L4 reticle. There were studied in fifteen minute increments until half an hour before sunrise. All scopes were set to an indicated 6X on their power rings. Using the "see to" rule as before, here's how they ranked from worst to best.
Simmons 8-Point 3-9 x 40 $40
Not unsurprisingly, this ultra-cheap scope gave a poor image. There are several reasons to not rely on a scope like this, the very poor eye relief (less than advertised) and dull image are just two of many.
Hawke Optics Panorama EV 3-9 x 40 $170
This generally excellent scope with an etched, 1/2 Mildot reticle failed here, spectacularly. While the illuminated reticle would normally give it a huge advantage, even on its lowest setting it was far too bright, destroying night vision and taking away targeting ability with it.
Burris Fullfield E1 2-7 x 35mm $180
A surprisingly bright, crisp image. While more than good enough for legal hunting hours, the advanced, etched E1 reticle was the limiting factor. For whatever reason, the 3-9 x 40 Fullfield E1 was clearly a notch better in low light. If you are looking for this scope in extreme low-light configuration, you might want to get the regular Fullfield II 2-7 x 35 while you can still find it, with the German #4 reticle at about $190.
Hawke Deer Pass 3-9 x 40mm SR reticle $180
A big surprise and a pleasant one at that. The dual color SR reticle emits a beautifully soft level of light at its lowest setting, so when it comes to making the shot precisely it comes in near the top. Without engaging the illumination, the image is not precisely targetable and would rank below the Fullfield E1. Naturally, you certainly would use the reticle in low light.
Minox ZA 5 1.5 – 8 x 32mm $480
This little scope, with its German #4 reticle, was stunningly good. Despite no illuminated reticle, the shot could have confidently taken an hour before sunrise. While the previously tested Minox ZA 5 2-10 x 40 was very good, this scope was noticeably, remarkably better.
Hawke Endurance 30 3-12 x 50 $340
As before, this powerful scope impressed with its L4 illuminated reticle. The L4's dot along with the rest of the scope design makes this scope the winner in very low light instant target acquisition.
As best as my eyes can determine, three out of these six scopes would be ideal for six power low light use: the Hawke Deer Pass, the Minox, and the Hawke Endurance 30. The only additional scope I'd personally use for extreme low light conditions from the previous test (http://randywakeman.com/A-Low-Light-Riflescope-Comparison.htm) is the Minox ZA 5 2-10 x 40, which has a German #4 reticle as does this ZA 5.
There are several areas of personal preference that the individual can add to the mix as necessary besides singular low-light considerations. They include power range, field of view, eye relief, internal adjustment range, and so forth. The reticle is a huge factor in a low-light scope. In optics for the low light dollar I'd call it Hawke Deer Pass ($180), Burris Fullfield E1 3-9 x 40 from the previous comparison ($200), Hawke Endurance 30 ($340), then the Minox ZA-5 ($480).
The Hawke Deer Pass, with its minimum eye relief of three inches, is at its best with low to moderate recoiling platforms, like a 20 gauge slug gun or perhaps a .270 Winchester. For higher intensity chamberings, or with lighter rifles, the more generous eye relief offered by the Burris Fullfield E1 3-9 x 40, the Hawke Endurance 30 and the Minox ZA-5 make for more appropriate, satisfying choices. For a non-illuminated reticle choice, this Minox 1.5-8 x 32 with the German #4 is the best I've seen in a very long time. For all-out low light performance, this Hawke Endurance 30 joins my favorite low light scope, the Burris Euro Diamond 1.5-6 x 40 E*Dot, as being outstandingly good.
Copyright 2011 by Randy Wakeman. All Rights Reserved.
---
Custom Search