---

Likely the Best Binoculars You Can Afford: Hawke Sapphire ED 8 x 42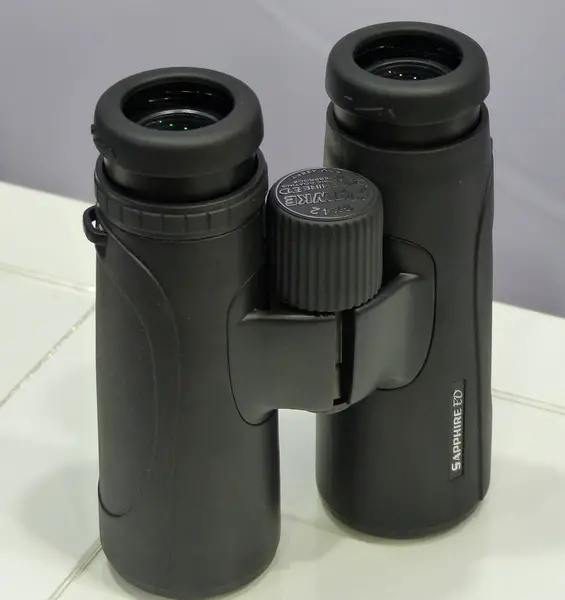 The Hawke Sapphire ED 8 x 42 binoculars, HA3767 (green), is not the most expensive set of binoculars that I own, much less that I've evaluated over th years. Nevertheless, they are a decidedly upscale set of binoculars that are best of breed, and human eyes could not tell the difference between these binoculars and a $2000 set. My eyes cannot.
They are shipped beautifully presented, in a hard leather case. Compared to very good more standard binoculars, the Sapphire ED set improves upon image brightness, contrast, and color fidelity though the use of extra-low dispersion glass (ED), combined with an advanced dielectric prism coating. On the strength side, they have stronger and costlier magnesium alloy frames as compared to aluminum alloy.
Hawke sums up the features as follows:
ED (Extra-Low Dispersion) glass for maximum clarity
Dielectric Prism Coating
BAK4 Prism
Fully Multi-Coated Lenses
Lightweight Magnesium Alloy Body
Quick Ratio Focus Wheel
Twist-up Eyecups with Position Stops
Fully Waterproof and Nitrogen Purged (tested 1.5m for 3mins)
Stay-on Lens Covers
Water Repellent Objective Lens Coating

The specifications are:
Size: Full Size Binoculars
Prism Type: Roof Prism Binoculars
Magnification: 8x
Objective Lens Diameter: 42mm
Waterproof: Yes
Fogproof: Yes
Exit Pupil: 5.3
Twilight Factor: 18.33
Eye Relief: 18mm
IPD Max: 7.5cm
IPD Min: 6.0cm
Close Focus Distance: 6.6ft
Weight: 25.7ozs (729g)
Length: 5.5in (14cm)
Height: 2in (5.1cm)
Width: 5.1in (13cm)
Eyecup Diameter: 43mm
Ocular Lens Diameter: 23mm
Focus Wheel Diameter: 30mm
Focus from Near to Far, focus wheel rotates: 540°
Objective lens inset: 8mm
Real field of view: 8.1°
Apparent field of view: 64.8°
Field of View: 142m at 1,000 meters
Field of View: 426ft at 1,000 yards
Chassis Material: Magnesium
Lens Coatings: Fully Multi-Coated
Phase Correction Coatings: Yes
High Reflective Prism Coatings: Dielectric
Extra Low Dispersion Glass: Yes
Tripod Adaptable: Yes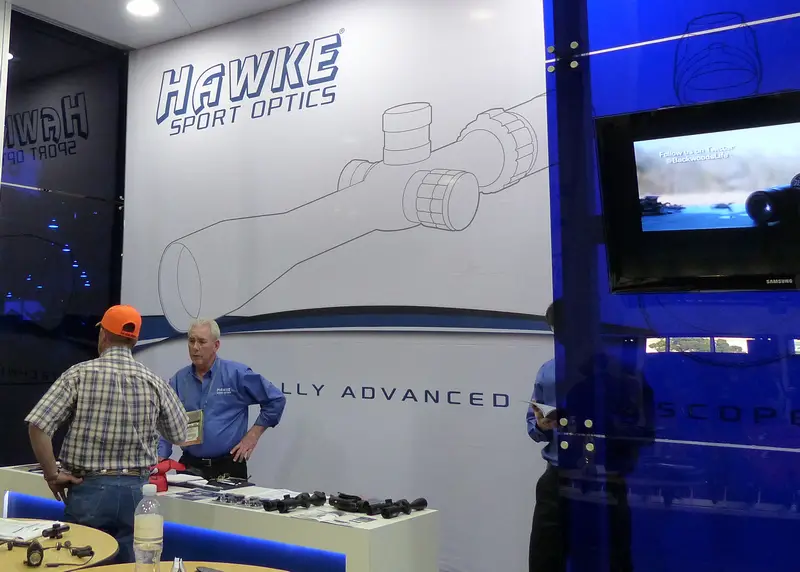 The Sapphires are reasonably lightweight at 25.7 oz., have 18mm of eye relief, and have a very good 426 foot field of view at 1000 yards. The lens covers are outstandingly good, integral with the body, well-fitted, and they stay on when you want them to. Birdwatchers tend to be a bit more fussy than hunters, as far as I'm concerned. Birdwatch Magazine has already called these "Hawke's Best," and "Best Binoculars & Binocular Reviews" gave this set their "Best Birding Binocular 2013 Award." They rated it as "outstanding" for body stats, optical stats, and image quality. These aren't the cheapest binoculars you can find, for those come in bubble packs with with plastic bodies. But, at $459, they are a fraction of what you'd pay for the similarly performing Zeiss Victory and Leica Ultravid sets that both go for around $2200. That's why these Hawkes have been referred to as "Alpha Beaters," for those that don't want to pay through the nose for lifestyle branding.
The set of binoculars that I used the most in the field, in 2013, was the Hawke Endurance #HA3944 8 x 42 roof prism binocular set. At the very appealing $210 or so price point, they are remarkably good with fully multi-coated lenses, phase corrected prisms, and BAK4 prisms. Yet, the Sapphires are clearly a cut-above with ED glass, the dielectric coating, better lens caps, the water-repellent objective lens coating, and the magnesium chassis. You sure don't have to spend $2000 to live large with a truly outstandingly good set of binoculars, and the Sapphire ED binoculars, at $420 or so street price rank as the most for the least in an upscale set of field binoculars.
 Copyright 2014 by Randy Wakeman. All Rights Reserved.
Custom Search