---
Leupold 3-9x40 VX-R 30mm Riflescope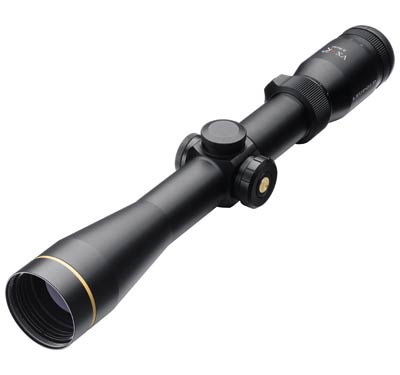 This has been an exceedingly good year for impressive optics, and this new FireDot 4 30mm riflescope is an an outstandingly good offering from Leupold. The reticle that Leupold calls "FireDot 4 – Metric" is a #4 German style with very thick posts. The pinpoint illuminated dot in the center makes precise target acquisition effortless.
Quickly noticeable is the close tolerance eye relief, varying only a half inch throughout the zoom range. This well-designed hunting scope maintains a larger than 4mm exit pupil throughout its range. The twin bias erector spring erector assembly along with its 30mm tube promise extra durability. This scope has most all of the latest Leupold bells and whistles: Argon / Krypton 2nd generation waterproofing, DiamondCoat external lense coatings, lead-free glass, and so forth. It is also and exceedingly well-finished scope, with the matte anodizing more evenly applied than most.
Everything about this scope is confidence-inspiring. The windage and elevation adjustments are very firm and crisp, none of that sloppy feeling, and the power ring is extra-smooth with no binding or hesitation throughout its range. The FireDot illuminated reticle is a work of art, easy to activate with cold or gloved hands with just a quick press. The motion-sensor technology that turns it off after five minutes of inactivity yet instantly turns it back on is, as far as I know, an industry first. There are eight levels of illumination; the push button is far handier than any rotating knob. Here's a list of the basic specifications.
FireDot 4 reticle
30mm tube
1-Button Illumination
•Vibration Sensor
Index Matched Lens Coatings
Weight (oz): 15.3
Length (in): 12.6
Eye Relief (in): 4.2 - 3.7
Field of View @ 100 yards (ft): 33.6 - 13.6
Exit Pupil (mm): 9.8 - 4.2
Finish: Matte
Mounting Space (in): 5.4
Keeping the weight under a pound in an illuminated reticle scope with a 30mm tube isn't easy and is rarely done. Leupold has accomplished that in this scope as well. I'm not sure exactly what the run-time of the CR-2032 battery, but it is called "remarkably good." If the battery is running low, it flashes ten times to alert you when you turn it on.
I compared this scope against several other, far pricier 30mm units until 45 minutes after sunset with all the scopes set at an indicated 6X. For example, this Leupold put my Bushnell Elite 6500 2.5 – 16 x 42 to shame. The Bushnell costs about 50% more than this Leupold and has no illuminated reticle, much less an advanced fiber-optic reticle. Whatever combination Leupold has put together in this scope, the image quality is astonishingly good. It is like cleaning the windshield and turning the headlights on compared to lesser scopes. This is also quite an impressive value as well, as there is no sub-500 dollar hunting scope that can run with it.
There are many excellent big game hunting scopes out there, to be sure. This offering from Leupold is a standout, the best general big game and low light hunting scope I've seen in many years. In the case of this new 3-9x40 VX•R Firedot riflescope, all I can say is congratulations to Leupold. It has all come together in this model, my pick for the best new big game hunting riflescope of 2011. It is a joltingly good, thoroughly well-designed and executed scope with an illuminated reticle anyone will quickly fall in love with.

Copyright 2011 by Randy Wakeman. All Rights Reserved.
---
Custom Search