---

Kestrel Sportsman Ballistics Meter with Spotter Pack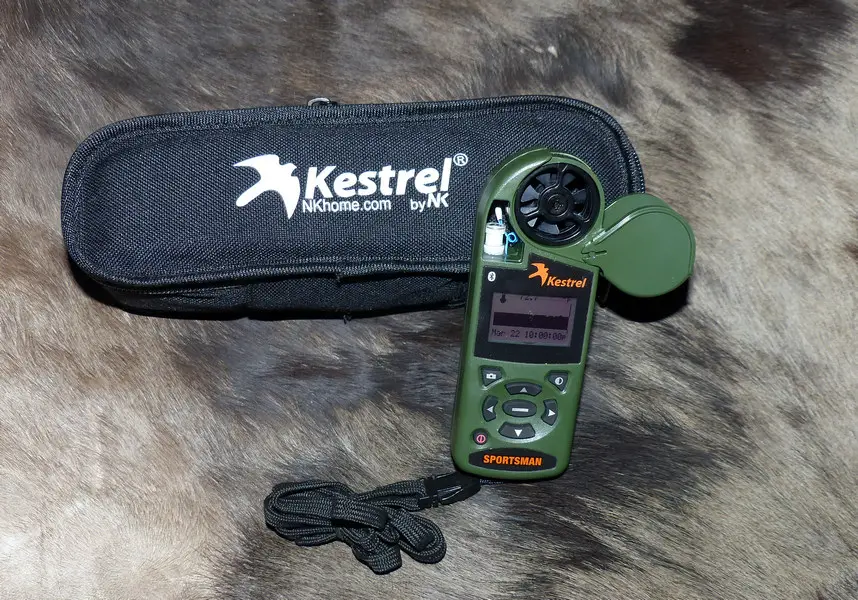 Nielsen-Kellerman presents their Kestrel Sportsman ballistics meter as the ideal tool for shot distances within 800 yards. To say that it is loaded with features would be an understatement. It measures:
Altitude
Barometric Pressure
Crosswind
Density Altitude
Dew Point
Headwind/Tailwind
Heat Stress Index
Relative Humidity
Temperature
Wet Bulb Temperature(Psychrometric)
Wind Chill
Wind Direction
Wind Speed 
It has among its long list of features:
5 Languages (English, French, Spanish, German, Italian)
Backlight
Carry Pouch
Clock & Calendar
Customizable Data Storage
Data Logger
Data Upload(For Non-Spotter Pack units this is only available with optional interface cradle)
Drop-Tested, MIL-STD-810F
Easy-To-Read Display
Flip-Open Impeller Cover
Graph & Recall Trends
Integrate Applied Ballistics Targeting Solution
Kestrel Certificate of Conformity
Minimum, Maximum and Average Values
Neck Lanyard
Patented Impeller and Sensor Technology
User-Replaceable Batteries
User-Replaceable Impeller
Waterproof & Floats
It is Made in the USA, has a five year warranty, and the "Spotter Pack" option runs on a pair of AAA batteries for an approximate run-time of 400 hours. The optional "Spotter Pack" adds:
Zipper Carry Pouch
Wind Vane
Free Kestrel Companion App Download
Bluetooth Wireless Data Transfer
Night-Vision-Preserving Backlight
The Kestrel line is a huge one, starting with basic windmeters and adding features as you go through the product range, all the way up to the Kestrel 4600 Heat Stress Tracker that retails for $869. In the long range shooting instrument line, there is the Kestrel 4500 with Horus or Applied Ballistics models that are the most sophisticated, retailing for $619.
This unit, the Kestrel Sportsman Ballistics meter, was introduced at the 2015 SHOT Show. It retails for $429, sells for roughly $400, and the optional Spotter Pack adds about $150. By any standard, it is still a fully loaded, full-featured unit. You can plug in up to sixteen of your personal gun / projectile combinations. With its onboard G1 / G7 ballistics solver, it automatically updates your shooting hold information based on the environmental conditions, applying it to the rifle and cartridge you are using in the field.
With all of the many features of the Kestrel Sportsman, you might think that it is difficult or even bewildering to use. Actually, the opposite is true, for you have two basic modes that you can quickly scroll through: "Weather Mode" for general purpose and "Ballistics Mode" for hunting and shooting. For those who want greater precision in the field and want to ethically increase their effective range, it is hard not to recommend the Kestrel Sportsman. For more info, see: http://www.nkhome.com/kestrel/ .
Copyright 2015 by Randy Wakeman. All Rights Reserved.


---
Custom Search