---
KPY SHOTSHELL BALLISTICS PROGRAM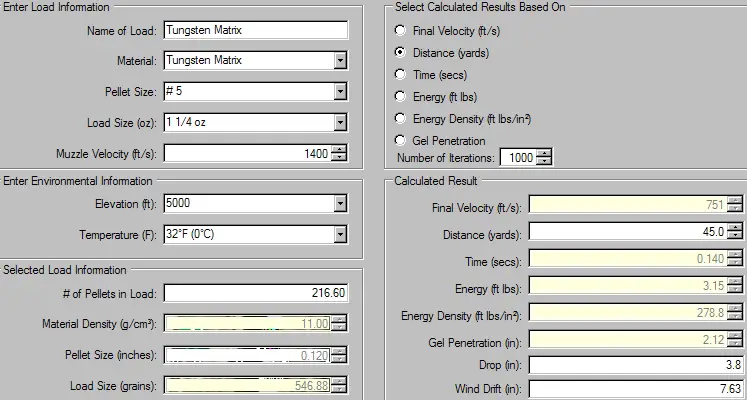 The KPY Shotshell Ballistics program is exactly what it says it is, a comprehensive ballistics program for shotshells that makes it easy to compare downrange performance of diverse shotshells and shot materials. What is easily the best feature of this program is your ability to create your own personal catalog of loads, so comparison is not only easy, but easy to add to in the future, print, and save to your hard drive.
The included shot materials are the most comprehensive of any shotshell program I've seen, but still you can add whatever you wish based on shot material density. This is a very important feature, as different tungsten percentages are used for similarly branded product, for example, meaning different densities in some cases from year to year. Several screenshots are found at http://shotshellballistic.blogspot.com/ so I'll not include further captures here.
The gold standard for many years has been Ed Lowry's "Shotshell Ballistics for Windows," a modular program that is no longer available. KPY takes the place of the pellet penetration and downrange ballistics portions of the Lowry program, and builds upon them. Not only is the material density customizable as it was in the Lowry offering, but so are the pellet and payload sizes as well. You also net energy density values not present in Lowry and the velocity range is not limited, either, or categorized in strict increments.
So, yes, although I'd like to see a few more features (free recoil data) and ultimately, a complete extension of what Ed Lowry had along with graphing abilities, I'm not the one doing the work. It is easy to recommend KPY Shotshell Ballistics and the personal cataloging of loads is part of what makes it so very usable to those interested in what is working for them downrange, not just at the muzzle. Order your copy today for $49.95 from http://shotshellballistic.blogspot.com/ .
Copyright 2011 by Randy Wakeman. All Rights Reserved.

---
Copyright 2011 by Randy Wakeman. All Rights Reserved.
Custom Search