---
Ithaca Gun Company's new release: The Model 1911A1 .45 ACP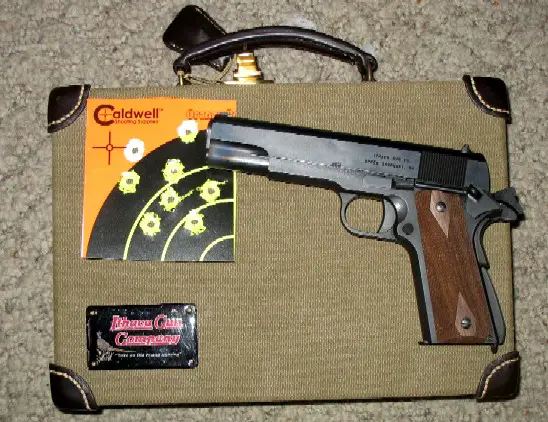 Ithaca Gun Company is once again an American pistol manufacturer, with the release of their Made in the USA model 1911 .45 Auto. There really isn't a combat handgun remotely comparable to the M1911 is terms of historical and cultural importance to the United States and it seems unlikely that there ever will be. Having defended the United States though two world wars, the Korean conflict, Vietnam, and being selected as the issue FBI SWAT handgun as recently as 1998, the .45 isn't going away anytime soon.
The roots of the 1911 go back to the problems the U.S. Military had in the Philippines with the Moro uprisings. The performance of the combat handgun of the day, the .38 Long Colt revolver, was a poor performer against the Moros. While John Browning has already been working on an autoloader based on the .38 Super, he reworked the platform to accommodate a .45 cartridge of his own design to satisfy the Army Ordnance Board headed by Col John T. Thomson and Col. Louis A. LaGarde, where the "Thomson-LaGarde" tests of 1904 came from.
The selection trials began in 1904, with competition from Colt, Luger, Savage, Knoble, Bergmann, White-Merrill and Smith & Wesson. Only Colt and Savage passed the initial selection phase. A committee was formed in 1911, the later testing consisted of having each gun fire 6000 rounds. One hundred shots would be fired and the pistol would be allowed to cool for 5 minutes. After every 1000 rounds, the pistol would be cleaned and oiled. After firing those 6000 rounds, the pistol would be tested with deformed cartridges, some seated too deeply, some not seated enough, etc. The gun would then be rusted in acid or submerged in sand and mud and some more tests would then be conducted.
The evaluation committee decided that "Of the two pistols, the board was of the opinion that the Colt is superior, because it is more reliable, more enduring, more easily disassembled when there are broken parts to be replaced, and more accurate." As a result, On March 29th, 1911, the Browning-designed, Colt-produced .45 Automatic pistol, was selected as the official sidearm of the Armed Forces of U.S.A., and named Model 1911.
As reported by Syd Weedon in "Syd's 1911 Notebook":
"Changes were put into production on June 15, 1926 as AUTOMATIC PISTOL, CALIBER .45, MODEL OF 1911A1. World War II was a replay of the situation in 1917, but worse. Colt .45s were in demand, not only by the U.S. Armed Forces, but also by the military establishments of our major allies. Again, contractors other than Colt provided the balance of the 2.5 million .45s made during 1941 to 1945. In all, four contractors added their share to Colt's 480,000-pistol contribution. Remington-Rand produced 1.03 million. Ithaca turned out 370,000. Union Switch and signal Co. of Swissvale, Pa., received and filled an order for 55,000 M1911A1s. And Singer Sewing Machine contracted to provide 500 1911A1 pistols-which it did."
American Handgunner reported in 2000, "While all of the FBI's requirements were demanding, the most rigorous was accuracy. Chosen at random, two of the five guns had to shoot no more than 1.5" at 25 yards for three 10-shot groups from a Ransom Rest. Then the guns would be shot for 20,000 rounds in an endurance test, after which a second accuracy test would be conducted with no more than 15 percent degradation in accuracy being acceptable. Wilson's, Colt's and Kimber's guns all failed the accuracy test. Kimber's guns were the worst, shooting 3.5", according to FBI records. The only two candidates to pass were Springfield Armory and Pro Gun. As noted previously, Colt filed a protest over the ammunition required for the accuracy test, which was rejected."
In a nutshell, we have the 1911 as the official sidearm of the U.S. Military from 1911-1985, with the FBI and various other organizations recently and currently opting for the 1911 .45 today over the 9mm autoloaders on the basis of accuracy, stopping power, and superior triggers. It is the penultimate combat handgun.
Enter Dave Dlubak and his team of talented machinists at Ithaca Gun Company. Ithaca, already having a rich history of building 1911's (and another John Browning-designed gun, the M37), took a look at the current crop of 1911 models out there and found that many were parts guns. They thought they could produce a superior Made in USA product. So, they have made their own frames, slides, sears, triggers, and hammers at their plant in Upper Sandusky, Ohio, giving them what appears to be complete quality control over the most critical elements of the 1911. This gives Ithaca quality, uniformity, and interchangeability that cannot be accomplished by sourcing vital parts and constructing "parts guns."
I've had the opportunity to test an Ithaca 1911A1 classic military style prototype and I can tell you that it doesn't rattle, it doesn't jam, has a wondrously crisp and light trigger, is easy to shoot, and more accurate than I can hold. Most of my shooting has been off-hand at 20 yards out in the snow so far. Ithaca reports two inch or better accuracy off a Ransom rest at 25 yards in their initial testing.
The trigger from this example breaks at just under four pounds, but feels lighter. It is a very, very comfortable gun to shoot-- and easy to hit with. The group above was with "white box" Winchester USA 230 grain FMJ ammo, hardly considered match grade or premium ammo. Yet, even fired at 20 yards off-hand in the wind, the Ithaca laid them right in here. It looks that Ithaca is on track to "out-Kimber Kimber," much less the many poorly produced imports and various parts guns. This example is just a prototype, of course, but I couldn't find anything that needs to be fixed or tweaked. It looks to be the type of Made in USA combat pistol than anyone would be extremely proud to own. Expect a more fully featured review of the production models when they become available sometime later this year.
It looks to be a very big year for Ithaca, indeed, with expanded line of home defense M37 models, the M37 16 gauge soon to appear, their new O/U, and now their upscale ultra-quality entry into the premium handgun market. For more info, please see http://ithacagun.com .
Copyright 2010 by Randy Wakeman. All Rights Reserved.

 
---
Custom Search